Mohegan Sun Seasons Buffet 2023
(Editor's note: The Mohegan Sun's Seasons Buffet remains closed as of this January 2023 update and may be a permanent closure. If and when re-opening plans are announced, we'll update this article accordingly.)
While there may be 47 different dining options at the Mohegan Sun Casino & Resort, the Seasons Buffet stands out as the busiest restaurant, with a spacious, contemporary circular buffet area that seats up to 800 guests.
And with buffets starting at just $10 a person, you can see why it's so popular among gamblers.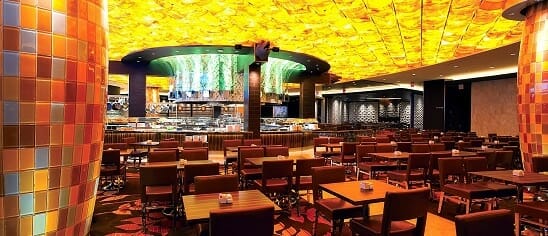 Located in the Casino of the Earth, Seasons Buffet is open for three meals a day, from 7:30 AM to 11 PM (on weekends).
The resort's Native American décor transitions nicely into Seasons, and the decorative video screens above the serving area, along with a beautiful amber light-filled artistic ceiling add to the experience.
Mohegan Sun Buffet Prices & Hours
Listed below are the standard prices. Please note that if you show your Momentum player's card (any level), you only pay $10 for the breakfast buffet. Keep in mind, each person in your party will have to show a player's card for them to receive a $10 breakfast.
Breakfast: $15 ($8 for kids) 7:30 AM to 11 AM
Lunch: $25 ($14 for kids) 11 AM – 5 PM
Dinner: $29 ($16 for kids)
5 PM to 9 PM (weekdays)
5 PM to 11 PM (Friday & Saturday)
Children's prices are for those 6 to 12 years of age. Kids five and under eat free while teenagers on up are charged full price.
Does the Mohegan Sun Buffet Have Military Discounts?
Recently the Mohegan Sun graciously began offering a 10% discount off of the buffet price for active duty military, veterans and military dependents. I'm unsure however if this discount is still in effect as of the time of this writing.
Mohegan Sun Breakfast Buffet
Thanks to the special breakfast promotion mentioned above, Mohegan Sun breakfast buffet is very popular.
For as little as you'll pay (with your Momentum card), you wouldn't expect much, however there's plenty of breakfast staples to choose from.
You'll find made-to-order omelet station, scrambled eggs, eggs over easy, biscuits and gravy, regular bacon and turkey bacon along with sausage, roast beef and ham.
Egg Dishes, Pastries & More
There are eggs dishes such as a cheddar and ham egg hash dish and quiches. You'll also find a few selections of breakfast pizza, including a Hawaiian breakfast pizza and a spicy beef & egg pizza, along with those circle fried potato bites (I don't know what to call them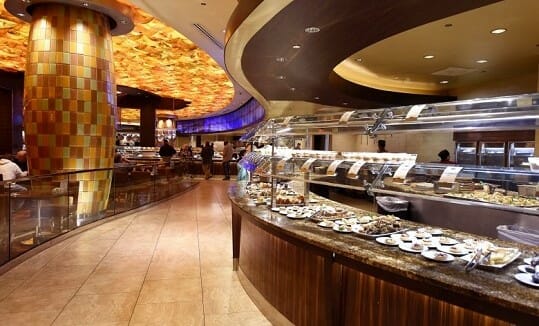 Other main entrees include pancakes, French toast and waffle/French toast sticks.
Pastries include Jalapeno muffins, bagels, toast. In addition to the typical array of sweeter pastries, they have apple cider donuts.
Cereals include warm dishes, like cream of wheat, and a rice porridge. There are also fruits, including watermelon, pineapple and the like.
Seasons Buffet Mohegan Sun Menu
These were food items present at a recent dinner visit and are subject to change, but some are staples you'll find every time.
Live stations include a carving station, with barbecue St. Louis ribs, steamship roast beef, and rotisserie turkey.
The salad bar area has your typical selection of fruit, such as melon, cantaloupe, and all the usual salad toppings you would expect, with six different salad dressings.
Soups can rotate, but clam chowder seems to be a staple. The lobster bisque gets high marks here.
Sections
In the Asian section you'll find stir fired baby bok choy, egg rolls, and lo mein, among other dishes.
Other dishes and sides included a steak chilli, fried chicken, wild rice, corn on the cob, roasted zucchini, "fresh house made mashed potatoes," corn on the cob, grilled yellow squash, and a baked salmon with herb vinaigrette.
Seafood
A seafood area features chipino mussels, oysters on the half shell, breaded white fish, fried butterfly shrimp, and a few sushi varieties.
In the Italian area, you'll find three different types of pizza, garlic bread, and a few pasta dishes, such as rigatoni bolognaise.
The Mexican-themed areas has a taco and nacho bar.
Desserts
There's quite a few options here, with individual plates of various cakes and pies, including crump cake, molten chocolate cake, almond amaretto cake, pecan pie and pineapple upside down cake.
There's also a selection of cookies, a lemon mousse, puddings, and everything from sugar-free Jello cups, to lemon bars to bread pudding, to Peach Raspberry Trifle.
In addition to ice cream, there's even hand-scooped New York style cheesecake.
Drinks
The buffet here has one of those self-service Coca-Cola Freestyle drink machines, which gives you over a hundred different drink combinations. For what it's worth, Mohegan Sun says Seasons was the first casino in the United States to have one of these machines.
You'll also find milk, coffee, tea and various fruit juices.
There's also cash bar service available if you'd like. Specialty cocktails start at a reasonable $9.
Seasons Buffet at Mohegan Sun Phone Number & Website
(888) 226-771
This is actually the main number for the resort. They'll connect you to the buffet.
Website: Seasons Buffet
Other
* If you are in a party of seven people or more, an 18% tip will be automatically charged to the bill.
* I'm not sure how it's enforced, but there is a maximum of two hour dining time at the buffet.
* Of all the parking at the Mohegan Sun, the closest parking garage to the buffet is the Indian Summer garage.
* Mohegan Sun's player's card program, called "Momentum" has five different levels: Core, Ignite, Leap, Ascend, and Soar. Those of you at levels Leap or higher get access to the special priority line at the Seasons Buffet.
(By Steve Beauregard. Photos courtesy of the Mohegan Sun Casino Resort newsroom)