By Steve Beauregard
Whether you're new to Outback Steakhouse and want to try it on your visit to Las Vegas, or you're an Outback regular just needing your Bloomin' Onion fix, you'll be able to choose from seven different Outback Steakhouse restaurants in Las Vegas, including two on the Las Vegas Strip.
One is by the MGM Grand on the South end of the Las Vegas Strip, while the other occupies the top floor of the Casino Royale, in between Harrah's Hotel and Casino and the Venetian on the north end of the Strip.
Both restaurants share a similar décor, menu, and some tables with great views of the action on Las Vegas Boulevard below. The only real difference between the two is that the one at the Casino Royale stays open until 1 a.m., whereas the one by the MGM Grand closes each day at midnight.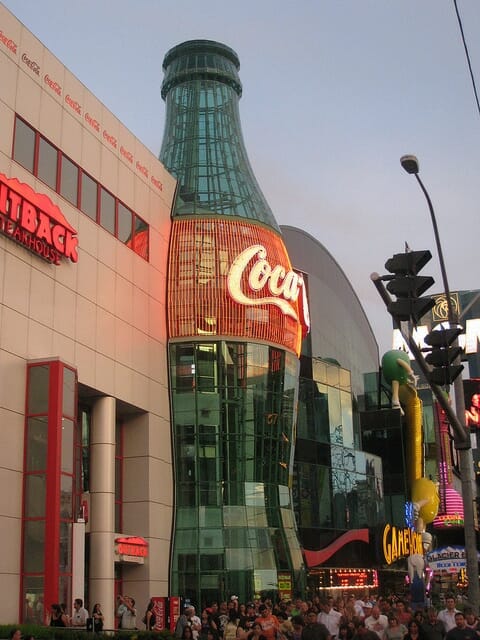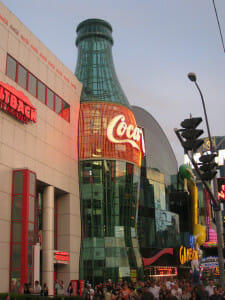 Outback Steakhouse on Las Vegas Strip
For out purposes here, we'll break these two restaurants down by referring to them as the North Strip location (Casino Royale), and South Strip (MGM Grand).
North Strip Outback Steakhouse (Red pin on map)
This north-Strip Outback is located on the second story above the Casino Royale casino floor. A select few tables give diners a good view of the Mirage Hotel and Casino across the street.
(Each pin represents one of the seven area Las Vegas Outback Steakhouses)
If you happen to earn some comp dollars playing slots or table games at Casino Royale, you can apply those comps to your bill at this Outback.
Address:
3411 S Las Vegas Blvd.
Las Vegas, NV. 89109
Phone Number: (702) 251-7770
Hours:
11:00 a.m. to 1 a.m., seven days a week.
South Strip Outback Steakhouse (Blue pin)
This Outback is located on the 4th floor of the Showcase Mall, just steps away from the MGM Grand, and directly across the street from the New York – New York Hotel and Casino and the Park MGM.
This is the one next to the large green Coke bottle shown in the photo above. In fact, you get to the the restaurant by taking the elevator inside the Coca-Cola bottle.
This location has some seating that offers fantastic views of the Las Vegas Strip.
Address
3785 Las Vegas Blvd, 4th Floor
Las Vegas, NV 89109

Phone number: (702) 220-4185
Hours
11:00 a.m to Midnight, Seven days a week.
Other Outback Steakhouses on Las Vegas Boulevard
Premium Outlets South (Green pin)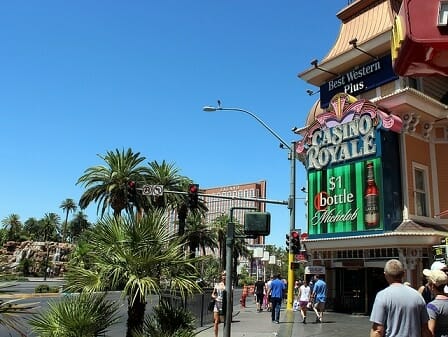 I mentioned there were just two Outbacks on the Las Vegas Strip. That's true, however there is one other Outback on Las Vegas Boulevard, albeit one that is just a little south of the Strip.
This one is a stand-alone restaurant located at the entrance of the Las Vegas Premium Outlets South mall, just about a 5 minute drive (2 and ½ miles) south of Mandalay Bay.
Located just in front of the Las Vegas Premium Outlets South, this Outback sits next to a Chipotle at the corner of Las Vegas Boulevard and E. Warm Springs Road.
Address
7380 S Las Vegas Blvd
South Las Vegas, NV 89123-1007

Phone (702) 643-3148
Hours:
Sunday -Thursday: 11:00 a.m. to 10:00 p.m.
Friday and Saturday: 11:00 a.m to 11:00 p.m.
Other 4 Outback Steakhouses in Las Vegas
Here are the addresses, phone numbers and hours of operation for the other four Outbacks in Las Vegas, which I'll break down in terms of location: North, Northwest, East and West.
North Las Vegas Outback Steakhouse (Purple pin)
The northernmost Outback in Las Vegas, this restaurant sits right on Craig Road, (about three miles west of I-15), and is just a little north and east of Cheyenne High School. It's about three miles to the east of Santa Fe Station Hotel and Casino.
2625 W Craig Rd
North Las Vegas, NV 89032-0719
Phone: (702) 647-4152
Hours:
Sunday – Saturday 11:00 a.m. to 10:00 p.m.
North West (Orange pin)
Just a block east of Highway 95 on Rainbow, (just south of W. Lake Mead Blvd.), you'll find an Outback settled among an area full of other popular chain restaurants, such as Famous Dave's, and Joe's Crab Shack.
It's also just north of the Courtyard Las Vegas Summerlin and about a quarter mile south east of Cimarron High School.
1950 N Rainbow Blvd
Las Vegas, NV 89108-2797

Phone: (702) 647-1035
Hours:
Sunday – Saturday 11:00 a.m. to 10:00 p.m.
East – Henderson (Yellow pin)
There is just one branch of the popular Australian-inspired restaurants in Henderson, Nevada.
The restaurant is located to the south and west of Sunset Station, on N. Stephanie. It opened in July 16, 2014, replacing the previous Henderson Outback, at 4423 E. Sunset Road, which had closed.
According to an article in Vegas Inc., this Outback boasts 6,635 square feet of dining space inside, with seating for an additional 28 patrons on the patio.
The restaurant is located a tad north of the intersection of W. Warm Springs Road and Stephanie Street, in a strip mall that also is home to an Old Navy and Sprouts. The mall is located across the street from the Galleria Commons shopping center about a quarter and a mile southwest of the Sunset Station Hotel and Casino.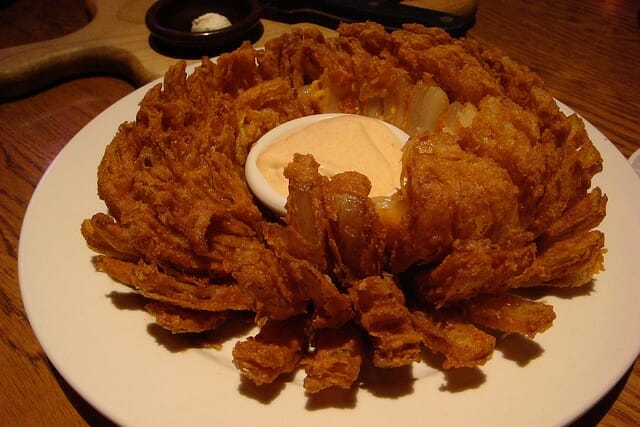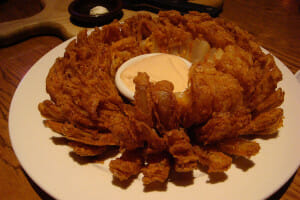 Address and Phone Number
521 N. Stephanie Street
Henderson, NV. 89014

Phone (702) 451-7808
Restaurant Hours:
Sunday – Thursday: 11 a.m. to 10 p.m.
Friday and Saturday: 11 a.m. to 11 p.m.
West (Brown Pin)
This Outback Steakhouse is located right across from the Canyon Gate Country Club, at pretty much the intersection of Sahara and Durango. It's roughly a half mile east of the Village Square Mall. Like the Outback on Rainbow, it is just outside the official boundaries of Summerlin.
8671 W Sahara Ave
Las Vegas, NV 89117-5830
Phone: (702) 228-1088
Hours:
Sunday – Saturday 11:00 a.m. to 10:00 p.m.
Las Vegas Strip Outback Menus
All seven of the Las Vegas area Outbacks have menus that don't vary from the Outback restaurants across the United States. You'll find the famous Bloomin' Onion, the delicious and popular Chicken Tortilla soup, signature steaks, chicken, ribs, burgers, etc. As always, you can always shell out a little more for some seafood add-ons to your steak. I can't resist adding the five grilled shrimp to my steak. One day, if I ever win at the craps table, I'll go all "big spender" and add the grilled lobster tail to my steak order.
The main difference is that the two Las Vegas Boulevard Outback Steakhouses have prices that seem to be more expensive than you'll typically find elsewhere. Still, considering most of the traditional Las Vegas Strip steakhouses are much more pricier, many visitors find Outback to be a much better value for their vacation dollar. (Not to mention more casual and convenient).
I've provided the phone numbers for both of these restaurants, and it's a good idea to call first to see if you want to get on the wait list (if there happens to be one that night). Also, parties of 8 or more should definitely call ahead before arriving.
Tidbits
* Other Nevada Outback locations include branches in Reno, Laughlin, and Sparks.
* For a full list of all Outback Steakhouse locations across the country, (or for more information on menus, hours, etc., go to the company's official website here: www.Outback.com
(Photos courtesy of daveynin, Hideyuki Kamon, and and Abi Skipp via Flickr.) via Flickr).