Resorts Atlantic City Parking Fee, Map & Valet 2023
It was the very first casino in Atlantic City and it's still busy today, with over 1.4 million people a year visiting Resorts Casino Hotel.
Most of those 1.4 million visitors need a place to park, and Resorts accomplishes the task with a large 10 story parking garage on the back end (the north side) of the resort and with surface parking across the street.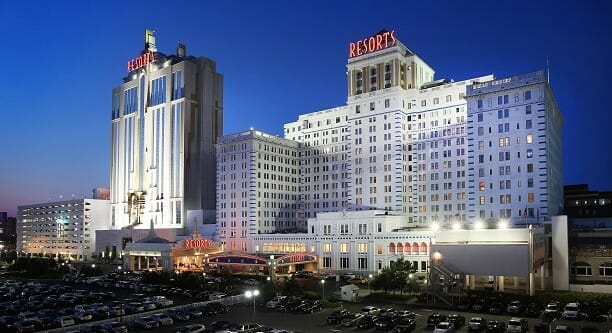 All total, there are just over 1,100 parking spaces here. And while the casino/hotel charges everyone a parking fee here – for hotel guests, and non-guests alike – there are a couple of ways to park for cheap or free (more on that below).
There is a standard parking rate of $15 per weekday, and $20 on weekends, but almost no one pays that, since just about everybody is qualified for one of the cheaper parking rates show here:
Resorts Casino Hotel Atlantic City Parking Fee
| | | |
| --- | --- | --- |
| Self-Parking Rate | Mon – Thurs | Friday – Sunday & Holidays |
| Non-hotel guest/Non-card holder | $15 | $20 |
| Hotel Guest | $10 | $10 |
| Premiere Card | $10 | $10 |
| Epic Card | Free | Free |
| Paramount, Paramount Plus, Red Carpet | Free | Free |
Please also note that these parking rates for non-hotel guests/non-card holders can increase during busier times in AC, such as during the 4th of July celebration, the Air Show, etc.
Parking Discount for Star Card Members
As you can see, you definitely should have a players card. Resorts AC's rewards program is called the Star Rewards card. The five levels are, (from lowest to highest): Premiere, Epic, Paramount, Paramount Plus, and Red Carpet.
Premiere is the card you're given when you first sign up. It's free of course, and doesn't require any play or anything to get one. Since you'll save $5 by simply having a Star Card, it's definitely worth it to sign up for this – even if you have no intentions to play at Resorts.
Resorts Atlantic City Free Parking
Even if you're not a higher roller and have not reached the Epic card or higher, you can still get free parking.
All you have to do is earn 4 tier credits in either slot play, video poker play, or on a table game.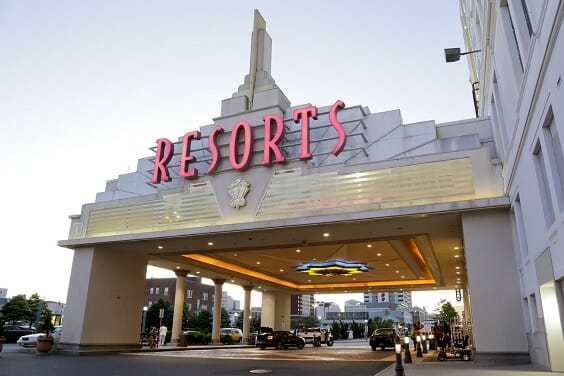 You can check if you've earned at least four tier credits at any of the promotion comp kiosks. If it shows you've earned at least four, you don't have to do anything else other than show your player's card at the garage when exiting.
Please note, this free parking comp is only good for self-parking at the garage. It's not valid parking on the surface not, nor for valet parking. As of this update, this promotion is still in effect.
Resorts Atlantic City Valet Parking Fee
| | | |
| --- | --- | --- |
| Valet Parking Rate | Mon – Thurs | Friday – Sunday & Holidays |
| Non-hotel guest/Non-card holder | $20 | $25 |
| Hotel Guest | $15 | $15 |
| Premiere Card | $15 | $15 |
| Epic Card | $10 | $10 |
| Paramount, Paramount Plus, Red Carpet | Free | Free |
As with self-parking, you get to the valet by S. North Carolina Avenue. After driving past the parking garage, the valet stands for both hotel towers will be on your left.
You'll follow the road which has you making a U-turn into the covered valet areas.
When staying at the Ocean Tower, you'll valet at the first valet parking area after the U-turn.
If staying at the Rendezvous Tower, you'll drive a few feet ahead after making the U-turn and use the second valet parking stand.
Self-Parking Garage & Directions
The spacious ten-story garage and surface parking lot are both accessible off of North Carolina Avenue. This is the only road into Resorts. There isn't access off of Pennsylvania Avenue.
When driving on North Carolina Avenue towards the Boardwalk, you'll see the garage and self-parking signage on the left. A little further up, you'll find the entrance into the uncovered surface parking lot on your right.
When using the parking garage, you pay when you leave. When using the surface parking lot, you pay when you arrive.
Clearance into the garage is six feet, six inches. The top level is uncovered parking.
(Related: Hard Rock Hotel & Casino Atlantic City Parking Fee
Unfortunately, parking for oversized vehicles or RVs is not offered.
Resorts Atlantic City Parking Map
(The black "P" is the self-parking garage, the brown "P" is the self-parking surface lot, while the purple star shows you the valet parking entrance).
More about Resorts Casino Hotel in Atlantic City
Set on 21 acres, Resorts AC is Boardwalk landmark, with two hotel towers with just under 1,000 hotel rooms, 1,700 slot machines, 70 table games, a year-round beach bar, and 100,000 square feet of casino floor space.
Resorts has two towers: The Ocean Tower and the Rendezvous Tower
Ocean Tower:
Built in 1927, this 11 story tower fronting the Boardwalk has 480 rooms, and is where you'll find the casino floor, and the main restaurant and dining areas.
Rendezvous Tower:
This is the newer of the two hotel towers, but with a cool retro art-deco vibe. Having opened in 2004, it boasts 462 rooms – 42 of which are suites.
Opened on May 26, 1978, Resorts AC became the first casino (or at least, legal casino), outside of the state of Nevada.
Resorts is owned and operated by Mohegan Gaming and Entertainment, which is noteworthy in that it's the was the first state-regulated commercial casino to be owned by a Native American tribe. (Almost all other Indian casinos in the United States are on tribal land and not subject to state laws and gaming regulations).
(By Steve Beauregard. Photos courtesy of Atlantic City Convention & Group)