Hard Rock Atlantic City Parking Rates & Map 2023
With 2,000 hotel rooms and a buzzing casino floor packed with 2,200 slot machines and 120 table games, the Hard Rock Hotel & Casino Atlantic City is one of the stars of AC gaming.
In fact, according to gambling revenue figures from the Division of Gaming, the Hard Rock Atlantic City is the second busiest casino in New Jersey, only behind the Borgata.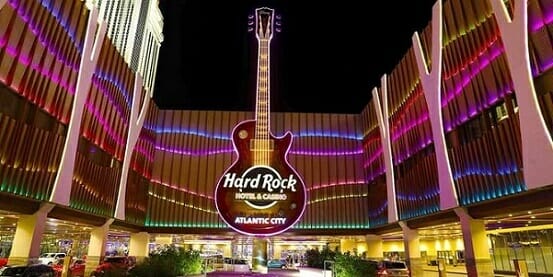 Whether you are gambling, dining, clubbing or seeing a concert or event at the Hard Rock Live at Etess Arena, you'll find this casino resort to be humming most days.
Fortunately for those of you driving in from Philadelphia, New York, or elsewhere, there's plenty of parking available to handle this demand.
Parking at the Hard Rock Hotel & Casino Atlantic City
The Hard Rock's AC boasts a massive parking garage that fronts Pacific Avenue. You'll notice it immediately as you drive into the ret.
The eleven-story structure stretches the entire block from Virginia Avenue to S. Pennsylvania Avenue. It's connected to the resort, and you'll just take an elevator down to level 3 for the hotel and casino.
(The "P" represents the entrance into the self-parking garage. The brown star is the valet area)
Access to this garage is very easy on Virginia Avenue. You'll see the signs pointing to the self-parking garage on your right.
Should you be a big enough high roller to posses a either a Rock Royalty or X level player's card, you're entitled to access a separate, VIP self parking garage entrance, which is just past the regular entrance.
Hard Rock AC Hotel & Casino Parking Fee
Unless you're a high roller (more on that below), you'll have to pay for parking at the Hard Rock AC. This applies to hotel guests and visitors alike.
Exact prices for self-parking here vary on how busy the resort is, but can range (according to a rep from the Hard Rock), "between $10-$25 depending on the day/business demand." Basically, however $10 is common on weekdays with $25 common on weekends.
However according to their Wild Card rewards page, if you have a Hard Rock player's card (called the "Wild Card") – even at the lowest level "Premier" – the most you would pay is $10.
Either way, this fee is per day, (not hourly), and you do receive in-and-out privileges all day with a pass. Be sure to ask for a parking pass while checking into the hotel.
Parking at the Hard Rock Atlantic City is totally free for those of you at Elite, Rock Royalty or X status.
(Related: Caesars Atlantic City Parking Rate)
Hard Rock AC Valet Parking
Getting exact pricing on this is difficult, and the Hard Rock told me rates fluctuate. In the recent past, valet rates have been the same as self-parking:
To reach the valet parking areas, you'll enter the resort on Virginia Avenue, where you'll continue straight, past the self-parking garage entrance.
In front of you will be the iconic, enormous Hard Rock guitar in the center. Circling around it, you'll see signs for both VIP valet parking and a hotel valet parking.
Again, this fee can increase on more busy weekends and holidays.
Free Parking at the Hard Rock AC
As with many other casinos that charge for parking, you can get free self and valet parking at the Hard Rock, depending on your level of casino play.
Hard Rock's player's reward program is called the "Wild Card." The four levels start when you sign up at "Premier" and then, based on play you'll go to "Elite" then "Rock Royalty" and finally "X."
Guests at level Elite or higher receive complimentary self-parking. Free valet parking is offered for those at Rock Royalty or X.
Although you won't get free parking if you are only at Premier (the lowest card), it's still worth it to sign up for one in advance, as having a Wild Card at Premier level means your parking fee is guaranteed to be $10 maximum.
To sum up Wildcard Rewards parking benefits:
| | |
| --- | --- |
| Premier | $10 maximum self parking |
| Elite | Free self parking |
| Rock Royalty | Free self parking & valet parking |
| X | Free self & valet parking |
As mentioned previously, Rock Royalty and X members have a special reserved parking entrance closer to the hotel.
Electric Vehicle Charging Stations at the Hard Rock AC
The parking garage's 2nd level is home to two electric vehicle charging stations, including one dedicated Tesla station.
You can also have your vehicle charged when dropping off at the valet.
Either way, charging is complimentary.
Other
For the self-parking garage, clearance is six feet, four inches.
To get to the casino from the parking garage, you'll take one of the six Otis elevators. The casino is on Level 3. It is quite a walk from the garage to the hotel check-in.
If the lower spaces seem full, don't be afraid to head up to upper levels, where you'll likely find more spots, and ones closer to the elevators as well.
(Related: Resorts AC Parking Fee).
Formerly the Trump Taj Mahal Hotel & Casino, the remodeled Hard Rock Atlantic City Hotel & Casino opened up in June 2018. It sets on 17 acres of land.
I am unsure as to how many parking spaces there are. When this same garage was part of the Trump Taj Mahal Hotel and Casino, there were 6,734 parking spaces. However the garage was refurbished and changed a little when the Hard Rock took the property over (including the installation of some electric charging stations), thus the space count has likely declined.
In addition to the Hard Rock Live at Etess Arena, (which can seat 7,000 people), the resort boasts the Rock Spa & Salon, 150,000 square feet of meeting spaces, fifteen restaurants, eight retail stores, and six different bars and nightclubs.
(By Steve Beauregard. Photo courtesy of the Hard Rock Hotel & Casino Atlantic City)