Sam's Town Bowling Center in Las Vegas: Prices and Hours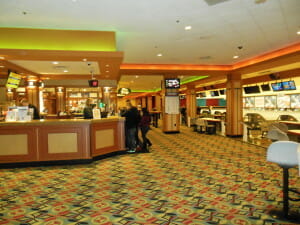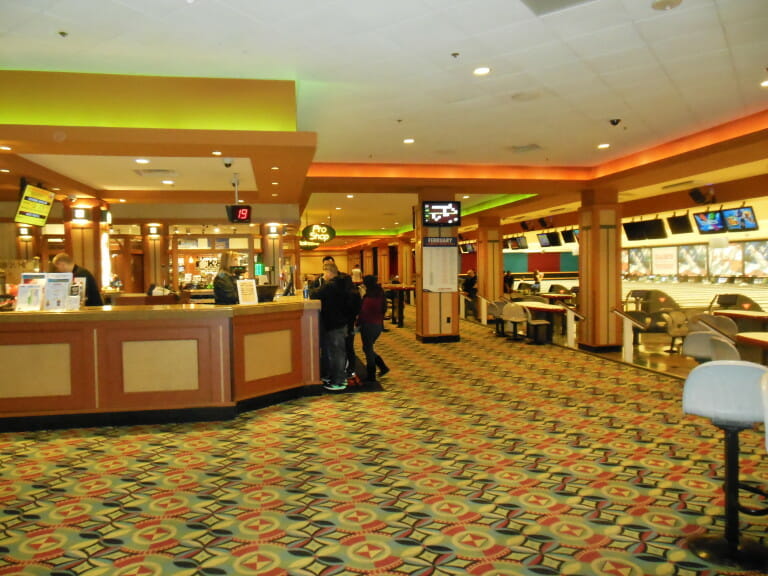 By Steve Beauregard
Whether you're looking for something the whole family can do in Las Vegas, or just wanting to save money and take a break from the gambling during your trip, the Sam's Town Bowling Center is a great and affordable way to relax while adding a little bit of variety to your Las Vegas vacation.
The bowling alley is located near the north entrance of the resort, downstairs, below the casino floor. I realize how that sounds, but this is not a dark, dingy, old-school basement bowling alley, but rather, a large, clean, modern, well-lit family-friendly center.
Sam's Town's bowling alley has 56 lanes. There's also a pro shop, little snack shop, and decent-sized bar. The snack shop serves items like burgers, pizza and nachos.
As for the lanes, there is, of course, automatic scoring, and a very easy-to-use digital touch-screen to enter player's names into. You even pose for several pictures, (a normal pose, a happy face and a sad face), which are subsequently shown above on monitors to reflect the results of your throw.
An added feature, (and one my kids loved to no end), is a video montage shown after every shot. The bowler's face is super-imposed on a funny character. After a gutter ball, for example, the bowler's face may be imposed on character who falls in the mud, for example. This alone was almost worth the very low price of admission.
There's also something called, "Lane Chatter," which you can use to trash talk to your buddy a few lanes over, but we didn't use it, based on us not knowing anybody else there and based on the fact that we are the worst bowlers in the United States.
Sam's Town Bowling Center Hours
This is Las Vegas of course, so the bowling alley is open 24 hours a day, 7 days a week.
Prices
Prices are all over the map, depending on when you bowl, and they are always changing. The Sam's Town bowling site will have the most up-to-date pricing, and they can be found here: Sam's Town Bowling Center.
In general, its cheaper to bowl on weekdays, and before 5 p.m.
There are discounts for kids 17 years and younger, seniors, and for those with military i.d.
Sam's Town's Extreme Bowling features disco music, lights and effects, and takes place on Friday and Saturday nights, from 9 p.m. to 1 a.m.
Midnight Bowling
It's VERY affordable to bowl during what they call the "Graveyard Shift," when prices for weekday bowling between midnight and 10 a.m. were just a dollar a game recently.
Promotions
In addition to their pricing list, the Sam's Town Bowling Center runs a ton of promotions.
Recently, for example, the movie theater at Sam's Town, the Century 18 Theater, ran a promotion where you could take your movie ticket down to the bowling center and show it to receive a free game.
Us being the cheapskates that we are, we went on a Tuesday, when movies are just $5.25 for everyone all day, and parlayed a cheap five dollar movie ticket into a full, fun-filled afternoon of movies and bowling. All for just $5.25 per person plus bowling shoe rental. Trust me, after losing $200 quickly at the craps table, this movie/bowling comp was a nice reprieve for my wallet and my soul.
Other specials and promotions include All-You-Can Bowl times, (often Sundays and Thursday nights, and family packages that include bowling, shoe rentals (for up to six people), nachos and pop.
Sam's Town Bowling Center Address and Phone Number
Like I mentioned earlier, the quickest way to get there is to use the north entrance into Sam's Town. Therefore, you'll want to use the parking garage on the north west side of the resort, off of E. Flamingo Road.
The exact address is:
511 Boulder Highway
Las Vegas, NV. 89122

Phone Number: (702) 456-7777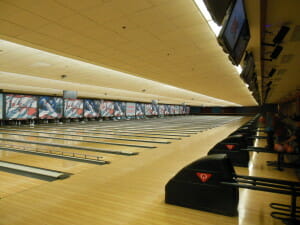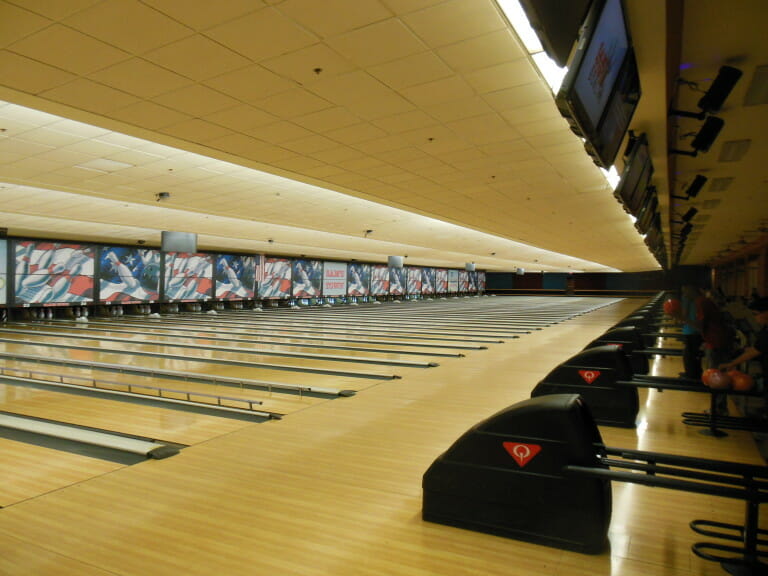 Please note that this is just the number to Sam's Town itself. They can transfer you to the bowling alley.
Sam's Town Bowling Center Pro Shop
The pro shop inside the bowling alley is called K&K Bowling Services. Their phone number is separate from the Sam's Town number shown above. It's:
(702) 454-8034
As you'd expect, they sell shirts, shoes, bowling balls, ball-bag-shoe packages, and anything else you may need bowling-related.
K&K Bowling Services also runs the pro shops at bowling centers at the Gold Coast, Sun Coast, and Orleans.
***
I never thought I would bowl while in Las Vegas, considering there is so much else to do, however if you're looking for a fun and affordable diversion you can enjoy with your kids, you may want to give the Sam's Town Bowling Center a shot. It's very clean, family-friendly, and a pretty cheap way to spend some family time while in Las Vegas.