Updated February 18th, 2021
(Editor's note: While the casino is open the Serrano Buffet at San Manuel remains closed. We will update this article once a re-opening is announced).
As one of the biggest casinos in the United States, and the closest casino to Los Angeles, the San Manuel Casino is one busy place, averaging over 22,000 visitors a day!
A good portion of the 8.3 million customers San Manuel sees each year will stop by the casino's popular Serrano Buffet.

Located on the lower level, next to Tutu's Food Court, the buffet really isn't that large, (both in terms of dishes and seating) – especially given the heavy demand. Big lines often form from behind the red velvet ropes outside – particularly during busy weekend nights.
Serrano Buffet Reservations
As such, there is a new reservation system. Beginning at 1 PM daily, you're able to go to the buffet host and make a reservation for that night's dinner.
Things may change, and a casino representative has said they are still working to improve the system with kiosks, but as of this writing, you have to make the reservation in person, at the buffet. In other words, no online or phone reservations allowed.
You'll get a slip with a return time, (it may be several hours later), which you'll show when coming back for dinner. It still doesn't eliminate a wait, (in fact, you may have to wait both at the 1 PM time and then at your designated entry time), but it still is a work in progress.
In addition to an affordable breakfast buffet, a busy lobster and seafood nights, the buffet even has a roaming magician entertaining guests Wednesday through Saturday nights.
San Manuel Casino Buffet Price & Hours
First off, San Manuel's player's card is called "Club Serrano." Membership is free of course, and you'll want to show your card at the buffet to save money.
The prices below are for when you show a Club Serrano Card at the lowest tier – the red "Classic" card level. There are bigger discounts for higher-tier members which we show further down below.
Those who don't have a card will pay $4 more than the prices shown here:
Breakfast: 7 AM to 11 AM – $12

Lunch: 11 AM to 3 PM

Monday – Friday: $18
Saturday & Sunday: $22

Dinner:

Monday: Steak Night
4 PM to 10 PM – $33

Tuesday: Latin Night
4 PM to 10 PM – $33

Wednesday & Thursday: Lobster Buffet
4 PM to 11 PM – $41

Friday: Seafood Night
4 PM to Midnight – $41

Saturday & Sunday: Steak & Seafood
4 PM to Midnight – $33
(Closes at 10 PM on Sundays)
These are standard prices, and they can go up during holidays.
Club Serrano Buffet Discounts
As mentioned above, anyone who just signs up for a Club Serrano Card, even without playing and acquiring points, saves $4 off of each buffet. However there are further discounts the higher your status.
Club Serrano has four main levels: Classic, Emerald, Amber and Diamond. Below are the additional savings off of the prices shown above.
Emerald: $8
Amber: $11
Diamond: $14
In addition to these levels, high rollers at the Turquoise level eat at the buffet for free.
Menu Items
Below is coverage of standard breakfast and dinner buffets.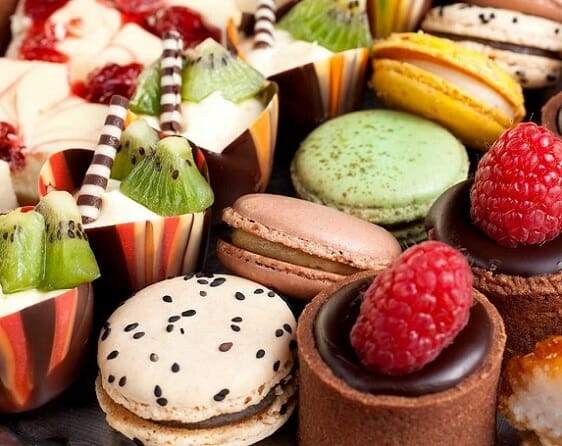 San Manuel Breakfast Buffet
A somewhat recent addition to Serrano's Buffet offerings is the now seven-day-a-week breakfast buffet.
Here you'll find your standard array of eggs and egg dishes, and a made-to-order omelet station. Meats include bacon, sausage, and a ham carving station.
There's also waffles, (and chicken and waffles), pancakes, French Toast, and biscuits and gravy.
On the healthier side, you'll see a selection of fresh fruits, (grapefruit, cantaloupe, melon, blueberries, etc.) and yogurt with choose-your-own-toppings bar.
On Saturdays and Sundays only, mimosas are available for purchase from 10 AM to 3 PM.
Dinner
As you'll see from the nightly pricing changes, some menu items rotate depending on the day.
Steak night on Monday and Latin Tuesdays will have offerings not available other nights.
Similarly, crab legs are only served, Wednesday through Saturday nights.
Regardless of the night however, you'll find Italian, Asian and American stations. There's also a prime rib carving station and a Teppanyaki grill, where beef and vegetables will be grilled as you wait.
Some other menu items you'll likely find include three different kinds of pizza and some pasta dishes.
In the American station: Chicken wings, fried chicken, mashed potatoes, mac n' cheese, corn on the cob, baked beans, collard greens, and more.
Asian: Sushi is served daily, along with vegetable spring rolls, short ribs, fried rice and vegetable stir fry.
Of course there's your standard salad bar, (I counted 12 topping choices and four different salad dressings), along with a small selection of pre-made salads.
Desserts
You'll end the line with desserts on the far left side of the buffet (when facing it).
Here you'll find individual plates of cakes and pies, like a delicious looking blueberry pie, along with chocolate cake, carrot cake, tarts, banana cream pie, cherry cobbler, cup cakes, cake pops and the like.
Your selection of hand-scooped ice cream flavors includes pineapple, pumpkin, chocolate, salted caramel, strawberry and vanilla. There are a few syrups and toppings to go along with it.
On the less sweet side, there is a small variety of "no sugar added" desserts offered.

San Manuel Lobster Buffet
Serrano Buffet's very popular all-you-can-eat lobster buffet is held on Wednesday and Thursday nights.
Besides crab legs, the lobster is obviously the main draw here.
There are lobster claws, and lobster tails. A tong-wielding buffet employee will serve you individual lobster tails, asking if you'd like them dipped in butter. There are even two types of butter: regular and spicy.
In addition to the lobster and tails, there's a lobster taco bar with all the fixings, a lobster salad and lobster pasta dish.
With the new reservation system, you may have to get there right at 1 PM to ensure guaranteed seating for that evening's Lobster buffet.
Seafood Buffet night
The Lobster Buffets on Wednesday & Thursday aren't the only nights lobster is served.
The Friday night Seafood Buffet also features all-you-can-eat lobster tails.
There's also prime rib, snow crab legs, a shrimp scampi station, butterfly shrimp, peel n' eat shrimp, mussels, crab salad, clam chowder and more.
Drinks
Each buffet comes with unlimited soft drinks (Pepsi products), milk (including chocolate milk), tea, coffee, hot chocolate, and juices (orange, apple and cranberry).
There is wait service here, in other words, the drinks aren't self-service, so be sure to remember to tip your waitperson.
Beer and wine service is available at the buffet, starting at 5 PM on weekdays, and at 8 AM on weekends.
Beers and house wine were $6 each at the time of this writing.
Other
You must be 21 years or older to enter the San Manuel Casino, and that applies to dining at the Serrano Buffet as well.
(By Steve Beauregard. Photos courtesy of San Manuel Casino).