The greater Los Angeles area has 5 counties, 18 million people, 503 square miles of land, and one casino.
To clarify, we're talking about casinos with slot machines.
There are several nearby cardrooms in Los Angeles, however they are just cardrooms only. What makes it confusing is that many of these cardrooms have the word "casino" in their name.
However we're just focusing here on the closest more traditional casino to L.A. – one with slots, craps, and the like. Per California law, cardrooms are different entities, are not allowed to have slot machines, video poker machines, or craps and roulette.
That being the case, there is one casino near Los Angeles.
It's the spacious Yaamava Resort & Casino (formerly the San Manuel Indian Bingo and Casino), east of L.A. in Highland, in San Bernardino County. It's an Indian casino on tribal land situated sixty-three miles due east of downtown Los Angeles.
(The red star in the map below represents the Yaamava Resort & Casino, while the yellow star represents the Pechanga Resort & Casino)
More about Yaamava Resort & Casino (Red star on map)
With 6,500 slot machines, 123 plus table games, and 220,000 square feet of casino floor space, Yaamava is one of the largest casinos in the United States, and the biggest of the 25 casinos in Southern California.
There are some quirks with tribal gaming. Although the casino is open 24 hours a day, alcohol service stops at 1:15 AM. In addition, the craps game is card-based, rather than determined by a dice toss (although the odds are the same). There is no longer a poker room here either.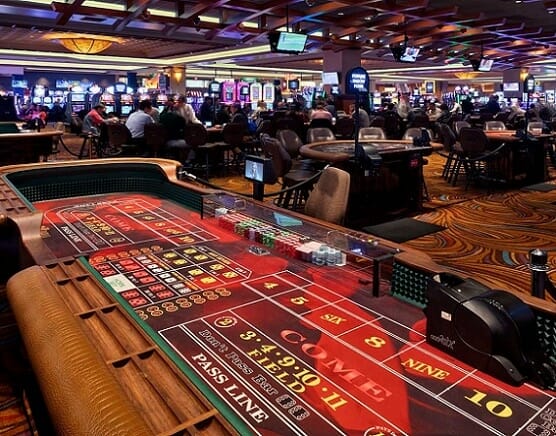 Opened in 1986, the since-expanded and remodeled two-story casino has nine restaurants – including Hong Bao Kitchen, The Pines Modern Steakhouse, Serrano Vista Cafe, and Rock & Brews, (among others).
There's also a food court, several bars, and entertainment and concert venues. The popular Serrano Buffet remains closed as of this update, and we're not sure if it going to return.
While there currently is not a hotel here, that's soon about to change as the casino is in the midst of a half billion dollar expansion that will add a 14 story hotel tower with 450 rooms, an expansive pool complex, spa, shopping, more restaurants, and a 3,000 seat entertainment venue. It's expected to be completed in late December of 2021.
Unlike Las Vegas Strip properties, parking at the Yaamava is free at all of their 3,400 parking spaces. As part of the expansion, there is another parking garage that has already opened, with room for 2,200 more vehicles.
You must be 21 years of age or older to enter the casino.
Address, Phone & Website
777 San Manuel Boulevard
Highland, CA 92346
Phone: (800) 359-2464

Website: Yaamava.com
The Yaamava Resort & Casino at San Manuel is the closest casino with slot machines to the vast majority of towns in the greater Los Angeles metropolitan area.
However there are two other casinos within a 100 mile radius of downtown Los Angeles.
Cities well to the south (Mission Viejo), or to the north (Oxnard), do have some closer options, which we'll cover below.
Pechanga Resort and Casino (yellow star)
For the vast majority of L.A. area communities, the second closest big casino is Pechanga Resort and Casino in Temecula.
Having recently completed a $300 million dollar expansion, Pechanga now has 5,000 slot machines, 158 table games, a 38 table poker room and spacious bingo hall with room for 700 players.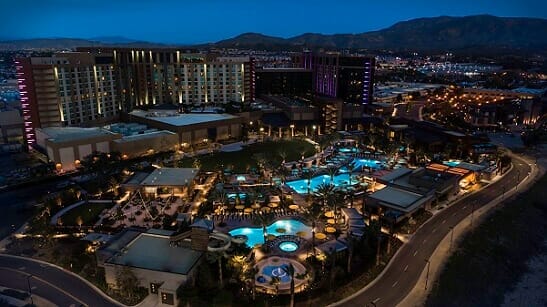 All total, there is 188,000 square feet of casino floor space, and just over 1,000 hotel rooms. There is the requisite spa and a pretty 4 1/2 acre swimming pool complex with cabanas and a swim-up bar.
This beautiful-looking resort is a good 90 miles south of downtown Los Angeles.
For many gamblers however, especially those in more southern L.A. cities, the difference in driving distance between San Manuel and Pechanga is just an extra ten or so miles each way.
Soboba Casino (black star)
The newer Soboba Casino in San Jacinto is another option.
Opened in February 2019, the revamped casino-hotel replaces the tribe's original small tent casino, which opened in 1995.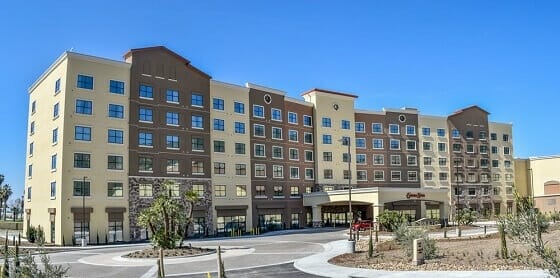 Along with 200 hotel rooms, the new resort has a big pool area, golf course, and 15,000 square foot events center. There are six restaurants, not including four fast-casual dining options at their upscale food court area.
The casino itself has 140,000 square feet of gaming space, in which you'll find 2,000 slots, along with 32 table games.
Cardrooms in Los Angeles
As mentioned above, while there is only one casino close to L.A., there are several cardrooms in the area. These businesses mostly cater to poker players, however most have California blackjack games, along with other table games.
In fact, there are seven active cardrooms within a 20 mile radius of downtown Los Angeles. There are 70 active cardrooms in all of California.
The largest of these, L.A. area cardrooms, The Commerce Casino in Commerce, has 270 tables. This blows away the number of table games found at more traditional casinos in California, and Las Vegas, for that matter. Again, these cardrooms do not have slot machines.
(Each colored star represents one of the seven cardrooms in the L.A. area)
Here are the distances from downtown L.A. to the cardrooms:
Bicycle Hotel & Casino (Bell Gardens, CA.) – 10 miles
Commerce Casino (Commerce) – 8 miles
Crystal Casino (Compton) – 17 miles
The Gardens Casino (Hawaiian Gardens) – 21 miles
Hollywood Park Casino (Inglewood) – 12 miles
Hustler Casino (Gardena) – 13 miles
Larry Flynt's Lucky Lady Casino (Gardena) – 12 miles
Distances from Los Angeles area cities to their closest casino
So while there are 66 casinos in California, just two of them are near Los Angeles.
Below are the distances from L.A. area cities to the San Manuel Indian Bingo & Casino (first number), and Pechanga Resort & Casino (second figure).
Anaheim: 56 miles – 66 miles
Burbank: 67 miles – 98 miles
Carson: 79 miles – 89 miles
Compton: 71 miles – 83 miles
Corona: 35 miles – 42 miles
Costa Mesa: 65 miles – 74 miles
Downey: 64 miles – 81 miles
El Monte: 52 miles – 76 miles
Fullerton: 58 miles – 66 miles
Garden Grove: 61 miles – 71 miles
Glendale: 63 miles – 94 miles
Huntington Beach: 70 miles – 79 miles
Inglewood: 79 miles – 95 miles
Irvine: 58 miles – 67 miles
Lancaster: 95 miles – 144 miles
Long Beach: 77 miles – 88 miles
Mission Viejo: 64 miles – 59 miles
Moreno Valley – 27 miles *
Newport Beach: 67 miles – 76 miles
Norwalk: 64 miles – 75 miles
Ontario: 29 miles – 59 miles
Orange: 54 miles – 64 miles
Palmdale: 84 miles – 132 miles
Pasadena: 56 miles – 86 miles
Pomona: 37 miles – 61 miles
Riverside: 23 miles – 47 miles
Santa Ana: 58 miles – 68 miles
Santa Clarita: 89 miles – 119 miles **
Santa Monica: 81 miles – 103 miles
Torrance: 83 miles – 92 miles
Tustin: 56 miles – 66 miles
West Covina: 47 miles – 71 miles
* The closest casino to Moreno Valley is the Soboba Casino, at just 23 miles away.
**The 2nd closest casino to Santa Clarita is the Chumash Casino, at 108 miles away.
Closest Casino for Cities North of L.A.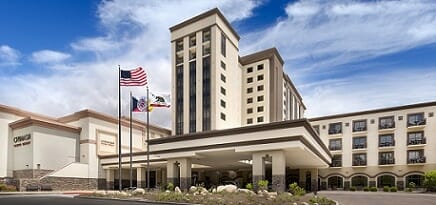 For towns just north of Los Angeles, there is a closer option.
It's the Chumash Casino Resort in Santa Ynez.
This 320 room resort is real Vegas-style casino, and has 115,000 square feet of casino floor space, in which you'll find 2,300 slot machines, a bingo hall, and 45 table games, (not including their 12 table poker room.)
Below are distances to the Chumash Casino from various cities:
Oxnard – 68 miles
Santa Barbara – 31 miles
Simi Valley – 94 miles (versus 98 miles to the San Manuel Indian Bingo & Casino)
Thousand Oaks – 86 miles
Ventura – 63 miles
(By Steve Beauregard. Photos courtesy of each respective casino).