Silverton Hotel & Casino's Seasons Buffet: Price, Hours & Menu 2023
(Updated January, 2023. Editor's note: While the Silverton and some of its restaurants are open, the Seasons Buffet is not. We'll update this article once a re-opening date is announced.)
It has a rustic lodge look, a massive Bass Pro Shop store attached, and even a daily live mermaid show.
It also has decent, affordable buffet.
Here we're talking about the Silverton Casino/Hotel in south Las Vegas. Opened in 1997, the unique non-Vegasy style resort is located just over 4 miles south of the south end of the Las Vegas Strip.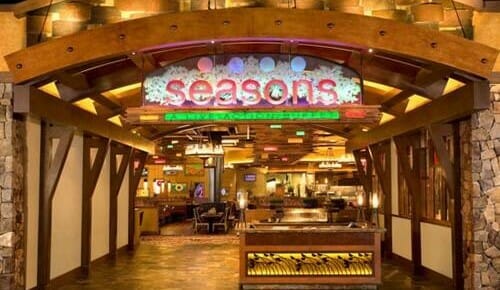 In addition to its large aquariums and Bass Pro Shop, the hotel/casino boasts over 2,000 slots and 30 table games, and is home to six restaurants, including the Seasons Buffet.
By most accounts, including my own experience there, the buffet is good, tasty, and clean, but not outstanding when compared to its fancier buffet cousins on the Strip 4 miles north.
What is outstanding about Silverton's buffet are its prices. You can chow down at very reasonable prices at Seasons. Everything is a little cheaper off the Strip, and Silverton's buffet is a prime (rib) example.
The dining room has an very open, contemporary feel with colorful lights and high ceilings. It was completely remodeled just about three years ago. Overall it is a pleasant environment off of the casino floor towards the back of the resort.
Silverton Seasons Buffet Price & Hours
The Silverton Casino is home to that rare buffet that does not serve a daily breakfast. The closest they get to breakfast is a Sunday Brunch.
For simplicity's sake, these prices published below are for those of you who have a Silverton's Rewards Card. They're free to sign up for at the casino's player's desk. Prices for people without the card are $1 higher at lunch, $2 to $4 higher for dinners.
Lunch
$10.99 every day Monday – Thursday & Saturday (11 AM to 3 PM) Friday (11 AM to 2 PM)
Dinner
Sunday – Thursday (4 PM to 8:30 PM): $14.99
Friday (3 PM to 9:30 PM Lobster Feast): $41.99
Saturday (4 PM to 9 PM Polynesian Buffet): $22.99
Brunch
Sunday (10 AM to 3 PM): $18.99
Kids Prices
Kids ages 7 or higher pay the full price above. Kids 4 to 6 pay only ½ price, while children ages 3 and under are free.
Menu Items at Seasons Buffet at the Silverton
The Season's Buffet's tagline is, "A Live Action Buffet," and there are six different stations from which to choose from.
Overall it's one of the smaller buffets in Las Vegas, yet still with plenty of variety for all but the pickiest of eaters.
Starting from the left side working right, the modest salad bar area includes a selection of breads, deli meats and cheeses and two soups.
Seasons has one of those fun made-to-order pasta stations with a good variety of ingredients, (spinach, capers, and the like), you load on before handing it to the cook to prepare your pasta dish there in front of you.
(Related: South Point Casino Buffet Price)
From there you'll find buffet standards under heat lamps: fried shrimp, baked fish, baked chicken, macaroni & cheese, collard greens, fried chicken, meatloaf, corn on the cob, barbecue pork, chicken wings, baked potatoes, corn bread and a small Asian food station.
You won't find the typical Las Vegas buffet standard of crab legs here, but for the price, you wouldn't expect it either.
The Italian section included pizza, stuffed peppers, and meatballs.
Weekends
The Silverton's Friday night dinner buffet is very seasonal, and changes often. In summers past they have run a BBQ and Brews buffet that includes beer with the buffet, while fall and winter seasons sees their Harvest Buffet, with hearty soups, chili, brats, German potato salad and the like.
A popular seasonal menu is the Friday night Lobster Feast Buffet, with menu items that include: Oyster on the Half Shell, Lobster Cocktail Claws, Sushi, NY Strip, Smoked BBQ Salmon, Rosemary Crusted Turkey, Cajun Broiled Oysters, Cajun Boiled Corn & Red Potatoes, Lobster Tacos with Passion Fruit-Tomato Chutney, Shrimp Scampi, Stuffed Crabs, Oven Roasted Lobster Tails, and Crab Cake Stuffed Lobster Tails, among others.
A consistent throughout the year, on Saturday nights, is the Seasons' weekly Polynesian Buffet.
It must be pretty good and authentic as my understanding is that many local residents with ties to Hawaii frequent this Saturday night buffet.
Special menu items on Polynesian night include ahi poke, tako poke, chicken curry, sushi, "suckling pig with crispy skin," pork lau lau, and lomi lomi (a traditional Hawaiian chilled salmon and tomato salad), among others.
Dessert
Regardless of the night, Season's dessert section features a small selection of sugar-free desserts, along with the various cookies, cakes, and pies.
The highlight for some in our group are the cute little dessert shot glasses featuring colorful tiramisu-type of custard treats.
A highlight for our kids was the hand-scooped ice cream and gelato (six flavors total), with a small selection of toppings to the right.
Free Buffet Promotion
Casino promotions are changing all the time of course, however Silverton often runs a great free buffet promotion for players new to their player's card system.
Guests signing up for the Silverton Rewards card only have to rack up 100 points to earn a free buffet trip (good for any meal).
Every $1 in slots play equals 2 points, and despite that fact that not everyone in our party were big gamblers, all of us were able to reach the 100 point free buffet mark pretty easily.
Top photo courtesy of the Silverton.