Updated January 5th, 2021
(Editor's note, while the Garden Buffet is open, the buffet is now staff-served, vs. self-serve. All prices and hours are updated below).
It has three hotel towers, 2,100 hotel rooms, a 64 lane bowling alley, movie theater and even an equestrian center.
Today is #NationalBuffetDay! So, it's only right we eat at the best staff-served buffet in town… Garden Buffet. 🍽️

Make your reservations today: https://t.co/6S2kJj1uFC pic.twitter.com/BsPDOJOlBv

— South Point Hotel (@southpointlv) January 2, 2021
It also has a very reasonably-priced buffet that has recently completed some remodeling and refreshing.
With just over 137,000 square feet of casino floor space, The South Point is, surprisingly, one of the ten biggest casinos in Las Vegas.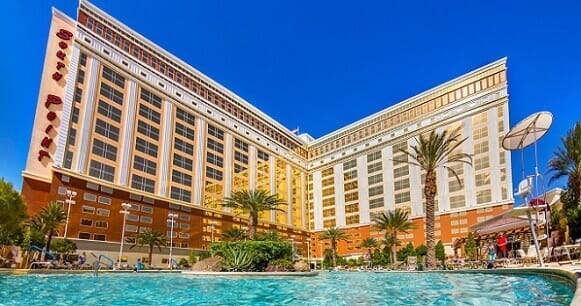 As such, its popular Garden Buffet does a pretty good job in satisfying the needs of the South Point gamblers with affordable lunch, brunch and dinner buffets.
The Garden Buffet is located on the first level, right off of the casino floor near the escalator that takes you up to the Century 16 movie theater.
The layout is very open, and the décor very basic. Noise from the slots just a few feet away combine with the chatter from other hungry patrons to make it sort of noisy here.
However the South Point makes for that with a modestly-priced buffet (by Las Vegas standards) that offers some nice touches, such as free unlimited mimosas during brunch, (more on that below).
South Point Garden Buffet Prices & Hours
We'll preface this by saying the prices below are for CLUB members.
CLUB is the South Point's player's card. It's free to sign-up for of course, and you don't even have to have gambled to get the buffet discount. You simply have to show the card when arriving at the buffet.
It's very important that you arrive with the CLUB card. Without it, you will pay more than the prices listed below: $2 more for breakfast, up to $4 more per person for dinner.
Also, please note that the $9.95 weekday breakfast is no longer offered as of this update. We expect that to resume when Las Vegas gets busier, and will update this article when it does.
Regular buffet prices for CLUB card holders are listed below:
Prime Rib Brunch: Saturday & Sunday: 8 AM to 3 PM – $17.95

Lunch: Monday – Friday: 11 AM to 3 PM – $11.95

Prime Rib Dinner: Seven Nights a Week: 4 PM to 9 PM – $18.95
During weekend brunch, you receive unlimited mimosas.
Also, in a recent change, the Seafood Buffet is no longer offered. (Previously it was on Friday nights). However we expect it to return later.
This higher-priced Seafood night features seafood dishes not offered during the weekday. Prime Rib is available as well. With the seafood night, you receive two free glasses of wine or draft beer.
Please also note the one hour break between lunch and dinner.
I mention this as it prevents one from utilizing a budget-minded buffet trick in which you show up late to lunch and stick around when they bring out the more expensive dinner items.
Children's Prices
Kids from ages 4 to 8 pay half price of the non-card price. Kids 9 and up pay full price and children 3 and under eat for free.
South Point Garden Buffet Menu Items
Breakfast
(As mentioned above, breakfast isn't currently offered, however we'll leave this section up with the assumption that the breakfast buffet will return when Las Vegas opens back up more).
Here you'll find the usual egg dishes, including eggs benedict, sausage, bacon, hash browns, along with pancakes, waffles (with four different kinds of syrup), yogurt with fresh fruit toppings (including coconut), and the like.
The weekend brunch includes the carving station with prime rib, roast turkey. During the brunch, you can have unlimited mimosas.
Dinner
The Prime Rib Dinner is now seven days a week.
In front is a long salad bar with plenty of options on both sides.
In addition to the soup & salad bar, your other dinner options include six live-action cooking stations. A sample of the dishes you'll likely find are covered briefly below, with the disclaimer that menu items are always subject to change.
(Related: Bacchanal Buffet at Caesars Palace)
You'll find everything from roasted turkey, mashed potatoes, stuffed baked tomatoes, to Brussel sprouts, vegetable dishes and Egg fu young.
On the Mexican side, you'll find menudo and make-your-own burritos.
There is make-your-own pasta, in the Italian station, along with pizza of course.
At the BBQ station, the beef ribs get good marks. There's also brisket, meatloaf, and sides that include mac'n cheese, cornbread muffins.
Seafood options include peel & eat shrimp, seafood creole, fresh fish and sushi.
Every night there is also the Mongolian Grill – a cook to order Chinese/Mongolian station where you pick the protein, ingredients and sauces, which are then prepared on the grill in front of you.
South Point buffet's carving station has prime rib, every night of the week. You'll also find pork loin and turkey. And next to it are toppings like regular horseradish, creamy horseradish, cranberry (for the turkey), etc.
Desserts
As for desserts? There's ice cream of course, and the separate gelato area is staffed by an employee who scoops up your selection from behind the counter. I counted six different gelato flavors.
In addition, there are your standard array of pies, cakes, cookies and pastries.
(By Steve Beauregard. Photo courtesy of the South Point Hotel & Casino)