Biggest Casino in Las Vegas & List of the Top 20 Largest Casinos in Sin City
By Steve Beauregard
It's a city known for mega-casinos, with floor spaces so large, you can walk a quarter mile just getting from your room to the outside doors. (Trust me, I've measured it).
And while companies and Indian tribes are opening, or expanding their casino/resorts around the world, in places ranging from Macau China, to Thackerville, Oklahoma, Las Vegas remains the gambling capital of the United States, and the world's most exciting city.
The figures used here in our breakdown of the biggest casinos in Las Vegas come from the Nevada Gaming Control Board. The square footage noted is casino floor space only.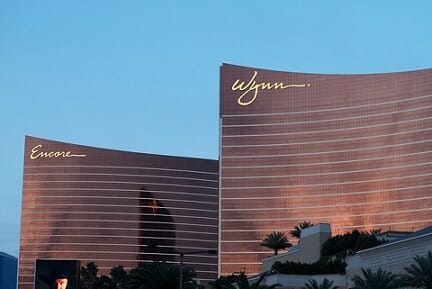 In other words, space from showrooms, clubs, spas, restaurants, the lake in front of the Bellagio, etc., is not included.
Also, all of the casino space that is under one roof and which has the same gaming license holder is counted together.
Jimmy Buffet's Margaritaville casino inside the Flamingo Hotel & Casino, for example, may have a different look, feel, and entrance from the Flamingo, however both casinos have the same license holder, are under the same roof and therefore their square footage is combined.
Of course, size doesn't always directly correlate with financial success. The Cosmopolitan, for example, is arguably one of the hippest, most popular and buzzworthy casinos in Las Vegas right now, and is making a profit, yet it didn't make our list. On the other hand, an iconic, classic resort like Caesars Palace is the 13th biggest casino in Las Vegas, yet it's parent company declared bankruptcy.
Another interesting note is that appearances can be deceiving. You look at a mega-resort like the Excalibur, with its shiny white castle, towering turrets, and 4,400 hotel rooms, and think that it may be one of, if not THE, largest casino in town.
It didn't even make the top 20.
The enormous huge black pyramid known as the Luxor is the second biggest hotel in Las Vegas, yet is not one of the top 20 biggest casinos in town.
One last surprising note (as least for me), was the presence of so many locals casinos on the list. For example, the Sante Fe Station Hotel & Casino is larger than the Bellagio! Nine of the 20 biggest casinos in Las Vegas are locals casinos, located away from the Strip.
If you're an infrequent visitor to Las Vegas, you may not have even heard of a few of these casinos. These locals casinos are located away from the Strip, in areas where land is less expensive, meaning they are bigger because they can be bigger. In addition, some of these locals joints have large bingo parlors, which they build to cater to locals, and which counts towards the casino square footage.
Biggest Casino in Las Vegas
The biggest casino in Las Vegas, as determined by the square footage of the casino floor, is the Wynn and Encore complex on the north end of the Las Vegas Strip.
The Wynn and Encore have a combined 186,187 square feet of casino space, according to the State of Nevada Gaming Control Board. It's 14.8% larger than the next largest casino in town, which is, surprisingly, the Sunset Station Hotel & Casino.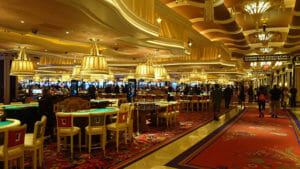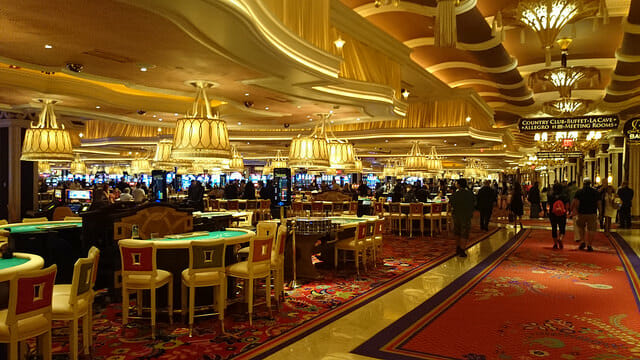 The Wynn and Encore are different casinos of course, located a long walk away from each other, however since both resorts are all under one roof and under one gaming license, the Gaming Control Board counts the entire dual-resort as one giant casino space.
Combined, Wynn and Encore have 2,195 slot machines and 240 table games.
While they combine to form the biggest casino on the Strip and in Sin City, if listed separately, neither resort would make the list of the top 10 biggest casinos in Las Vegas!
Wynn and Encore Square Footage
The Wynn itself has approximately 111,000 square feet, while the Encore has approximately 74,000 square feet. And yes, I know those numbers do not total the 186,187 square feet mentioned above, however these figures are from when the resort's construction was completed. The 1,187 square foot difference may be due to the expanded poker room.
Also, in case you're interested, the Wynn and Encore sit on one of the largest casino parcels in Sin City, with 215 acres total. This includes the resort's 18 hole golf course located behind the hotel towers. Wynn Resorts recently announced plans to covert part of the golf course into a massive recreational lake and resort, dubbed "Wynn Paradise Park."
As for the interior today, current Wynn/Encore casino floor space is broken down as follows:
Slot machines (including video poker and other electronic games): 109,853 square feet.
Pit games: 65,634 square feet.
Race and Sports Book: 5,600 square feet.
Poker Room: 5,100 square feet.
Interestingly enough, although it's known as the gambling capital of the world, none of the biggest casinos in Las Vegas come close to the half a million square feet of casino space found at the WinStar World Resort and Casino in Oklahoma, which holds the title of the largest Casino in the U.S.
As a side note, although the Wynn and Encore combine to have 4,750 hotel rooms, it doesn't rank as the biggest Hotel in Las Vegas. That honor goes to the MGM Grand Hotel and Casino, which has 5,044 hotel rooms, but "only" 153,000 square feet of casino space.
(Related: Free parking on the Las Vegas Strip)
Wynn/Encore Background
Wynn Resorts chairman Steve Wynn opened Wynn Las Vegas on April 8, 2005 at a cost of $2.7 billion. Although glitzy, glamorous, and jaw-dropping gorgeous, the Wynn did not become the largest casino in Las Vegas until three and a half years later, on December 22nd, 2008, upon the opening of its sister resort, the $2.3 billion Encore.
Biggest Casinos in Las Vegas
Below is the full list of the 20 Biggest Casinos in Las Vegas, as measured by casino square footage figures from the Nevada Gaming Control Board:
1) Wynn/Encore – 186,187 square feet. 1,900 gaming machines. 167 table games.
2) Sunset Station Hotel & Casino – 162,173 square feet.
3) Mandalay Bay – 160,334 square feet.
4) Sante Fe Station Hotel & Casino – 156,401 square feet.
5) Bellagio – 156,000 square feet. 2,449 slot machines. 207 table games.
6) MGM Grand – 153,000 square feet. 2,500 gaming machines. 178 table games.
7) Aria Resort and Casino – 150,000 square feet.
8) Venetian/Palazzo – 142,354 square feet.
9) Green Valley Ranch Station Casino – 143,891
10) South Point Hotel & Casino – 137,232
11) Orleans Hotel & Casino – 137,000
12) Alliante Casino & Hotel – 125,000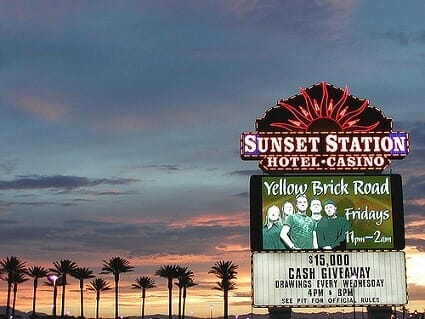 13) Caesars Palace – 124,181
14) Circus Circus – 123,928
15) Texas Station Gambling Hall & Hotel – 123,045
16) Sam's Town Hotel & Gambling Hall – 120,681
17) Red Rock Casino Resort Spa – 118,309
18) Rio All-Suites Hotel & Casino – 117,330 square feet. 1,245 gaming machines. 104 table games
19) Westgate – 111,143
20) Monte Carlo (Park MGM) – 101,493
Other Large Vegas Casinos
As you may know, the Paris Hotel and Casino and Bally's are connected, all under one roof, and owned by the same owner (Caesars Entertainment). Yet for reasons that are not entirely clear, the Gaming Control Board counts each one individually.
The gaming square footage of the Paris is 95,263, while Bally's has 66,187 square feet of casino space. Combined these two have 161,450 square feet of casino floor space, which would put them third on the list of the largest casinos in Las Vegas.
Other casinos not making the cut include the Luxor, at 100,889 square feet, the Mirage (97,750 square feet), Excalibur (96,656), Harrah's (91,833 square feet), The Cosmopolitan (68,124 square feet), and Planet Hollywood (60,835 square feet).
(Photos courtesy of Jake Przespo and John Novak via Flickr.)