Strat Hotel Casino Crafted Buffet Prices & Hours 2023
(Please note: The Crafted Buffet at the Stratosphere Hotel and Casino remains closed. We'll update this article once a re-opening date is announced.)
The Strat Hotel & Casino's buffet, called "Crafted", has been refurbished, but remains your typical casino buffet, albeit a little smaller than most and lacking the seemingly endlessly variety of dishes found at the larger, more expensive buffets down the Strip.
The Crafted Buffet makes up for this however, with very reasonable prices.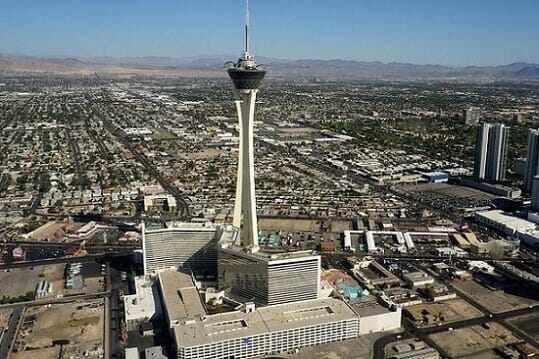 The weekend brunch, in particular, seems like a pretty good value in that unlimited champagne and/or mimosas are included in the price of admission. More on that below.
Stratosphere Las Vegas Buffet Prices & Hours
Here are the current standard Crafted Buffet prices.
These do not include the discount you can receive for having Stratosphere's player's card at certain levels. (More on that below).
Brunch
Monday – Friday: 7 AM to 2 PM: $17.99 ($9.99 for kids)
Champagne Brunch
Saturday & Sunday: 7 AM to 2 PM: $23.99 ($12.99 for kids)
Dinner
Seven Days a Week: 4 PM to 10 PM: $23.99 ($12.99 for kids)
Please note that these prices do not include the Las Vegas sales tax of 8.38%.
As such, dinner for two at the buffet will cost you a total of $51.93 after tax (but before tip). One other note: Groupon seems to have Crafted Buffet deals often listed. Recently they had 2 dinner buffets for $31.95 before taxes – a good savings over the $47.98 this would normally cost.
Stratosphere Player's Card Buffet Discount
The Stratosphere Hotel & Casino calls their player's card the "True Rewards" card (previously called "AcePlay"). Like every other casino, the sign-up for a card is free.
There are five levels: True, Loyal, Solid, Legit and Epic. Everyone starts off at the "True" level.
If you've played enough to get to the Solid, Legit or Epic levels, you'll receive up to 10% off of the buffet prices shown above when buying the buffet with your reward points.
Stratosphere's Crafted Buffet Menu Items
Brunch
During brunch, you'll find a made-to-order omelet station, eggs Benedict, biscuits and gravy, hashbrowns, and your typical breakfast buffet standards of sausage, scrambled eggs, pancakes, French toast, bacon, etc.
(Related: Buffet at Treasure Island (T.I.) price & hours)
There's also a chorizo scrambled egg dish, corn beef hash, stuffed crepes, and a pretty good selection of donuts.
The Weekend Champagne Brunch includes (surprise!) champagne and/or mimosas. Cold crab legs are no longer served during this weekend brunch.
Dinner
You can start at their very modest salad area, in which you'll find three types of lettuce, six dressings, sixteen topping choices by my count, along with a couple of soup choices.
The deli area's fruits include melon, watermelon, cantaloupe, and pineapple.
In addition to salami, ham, turkey, there are a few freshly sliced cheeses available. Here you'll also find pre-made chilled salads, olive dishes, mushroom dishes and the like.
There's nothing too ground-breaking here, culinary wise, however the Crafted Buffet's dinner menu includes NY strip steak and peel-n-eat shrimp, seven nights a week. The rest of the menu consists of your typical American buffet fare including the following: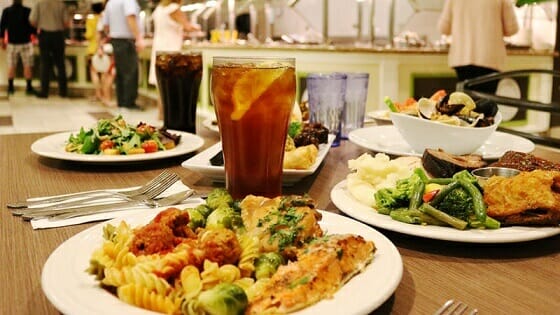 Fried chicken, barbecue ribs, mashed potatoes with gravy, steamed carrots and a steamed vegetable medley, corn, beef stroganoff, mac n' cheese, and steamed Brussel sprouts.
You'll also find a decent baked potato bar with your choice of a chili topping and/or nacho cheese, along with nine other toppings ranging from salsa to grated cheese, onions, sour cream, etc.
The carving station serves us roast chicken, ham and roast beef, while their small Asian-themed section includes steamed white rice, fried rice, egg rolls, kung pao chicken, and a very modest sushi area with two different types of sushi.
In the Mexican food area, there is the usual make your own taco and nachos area, with your choice of beef, chicken or pork carnitas, complete with all the usual toppings, including guacamole.
Other dishes found at the Stratosphere buffet include shrimp pasta, chicken marsala, fish rolls, seafood paella, and pasta and meatballs.
Desserts include nut fudge, lemon bars, cheesecake, five different types of fresh cookies, individual pudding dishes, a variety of cakes, bread pudding, pies, delicious-looking cupcakes along with some sugar-free offerings.
Stratosphere Buffet Phone & Email
For general information or questions, please call:
(702) 380-7777
However if you have a large party, (defined as 12 or more people), please call this number:
(800) 789-9436
Alternatively, you can email the Crafted Buffet here:
buffet.events@stratospherehotel.com
(By Steve Beauregard. Top photo courtesy of Mario Duran-Ortiz via Flickr, bottom photo courtesy of the Stratosphere Hotel and Casino).