Editor's note: Treasure Island's Corner Market Buffet closed permanently on May 20th, 2020, to be replaced by an expanded sports book. Below is the original article I wrote about the buffet.
The recently renovated new Corner Market Buffet is one of nine restaurants at the Treasure Island Las Vegas Hotel and Casino. It's located in the back of the casino.
Reviews of the buffet are mostly positive, with new dishes that include: "protein bowls with tandoori salmon, Peruvian chicken with tangy cilantro sauce, Korean beef bulgogi, pork belly porchetta," and an Italian section with pastas that include a lobster ravioli.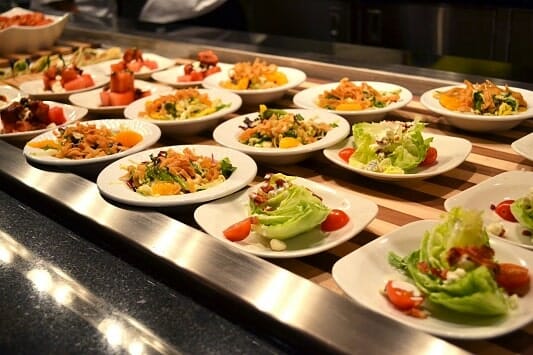 Corner Market Buffet at Treasure Island Prices & Hours for 2020
Breakfast Monday – Friday (7 AM to 11 AM) – $28.85 ($17.85 for kids)

Champagne Brunch Saturday & Sunday (7 AM to 4 PM) – $37.95 ($21.45 for kids)

Lunch Monday – Friday (11 AM to 4 PM) – $30.95 ($19.95 for kids)

Dinner Monday – Thursday (4 PM to 10 PM) – $35.95 ($21.95 for kids)

Crab, Shrimp & Prime Rib Fest Friday, Saturday & Sunday (4 PM to 10 PM) $40.85 ($24.85 for kids)
Children's prices apply to those kids who are ages 3 to 10 years. Kids 11 and up pay full adult prices.
And like at most other buffets in Las Vegas, prices will go up a few bucks during holiday weekends and other busy times, such as on the 4th of July, New Year's Eve, Super Bowl weekend, etc.
Lastly, prices do not included the Clark County sales tax of 8.25%. As such, a weekend dinner for two people would cost a total of $88.44 after tax but before tip.
Unlimited Drinks at the Treasure Island Buffet
The new Corner Market Buffet has continued the T.I. Buffet tradition of offering an unlimited-alcohol option.
For just $14.99 more, buffet patrons can purchase all-you-can drink. This gives you unlimited refills on cocktails, red and white wine, beer, champagne, mimosas, along with cocktails made from their house tequila, rum and vodka.
Menu Items
Despite the noise, the dining area is very inviting. As a smaller buffet, the colors, décor, lighting and seating areas are very contemporary, with lots of dark brown and orange colors that seem to work, while the buffet serving area itself is full of sharp black/white colors and a clean stainless steel decor.
As I mentioned, it's one of the smaller buffets, it doesn't have big themed named distinctive separate sections, but rather different offerings as you browse (or graze) from left to right along the different serving areas.
The items covered below mostly address the lunch and dinner buffets, as the breakfast buffet at the T.I. is pretty much full of the standards, (eggs, bacon, made-to-order omelets, waffles, pancakes, pastries, etc.)
Going from left to right, you start off at an area with Korean and other Asian options, included a readed kung pao shrimp, Thai fried rice, orange chicken, roasted duck leg, moo goo gai pan, baby bok choy with shiitake mushrooms, kalbi short ribs, and beef bulgogi.
To the right of that will be Korean chap chae noodles with toppings such as pickled garlic, smoked salmon and a grilled calamari salad.
Fish/Meat Area
In this section I found glazed leeks, meet skewers, grilled pork chops and a fish of the day serving, bacon/cheddar potato croquettes, and two types of chicken wings.
There is not a traditional carving station here like you see at other places, however do they have roast turkey with turkey gravy, roast beef with au jus, pork ribs, sausage, grilled chicken and grilled corn, and oddly even a gyro in this section.
Other tempting dishes in this area included individual plates of Chicken pot pie, a chicken meatloaf, mashed potatoes, and porchetta.
Salad Bar
The Corner Market Buffet has a very spacious salad bar area, with 27 different toppings. These are in addition to the other pre-made salads, such as Chinese chicken salad, and a watermelon and feta salad with balsamic vinegar, (among others). Other serving options include baba ganoush, tabouli, olives, fresh fruits, etc.
There is also small deli area with freshly-cut turkey, salami, other meats and cheeses. This is on the opposite side of the area with a few sandwiches, including an Italian sub and a veggie wrap.
Staying in the salad bar area, you'll find a small make-your-own Ramen noodle area, with a few different ingredients and two different broths: chicken broth and "tonkotsu pork ramen" broth.
Also in the salad area is the small sushi selection. In addition to the usual California roll, there are some I was not as familiar with, such as the Patriot roll (a scallop crab mix with tuna, spicy mayo, and ponzu sauce), and the "White Gold" (snapper, spicy tuna, spicy crab and jalapeno sauce).
Italian and other Ethnic Food Areas
Here you'll find a cheese tortellini, gemelli pasta, rigatoni, meatballs, and chicken angelo. I counted six varieties of pizza here. On this trip it included a white clam pizza and jalapeno/bacon pizza. Other times there have been a buffalo chicken pizza.
In the South Asia/Middle Eastern food area (again, small), included some hot plate vegetarian dishes like roasted eggplant, and turmeric tomatoes. Next to which were a Tunisian chicken rice bowl, and "Tandoori salmon with forbidden rice," (even though it is forbidden, I think you can still eat the rice).
A Mexican Food area included Black beans, Mexican rice, Peruvian Chicken Thighs, elote street corn (not on the cob but served as a dish), chili rellenos, chili peppers, empanadas, and fried plantains.
Keep in mind, these are dishes witnessed on a recent visit and are subject to change.
Also note that when paying more for the weekend night buffets, you'll find dishes not mentioned above here, including the prime rib, crab legs, lobster ravioli and lobster bisque soup, among others.
Desserts
Again, not the largest buffet dessert area on the strip, nevertheless, you'll find plenty of sweets to choose from, including: bread pudding, eclairs, various tarts, cakes, pies presented on individual serving plates.
There's also very cute cupcakes, chocolate-dipped coconut macaroons, chocolate-dipped strawberries and bananas foster.
The ice cream selection is not the soft-serve dispenser found at most buffets. It's more a smaller version of Baskin-Robbins scooped ice cream, with seven different flavors of scoops to choose from. On a recent visit, these included cappuccino, vanilla bean, pistachio, strawberry creme, and a lemon sorbet.
Drinks
You get your own drinks here, and the drink station has your self-serve Pepsi products, regular hot tea, iced teas, etc.
(Related: Harrah's Las Vegas Buffet price)
Other drink options include Boyd's coffee, milk, hot chocolate and fruit juices.
(By Steve Beauregard. Photos courtesy of Treasure Island Hotel and Casino