T.J. Cloutier: Biography of the Poker Legend (and Former Football Player)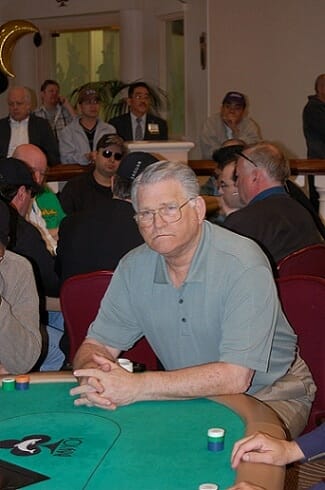 By Steve Beauregard
He's finished second in the WSOP Main Event. Twice.
A native Californian, he's one of the last old school Texas road gamblers. A master on the poker felt, he's played in the Rose Bowl, has played both baseball and football professionally, authored best-selling poker books, won over $10 million in tournament poker, lost countless millions at craps, and has six World Series of Poker bracelets to his name.
There's only one T.J. Cloutier.
While most of us associate T.J. Cloutier with the old school Texas poker warriors like Doyle Brunson and Amarillo Slim, T.J. was actually born and raised in Albany, California, near the San Francisco Bay area.
Although he's known as having played football in the Canadian Football League, Cloutier was first drafted by the Pittsburgh Pirates baseball team, and played for the organization in their rookie league system. T.J. was apparently a pretty good power-hitting prospect: he batted clean-up, ahead of a guy named Willie Stargell. (Stargell would go on to hit 475 home runs and be inducted in the baseball hall of fame).
Because baseball minds worried about the strain of a 154 game season on Cloutier's shaky knees, he turned to football, playing football on an athletic scholarship at a school very close to his home, the now famous University of California at Berkeley. At Cal, he would go on to play in the 1959, Rose Bowl, when the Iowa Hawkeyes beat the Golden Bears.
After an Army stint, T.J. resumed his athletic career, playing football professionally in Canada. He first played for the Montreal Alouettes, then the Toronto Argonauts.
T.J. Cloutier's Poker Career
T.J. got into poker on the golf course. A caddy at San Francisco's Lake Merced Golf Club, T.J. would earn $7 for two rounds, (36 holes). After caddying, the boys (T.J. was in high school at the time), would play cards with their wages.
A bonus promotion (a buy in for $20 and get $40 in chips kind of deal), got the young man's attention, and T.J. started frequenting the card room at the Bay Area's Artichoke Joe's Casino. They would play 5 card low ball and draw poker games.
He said no-limit hold'em wasn't on the poker radar back then, and wasn't allowed to be spread in California card rooms. When T.J. tried getting a NL game together in Palo Alto, it was shut down by authorities.
Although only 17, Cloutier says he was a "big boy" then, and was never carded or kicked out of the casino.
While briefly working on the Texas oil fields, (he'd discover poker pays better), T.J. started playing in bigger and bigger cash games, and played with an interesting cast of characters, including Woody Harrelson's dad, Charles Harrelson, who was convicted of two murders, and implicated in a third.
He eventually ended up across the felt from some of the best to have ever played the game.
He says that while Johnny Moss, Sailor Roberts and Doyle Brunson were some of the toughest players he'd face, he calls the late Chip Reese the best all-round poker player of all time.
T.J. Cloutier has just over $10 million in live poker tournament winnings, according to the HendonMob. He's won 60 major poker tournaments.
Interestingly enough, (at least to me), T.J. ranks number one in lifetime poker tournament winnings by a player from Texas. Not bad, considering how many poker greats came from Texas, (not to mention it's called TEXAS hold'em).
Named "Player of the Year" by Card Player magazine in both 1998 and 2002.
He has cashed for $100,000 or more on 22 different occasions. Imagine that for a second: In 22 different poker tournaments, he's made a six figure score. Seven different times he's made a quarter of a million dollars.
Perhaps even more impressive was T.J.'s run in the early 90's.
Back before the poker boom, there were only three $10K buy-in events a year, (whereas now there are a few a month).
One of the big three took place annually in Los Angles, at the Bicycle Casino, and was called the Diamond Jim Brady. T.J. won this event three years in a row, 1990-1992.
One of the other of the "big three" was Amarillo Slim's Super Bowl of Poker, held at Caesars Palace. T.J. won this event in 1990, (Where Stu Ungar finished third), meaning that of the three biggest tournaments held that year, T.J. won two of them.
The largest win in his career came in 2000, when he finished second in the WSOP Main Event, collecting $896,000.
Nowadays, T.J. has scaled back his tournament play, sticking mostly to lower buy-in events held at casinos near his home in Richardson.
He still does, however, enter into WSOP events. He even plays the $235 No-limit hold'em Daily Deepstacks held daily at the Rio Hotel and Casino during the WSOP each year. To be fair, first place in those daily tourneys is often in the $50,000 range.
T.J. Cloutier Hand
The Jack/9 of clubs is called a "T.J. Cloutier." The name came about after a good run in the Dallas cash games. T.J. says he flopped a straight flush three different times while holding the Jack/9 of clubs. Word of the man's lucky hand spread, and the moniker has stuck – helped in part by Mike Sexton referencing it on occasion on broadcasts of the World Poker Tour.
T.J. and his wife live in Richardson, Texas, and have a daughter who lives in Kline, Texas. He has a son, John, who lives in the Seattle area. T.J. says that while he doesn't travel much, he does play at the Choctaw Casino in Durant, Oklahoma, (about an hour and 10 minute drive north of T.J.'s home in Richardson, Texas), and at the Winstar Casino in Thackerville, Oklahoma – also about 80 miles north of Richardson.
In fact, at the Choctaw, T.J. even has an event named after him: The T.J. Cloutier Choctaw Poker Challenge, where the tournament's namesake finished in third place in the $1,500 no-limit hold'em event, good for $37,000.
T.J. also teaches at the WPT Boot Camp poker training seminars.
(Photo courtesy of Matt Waldron via Flickr.)