The $20 Dollar Trick at Las Vegas Hotels – What it is, and How to Do It
By Steve Beauregard
In an era where nice Las Vegas Strip hotel rooms can easily run over $200 per night, it's nice to know there's a simple, easy way to get a much better hotel room for just a twenty dollar bill.
It's called the "$20 trick," and it almost always works like a charm in either going from a basic room to fancier digs, or at least getting you a room that is upgraded in furnishings, size, location, view, or all of the above.
The twenty dollar trick is basically a bribe to your hotel front desk clerk used to help you acquire a free hotel room upgrade.
I realize the term, "bribe" has negative connotations, however the $20 trick is completely legal and does not violate any Nevada laws. It's similar to slipping a maître some money in order to get a nice table, or a front row seat.
I personally use the $20 trick every time I visit Las Vegas, and in nearly every case, I have great success with it.
How to Do to the $20 Dollar Trick in Las Vegas
The moment when you arrive in the lobby to check into a Las Vegas hotel, (usually after months of anticipation), is about the most exciting time of your life. At least it is for me.
But this is the time to calm down and prepare to get ready for the twenty dollar trick. Especially if it's your first time doing it, and you're nervous about it, like I was the first few times doing it.
What you'll want to do, usually while standing in the line to check-in, is to take out your driver's license, along with the credit card or debit card you'll be using to hold the room.
Now take out a twenty dollar bill. You did bring one with you right? I hope so. If not, I suppose you could you use different denominations, but it's not called the "Four $5 dollar bills trick."
Now wrap the twenty dollar bill around your license and credit card, like its wrapping paper, while silently practicing saying the following:
"Would you happen to have any complimentary upgrades available?"
Those of you who are naturally confident, cool and calm won't have to worry about rehearsal, but nervous guys like me need to perfect the wording, otherwise, the way I'd get tongue-tied and accidently end up asking the hotel clerk to come up to my hotel room for $20.
So practice while holding the twenty dollar bill, which is still wrapped tightly around your driver's license and credit card.
When you're called to the front desk to check in for the night, smile while handing the clerk the wrapped drivers license/credit card and asking politely, "Would you happen to have any complimentary upgrades available?"
Now of course you may vary the wording, but be sure to use the words "upgrade." I say this because Las Vegas hotels almost always have some kind of upgrades available – but for a price. You can pay more at the Paris Las Vegas Hotel and Casino for example to have a Strip view of the Bellagio dancing fountains show. Other hotels are more than happy to charge you $50 to thousands of dollars extra per night for upgrades like suites, higher floors, more spacious rooms, etc.
But saying "complimentary upgrades," ensures that the desk clerk won't ask you if you're interested in spending, say, $800 more per night for a suite.
So you've handed the desk clerk your hard-earned $20. Now what?
Well he or she will begin to furiously bang away on a keyboard to find an upgrade for you, while discreetly tucking the twenty into their pocket.
The hotel clerk will appreciate your gesture, and will do their best to accommodate your request. After all, they are likely making $20 (or less) per hour, for standing on their feet all day dealing with anxious tourists. With the $20 trick, you've just gave them an hour's plus worth of pay, and all they had to do is type a few extra keystrokes on the computer.
After a minute or two, one of two things will happen:
(A) You'll be given an upgraded, with the clerk handing you your hotel room keycard while letting you know how, exactly, the room is superior to what you would have gotten. Sometimes they will ask you if the upgrade is acceptable to you. Once, while using the $20 trick at the Flamingo Hotel, the clerk informed me that while none of the coveted "Go" rooms were available; he could upgrade me to a larger room on the hotel's very top floor. I accepted.
Or…
(B) You'll be given your twenty-dollar bill back, while being told by a genuinely-disappointed employee that the hotel is buys and that – unfortunately – no upgrades are available.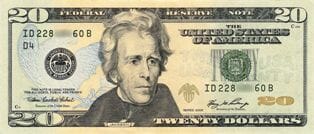 Either way, you cannot lose by trying the $20 dollar trick at a Las Vegas hotel. Either you'll be denied (at no cost to you), or you'll get a much nicer room than you normally would have, for just an Andrew Jackson.
And that's really the beauty of the twenty dollar trick. Say you're staying in Sin City for two nights. A nicer, classier, roomier hotel room with a wonderful view could easily run you over $50 or more per NIGHT when booked ahead of time. However the $20 trick can often get you that same upgrade for an average of $10 per night ($20 divided by 2 nights for mathematically challenged out there). And a stay of three or four nights reduces that upgrade-cost-per-night figure even more.
Along those lines, if you're staying in Las Vegas for anything longer than four nights, a lowly $20 may not cut it. Otherwise, the twenty dollar trick seems to work well both for the hotels in downtown Las Vegas, as well as those on the Strip. (Strip photo courtesy of Marco Verch via Flickr).