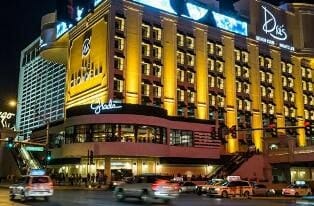 By Steve Beauregard
Billed as the Las Vegas Strip's first boutique hotel, The Cromwell opened on April 21st, 2014, after a $185 million renovation of what had been the significantly lower priced resort, "Bill's Gamblin' Hall."
The Cromwell has 188 rooms, which is very small by Las Vegas standards, but has a 40,000 square foot casino, a trendy new day club and night club, and one of the most buzz-worthy new restaurants in Las Vegas: Giada – The Restaurant.
The resort sits smack dab in the middle of perhaps the the busiest section of the Las Vegas Strip – a intersection home to Bally's, the Bellagio, Caesars Palace, and now The Cromwell.
The Cromwell Hotel Las Vegas Room Rates
Having just 188 rooms, having spent $185 million in renovations, and calling itself a "luxury lifestyle hotel," it's pretty clear The Cromwell's room rates won't be in the Holiday Inn range.
The Deluxe King room or Deluxe 2 Queen (a room with 2 queen beds) at The Cromwell are both 360 square feet. While prices can vary based on the site, and your comp level (should you book through Total Rewards), the standard room rate at the Cromwell for one of these basic rooms on a Friday is in the $315 per night and up range. Oh, and that's not counting Caesars Entertainment's very nice nightly resort fee here of $25 per night.
The hotel's fancier rooms, including the Gallery Suite, at 1,411 square feet with a dining room, wet bar, etc., can go from $900 on up per night on weekends.
Rooms come with hair dryers, hair straighteners, beautiful hardwood floors, and other nice touches. There's even complimentary coffee and tea served to guests in the hallway.
(Here's a quick look at the pool atop the Cromwell)
The Cromwell Casino
The Cromwell's 40,000 square foot of gaming space is open, elegantly appointed, and red. Very red.
There are 440 slot machines/video poker machines, and 66 table games, with all the usual suspects, along with games like mini-baccarat.
Table minimums are $15 for the 3/2 Blackjack game. Craps tables have a minimum of $10 bets. As part of Caesars Entertainment, be sure to use your Total Rewards card when gambling at The Cromwell.
For high rollers, there's The Abbey, which has three high limit tables, and some high dollar slots, however if you are a high roller, I'm confident you are not one of my readers.
Giada – The Restaurant
With great reviews, unparalleled views of the Strip, and a delicious California take on Italian classics, Giada – The Restaurant has been a hit at the Cromwell since its opening in June of 2014.
Giada De Laurentiis, is of course, the pretty and personable bestselling author, "Today Show" guest, and Food Network star. Yet the lively and spacious Strip restaurant marks her first foray into restaurant ownership.
It's not for the cheap at heart however, as a plate of spaghetti will set you back $28, whereas the 28 ounce bone-in Tuscan Rib eye costs $68.
Giada's is open for lunch daily from 11 a.m. to 3:30 p.m., and for dinner from 5 p.m. to 10:30 p.m. (until 11 p.m. on weekends).
As a side note, Giada's is the only restaurant at The Cromwell. Hotel guests, however, can enjoy a complimentary continental breakfast (with omelet bar) in the hotel lobby.
Drai's Beach Club – Nightclub
Eleven stories above the Strip, Drai's Beach Club Night Club cashes in on the day club swimming pool party trend with its unique and popular 65,000 square foot indoor/outdoor club.
The Beach Club opens at 10 a.m., while the Night version starts at my bedtime, 10 p.m. (it goes until 5 a.m.).
Admission to either one is free for hotel guests, otherwise cover charge is $20 per person.
Bars at The Cromwell
In addition to Drai's Beach Club Night Club, there are two fancy bars at the Cromwell, "Interlude" which is your standard casino lounge off of the casino floor, and the more exclusive lobby bar "Bound," which boasts of a celebrity mixologist and is the place for those of you who enjoy hand-crafted cocktails and champagne.
In case you weren't sick of seeing the name "Drai's" all over the Cromwell, you'll notice that the original "Drai's After Hours" club has reopened in the hotel's basement. (That sounds worse than it actually is, as it is a luxurious, red-draped lounge that reminds me of a formal library.) Drai's opens at 1 a.m. and closes at 10 a.m., Thursday through Sunday.
*****
Those of you who gambled or stayed at this hotel during its previous incarnations will be shocked at the transformation from the dark, low-rent 70's era casino to fashionable Parisian-inspired feel of the resort today.
The resort originally opened as Barberry Coast in 1979. In 2007, Harrah's Entertainment, (the company that would later become Caesars Entertainment), traded land where the Stardust once stood for the Barberry Coast, and took over ownership of the aging, fading casino.
They rebranded the resort as "Bill's Gamblin Hall and Saloon," which they named in honor of the founder of the company, William F. Harrah. But they just used "Bill" because "William's Gamblin Hall and Saloon" doesn't sound as nice. The 179 room hotel was known for low limits. I remember it being one of the few places where you could find $5 crabs tables at night. They also served up margaritas for a buck.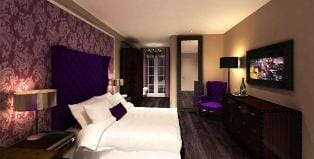 They also had free, classic, old-school Las Vegas lounge acts performing constantly. The performer/impersonator "Fat Elvis" often sang there, and I spent many an hour drinking my little $1 margarita and listening to songs like, "Viva Las Vegas" and "Hunk a, Hunk a Burnin' Love." Good times.
Bill's Gamblin Hall and Saloon closed on February 4, 2013. The property then underwent the aforementioned $185 million in renovations, as well as a couple of name changes. The resort was originally going to be named the "Gansevoort," as part of the New York-based Gansevoort hotel chain. This name, however, was discarded amidst allegations that a Gansevoort investor had ties to the Russian mafia.
Caesars Entertainment cut ties with the Ganservoort clan, and branded what we know today as what appears to be a very successful hotel in The Cromwell.
In an age where 5,000 room mega-resorts like the MGM Grand still dominate the Las Vegas skyline, The Cromwell has carved out a niche, and seems to have captured a market of people will to pay more for a more intimate hotel experience and level of personal service that could only be found a smaller boutique hotel.