With a huge variety of stores, great restaurants, a grocery store, theater and children's play area, all intertwined within beautiful architectural setting and Mediterranean theme, the Town Square Mall in Las Vegas is a pleasant and easy diversion from the casino action.
Opened in 2007, Town Square sets on 117 acres south of Mandalay Bay, and has over 100 stores and 20 restaurants.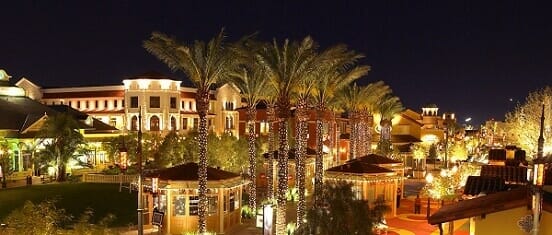 With its beautiful setting, 1.2 million square feet, and wide variety of stores, it's become very popular with tourists and Las Vegas locals alike.
Although not really on the Strip, Town Square is on Las Vegas Boulevard, about 1 mile south of Mandalay Bay. It's cobblestone streets, trees, and architecture makes it feel like your strolling through a southern European village.
The mall's Town Square Park is pretty oasis in the middle of the shops. There you can find some shade and grab a snack or meal at one of the many counter-style restaurants on the outskirts of the park. (We liked the tater tots at the Potato Corner). You can stroll over the bridge, or just sit and people-watch.
Next to the park is a wonderful children's play area. With two young kids, I hit up all the parks, and the one at Town Square impressed me to no end. It has recently been refreshed with climbing cubes, slides, a trampoline and water jets when it's warm. I killed two hours here easily while my wife blew the money I won at craps at the shops.
(The Town Square Mall is marked by the yellow pin at the bottom)
There are play buildings, play towers, a fort, rock wall, and even a kid-friendly maze. You'll find public restrooms here as well.
It really is a fantastic park, with play houses, slides, climbing nets, a splash pad, tree house, and even a maze for kids.
If the park doesn't fully entertain your young ones, there's a train ride (The Cactus Coaster) that circles around the west end of the mall. Tickets are $4, but adults riding with a child 2 or under ride for free.
In addition, there's a 12,000 square foot open space (with natural grass) called "The Green" that hosts picnics and special events, including movies in the summertime.
Town Square Las Vegas Mall Hours
| | |
| --- | --- |
| Monday – Thursday | 10 AM to 9:00 PM |
| Friday & Saturday | 10 AM to 10 PM |
| Sunday | 11 AM to 8 PM |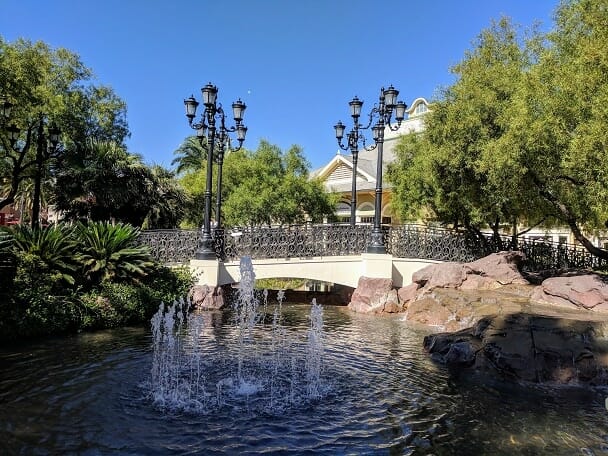 Town Square Las Vegas List of Stores
Please note that Town Square is home to several offices, including real estate firms, travel agencies, and – this being Las Vegas – even a "D.U.I. Doctor." However this list below only includes stores and retailers.
Abercrombie & Fitch
Affordable Technology Repair
Africa Love Store
Alluring Couture by Rhea
Ambrosia Home
Amethyst Colony
Apple
Art Box Home Decor
AT&T
Baobab Boutique, Theater and Cafe
Bath & Body Works
Boutique Aztlan
Buttercup Baby
Cell Phone Point
Dolcessa
Eden Sky
EJ Pretty Handbags
Ethel M. Chocolates
Express
Finish Line
Grail Storm
Guanabo Club
Guitar Center
H&M
Hollister Co.
Hot Topic
Ikon Homes
I Love Crystals
I Love Forever Beautiful
It's Sugar
Jacinta Boutique
Just!
Justice (temporarily closed)
K-Beauty & Ginseng
Kay Jewelers
Lids
Lindbergh Men's Wear
Little Shoppe in the Desert
Look Style Society
M.A.C. Cosmetics
MAC
Maidenlane
Method 1503
MY XSAINT
Old Navy
Perla Bridal
Plankton Sandals
Portofino On The Square
Retro City Games
Saks 5th Avenue Off 5th
Sephora
Shiekh Shoes
Silver Karatism
Sky Diamonds
Sleep Number
Stargaze Fragrances
Sunglass Hut
Sweet Bubble Bath Confections
T.J. Maxx
Tesla
The Coffee Bean & Tea Leaf
The Container Store
The Gaming Goat
The Pottery Shop
The Raider Image
Tommy Bahama Store
Torrid
Ulta Beauty
Vercini
Verizon Wireless
Victoria's Secret
Viero Bridal
Whole Foods Market
Wildseed Living
Zumiez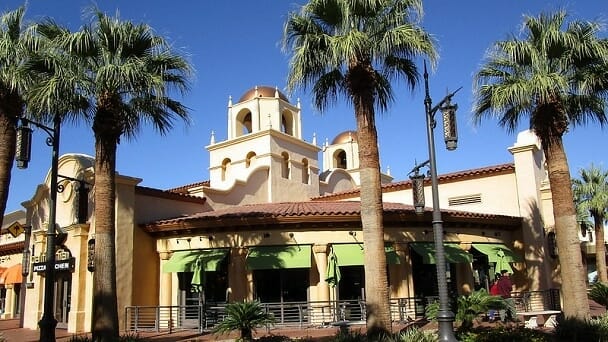 Town Square Las Vegas List of Restaurants:
These include both sit down restaurants and casual, quick-service places.
Baobab Boutique, Theater and Cafe
Blue Martini
Bonefish Grill
Braud's Funnel Cake Cafe
Brio Italian Grille
California Pizza Kitchen
Capriotti's Sandwich Shop
Chewy Boba
Coffee Bean and Tea Leaf
Crazy Pita Rotisserie & Grill
DoMazing Edible Cookie Dough
Double Helix Wine & Whiskey Lounge
Farmtable Kitchen + Spirits
Fleming's Prime Steakhouse & Wine Bar
Kabuki Japanese Restaurant
Lazy Dog Restaurant & Bar
LV Bar
McFadden's Restaurant & Saloon
Milano Restaurant & Bar
Mora Iced Creamery
Nona's NY Pizza
P.F. Chang's
Panda Express
Pho Kim Long
Potato Corner
Pressed Juicery
Rachel's Kitchen
Sickie's Garage Burgers & Brews
Texas de Brazil
The Noypitz Bar & Grill
Tommy Bahama Marlin Bar
Two Hands Fresh Corn Dogs
Yard House
Yogurtland
Entertainment at Town Square Mall
Besides the selection of restaurants and shops, there's are entertainment options, including an AMC Town Square 18 movie theater and the Baobab Boutique Theater.
Then there's Stoney's Rockin' Country, which, as you can imagine, is a country bar. Other entertainment options include Escapology (an escape room), Paper Petals and Wine, and the Pinot's Pallette – both places where you can sip wine with friends and create. A newer venue, Selfie WRLD has various backgrounds and settings in which you can take numerous selfies.
Town Square's Echelon Events Center is a luxurious space for weddings, birthdays and parties.
Town Square Las Vegas Offices & Services
Below is a list of the non-retail, non-food and beverage tenants at Town Square, including services (including beauty) and simple offices:
Artsy Nannies, Bally's Interactive, BDO USA LLC, Caric Sports Management, Change Home Mortgage, Dimopoulus Law Firm, D.U.I. Doctor, Go Go X Marketing, GWG Group, Hollywood Photography, Kimley-Horn and Associates, Laser Away, Massage Vegas, Panorama Mortgage Group, Prestige Talent Management & Training Center, Regus, SRS Real Estate Partners, Sugar Nail, Supreme Lending, Wilson, Elser, Moskowitz, Edelman & Dicker LLP and Valley View Home Loans.
It's wonderfully pleasant setting combined with a variety of retailers and restaurants make The Town Square Las Vegas a nice contrast to the blandness of your typical suburban mall.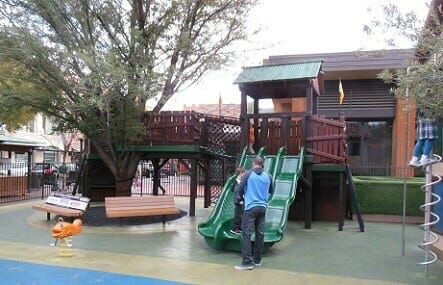 Bus to Town Square
Other than Uber/Lyft and taxi, you can take the Las Vegas bus system.
Up until 2017, there had been a free shuttle that ran six times a day, to the Strip and back. However it has been discontinued.
Those of you wanting to take the Las Vegas public bus system should know that with a bus stop right out in front of Town Square, on Las Vegas Boulevard, it's very easy to take a bus to and from the Town Square back to any hotel on the Strip.
The Las Vegas Strip Deuce bus system goes up and down the Strip, stopping in front of Town Square every 10 to 15 minutes. The Deuce runs from 7 AM to 1 AM. There are many stops along the Strip, and probably one right out in front of your hotel. With walking to the bus stop and riding time, it would take you about 1/2 hour to get from Caesars Palace's front door to the Town Square.
You'll get off, of course, at the Town Square bus stop, right in front of the mall's entrance. Going back, you'll cross the street (Las Vegas Boulevard) to get on the northbound bus almost right across the street from the bus stop where you got off to walk to the mall.
Town Square Mall Las Vegas Address, Phone & Website
6605 Las Vegas Boulevard South
Las Vegas, NV 89119
Phone: (702) 269-5001
Website: mytownsquarelasvegas.com
Stores formerly at Town Square
The retail environment is ever-changing. As such, below is a list of some of the stores that have left Town Square Mall since 2013:
Aeropostale, A'Gaci, Aldo, Alter Ego Boutique, American Eagle, Angl, Anime Revolution, Ann Taylor, Apricot Lane, Artifact, Aveda, A/X Armani Exchange, Max Azria, Banana Republic, Bayside Watch, Beastmode, Beauty On, Bohme Boutique, Bridal Maxx, Brighton Collectibles, Bully Wear, Cache, Capital Sneaker Boutique, Cell Planet, Cell Planet II, Charming Charlie, City Life USA, Clicks, Coffee Bean & Tea Leaf, Cool & Eclectic, Creative Playground, Diamond Wireless, Ever, Fossil, Francesca's Collections, Gameworks, Gap, Godiva Chocolatier, Gymboree, HolySheets, Inglot, Javier Valentino, Journeys, Juicy Couture, Kech Men's Wear, Le Chanelle, Lilyful, Lollicup Coffee & Tea, LoveSac, Lucky Brand Jeans, Milk Money Limited, Nadia of New York, New York & Company, Nobiltea, O'shoes, Oakley, One Monarchy, Origins, Palomas Sport, Paper Source, Pas De Deux Children's Boutique, Patty's Closet Fashion Boutique, Pediped Footwear, Peekaboo Kids, Peninsula Luggage, Perfumania, Pop Kulture, Popped, R & S Fashions, Quicksilver, Renaissance Galleries, Roxy, SJ Pearl, Sanrio, Silver Post, Skechers, Solar City, Soma Intimates, Sports Town USA, Staples, Steve Madden, T Boutique by Kandi Burruss,Tags, Taste E Vapors, Teavana, Tervis Tumblers, The Body Shop, The Concierge, The Dog House, The Sweat Store, The Tree Lot at Crate & Barrel, Tix 4 Tonight, Truth, Vegas, White House/Black Market, XTC Boutique, Zipp, 4Wall Entertainment and the $29 & Under Boutique.
Closed restaurants:
Big Whisky American Restaurant and Bar, Claim Jumper, English's, Hot Dog on a Stick, I Love Burgers, La Bella Napoli Pizzeria, Loco Cantina, Miller's Ale House, Minchia's Cibo Italiano, Neche, Nestle Toll House Cafe, Doughnuts, Pot Liquor BBQ, Sugar Factory American Brasserie, Tasti D-Lite, and Wetzel's Pretzels.
Other
There's a Telsa Charging station with 10 chargers at Town Square Mall.
By Steve Beauregard. Top photo courtesy of the official Las Vegas visitor's site, LasVegas.com. Middle photo by me.)