Vermont Lottery Second Chance Drawings
As many of you may know, you should never throw away a losing Vermont Lottery instant ticket, as that "loser" can turn into a big winner by way of the state lottery's second chance drawing.
And by "winner," I mean you can win up to $150,000! All for just taking a minute out of your day to scan, or type some numbers from a scratch-off ticket you already bought anyway.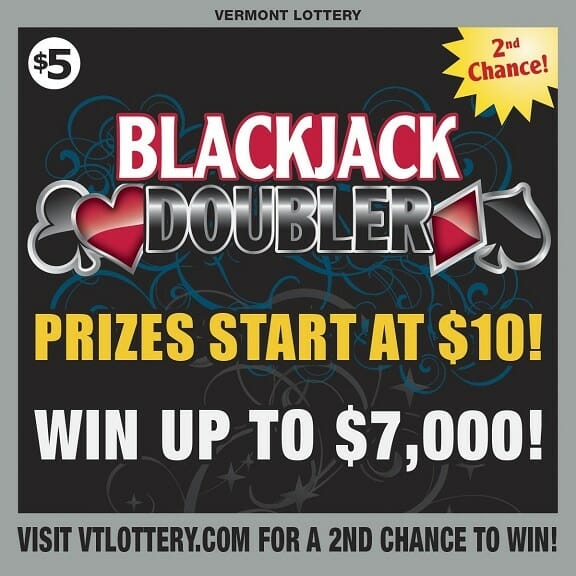 It's all part of the VTLottery's Second Chance Drawing promotion, in which holders of losing instant tickets who submit those tickets online, are eligible for cash prizes, typically ranging from a New England Patriots hoodie, to $500 to $25,000. There are also bigger, less frequent prizes, such as the aforementioned $150K.
VTlottery second chance
Not all lottery tickets will be eligible for second chance drawings.
Tickets with 2nd chance with have a bright distinctive star, reading "2nd Chance!" in the upper right-hand corner.
Unlike as in many states, where usually only the higher-priced games have these promotions, the Vermont Lottery has second chance opportunities for tickets as low at $1. In fact, almost all of the tickets sold are eligible for second chance drawings.
Typically, all of the $20 and $25 tickets will be second chance.
How to Enter the VTLottery Second-Chance Drawing
First you'll have to register an account with the Vermont Lottery, giving them your contact information.
You can enter losing tickets either manually on the lottery's website or through the official phone app. You can download the VTLottery App for free from the Google Play Store or Iphone App store.
When entering on the website, you'll go to the 2nd Chance area, then manually enter two sets of numbers: (1) the 14 numbers on the front of the ticket, and (2), the 12 numbers on the back of the ticket.
As you can imagine, it's much easier to just quickly scan numbers on the app.
Either way, once you've scanned or entered the numbers and hit "submit," you're done. You don't have to keep that losing ticket to later claim a prize.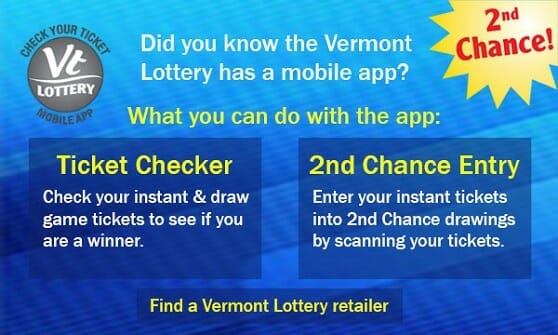 You can only enter a maximum of ten tickets per day.
Lastly, in the past, the Vermont Lottery used to accept 2nd chance ticket entries in the mail, and in-person, however that is no longer the case. You must enter the ticket on their website or through the app only.
2nd Chance Vermont Lottery Prizes
To make it a little more confusing, the Vermont Lottery has two types of 2nd Chance Drawings:
1) Regular 2nd Chance
This is the main one we've been discussing so far. These 2nd chance drawings are held four times a year, on the second Wednesday of March, June, September and December. Every second chance drawing has only one top prize.
What's unique about Vermont's second-chance lottery drawings compared to many others, is that there is a second-chance for each game. Other states often combine all of the tickets (from $1 scratcher to $20) into one pool.
Also in Vermont, the top prize in the 2nd chance drawing is typically the top prize of the original game. For example, in a past $2 "Triple 333" instant ticket, the top prize you could win was $3,333. Thus, the one prize given away in the second-chance drawing is $3,333.
However in addition to the top prize, quarterly drawings are held in which at least 100 losing tickets are drawn. The holders of each of those 100-plus tickets are given the same cash prize. The cash prizes vary, but recently they been $250.
The December quarterly drawings offer the greatest number of prizes. In December 2021 for example, the lottery gave $250 cash prizes to 150 different people entered into any second chance lottery drawing.
2) Promotions 2nd Chance
Promotions 2nd Chance drawings are special second chance drawings with additional chances to win, albeit it often with smaller prizes than the regular second-chance drawings.
For example, recent prizes for these promotion drawings have included $100 gift cards, New England Patriots game tickets, and (on the very low end), camping coolers.
On the other hand, there have been promotions with a $25,000 winner, and games with 8 different $1,000 winners.
On VTlottery.com, you'll see a "Promotions" page. Going there will show you which games have these second-chance prizes. As with the regular 2nd-chance instant tickets, these promotion tickets will have the star and "2nd chance" on the upper right hand corner.
A 2019 $5 Frogger scratcher promotion had a second chance drawing that gave away $500 to twenty different people. That's not life changing money of course, but still it seems these prizes worth going after, seeing as how there is no fee to enter these (other than the cost of the losing ticket) and considering that participation rates in second chance drawings aren't typically high.
Based on data I'm gotten from other states, often your chances of winning a bigger prize are higher in the second-chance drawing, than they are in the original game.
Second Chance VT lottery Drawing
Here's a question that often comes up with regards to entering tickets – specifically tickets that you personally haven't bought – into a second chance drawing.
Q. Can you enter tickets into the second chance drawing that you found on the ground or dug out of the trash?
A. Yes, based on wording from the Vermont Lottery website, which states:
"Until a winning Lottery Ticket is signed, it is considered a "bearer instrument" and anyone who possesses the ticket is the lawful owner."
So if you're so bold, look at those trash cans near lottery ticket kiosk machines. There may be a big winner laying in there.
Also, you do not have to keep that losing ticket after entering the second-chance drawing.
VT Lottery's Biggest 2nd Chance Drawing Prizes
In the past, grand prizes for some higher cost (i.e. $20) tickets were a little higher than those given away more recently.
In June 2018, for example, the second chance drawing for the "Royal Win" game paid a first prize of $200,000.
Early that year, in March 2018, the "$200,000" scratcher costing $20 paid a second chance drawing prize of…you guessed it….$200,000.
In June 2017, the "Ultimate Riches" ticket, costing $20, awarded a 2nd chance prize of $175,000.
Other
You must be 18 years or older to buy tickets.
The Vermont Lottery is one of the country's older state lotteries, having begun selling tickets in 1978.
Despite giving away literally hundreds of millions of dollars, Vermont's Lottery only employs 21 full time workers.
You can reach the lottery offices by calling: (802) 479-5686 or emailing them (for general questions), at: staff@vtlottery.com
Their mailing address is:
131 US Route 302 Suite 100
Barre, VT. 0564
(By Steve Beauregard. Photos courtesy of the Vermont Lottery's website)