By Steve Beauregard
For a town that is literally in the middle of nowhere, Wendover, Nevada has a surprising number of casinos.
These are reasonably busy casinos too, bustling with the familiar casino sounds of slot machine rings, waitress "Cocktails?" solicitations, and shouts of cheer from the pit areas after a craps point is made or a blackjack dealers' bust.
There are six casinos in tiny Wendover, Nevada. (The most recent Census put its population at just a little over 4,200 residents).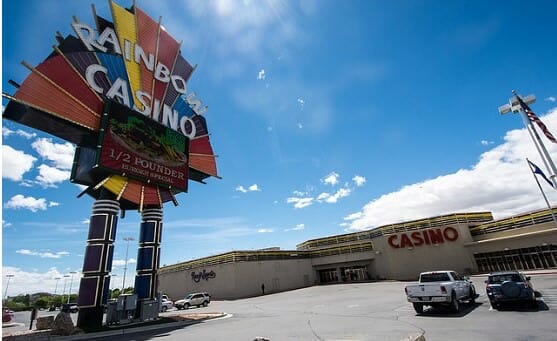 More accurately, there are five real casinos, along with a truck stop that has a small area of slot machines and video poker machines.
The list of casinos in Wendover, NV.
Rainbow Hotel and Casino
The Rainbow has 429 Rooms, with an indoor swimming pool and Jacuzzi. In addition to a convention center, the Rainbow has four restaurants, including a buffet.
Its 56,000 square feet of gaming space makes it the biggest casino in Wendover. Here you'll find plenty of slots, video poker machines, table games, a sports book, and a very small poker room.
Montego Bay Casino & Resort
This resort, which is very shiny and blue inside, is located across the pedestrian overpass from the Wendover Nugget, which is odd considering the two casinos are owned by different entities. The Montego Bay Casino and Resort is the newest, and largest hotel casino in Wendover, Nevada, with 552 rooms.
It has the town's nicest, plushest poker room, a spacious sports book, slots, video poker machines, table games, etc. All total the casino floor space is 49,000 square feet, making it the second largest casino in Wendover.
There are three restaurants here, including a buffet. The hotel offers an outdoor pool, a fitness center and day spa/salon.
(Here are the five casinos in West Wendover, NV)
Peppermill Hotel and Casino
Three hundred and eighty-two rooms here. There's also a restaurant, a buffet, and coffee/deli bar. The 37,000 square foot casino has a lounge type bar, along with the usual slots, video poker machines, and table games. The Peppermill is also home to a nice poker room.
The hotel is also home to the largest performing venue in town, the Peppermill Concert Hall.
Red Garter Hotel and Casino
The cheap, but clean, casino hotel in Wendover, is the Red Garter, located next to the Rainbow. The hotel has 108, and both the hotel rooms and casino have been renovated recently.
The casino itself is small (22,000 square feet of casino floor space), but has slots, a sports book, and a small selection of table games.
The Red Garter is also home to two restaurants, along with a coffee/deli bar takeout stand. There are two small bars.
Wendover Nugget
The second largest hotel in Wendover, the Wendover Nugget has 500 rooms and a small convention/meeting area. A small RV park is attached to the resort grounds.
The casino floor space is 37,500 square feet, full of all the usual slots, and table games, along with a keno lounge. The keno lounge is cozy and comfortable and the only live keno in town. The Nugget also has a nine table poker room and sports book.
My understanding is that it has the only Starbucks in Wendover. There are three different bars, including one with pool tables. It also is home to a video arcade and an outdoor swimming pool, therefore it may be the best hotel in Wendover for those of you families with kids. (Because of the bars).
As for eats, there is a reasonably priced buffet, the requisite steakhouse, a typical casino café type restaurant, along with both a small mall food court type area with a Taco Bell-type restaurant and Dryer's Ice Cream stand.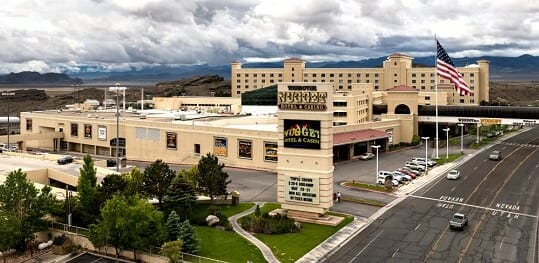 Pilot Travel Center and Casino
Not really a casino, as this is a truck stop that has showers for truckers, an Arby's restaurant, and tiny room with a "Casino" sign, but which is just a darker area of the building that has a total of 90 slot machines and video poker machines.
Casinos in West Wendover, NV
The Rainbow Casino and Hotel, Montego Bay, and the Peppermill are all owned by the same company (Peppermill Casinos Incorporated), that owns the iconic Peppermill Coffee Shop on the Las Vegas Strip.
Another company, Wendover Resorts, owns the other two main casinos, the Wendover Nugget and Red Garter.
For a gambling town in a remote, isolated area, West Wendover does pretty well in having six casinos, numerous restaurants and bars, convention centers and performing venues.
The town is located at the far eastern border of Nevada. In fact, Wendover is right on the Utah/Nevada border and connects with the town of Wendover, Utah. Unlike every other part of Nevada, Wendover, Nevada is in the Mountain Time Zone.
The casinos in Wendover survive (and for some, thrive) by:
1) Being located on the Interstate 80, perhaps the main thoroughfare for folks wanting to drive across the United States.
2) An aggressive promotional relationship in which hotel/airline packages to Wendover are offered from 70 different cities across the United States. (Go here for more information on the Wendover Fun Flights).
3) Its relative proximity to Salt Lake City. On weekend nights in particular, the casinos and restaurants fill up with nearby Salt Lake residents and students of the University of Utah.
(Related: Closest casino to Salt Lake City)
All in all, Wendover, Nevada is a place to go gamble, eat, get a massage and take in a show. Beyond on that, there's little else to do (tourism bureau propaganda notwithstanding).
The five main casinos in town are mostly spread out, meaning it's not really a town where you can casino hop from place to place. There is, however, a free casino shuttle that transports guests to and from all five casinos.
(Photos courtesy of the Wendover Nugget and M01229 via Flickr.)