Casinos Near Salt Lake City, Utah – Closest One & Distance to Wendover, NV.
Utah's state capitol is a busy, beautiful, growing metropolitan area with over 1.1 million residents. And while there aren't any casinos in Salt Lake City, there is a thriving casino town nearby.
Utah is one of just two states (Hawaii the other), where there is no form of legalized gambling. There aren't any horse racing tracks in Utah, nor is there a state lottery.
As such, the closest casino to Salt Lake City are the casino/hotels in nearby Wendover, Nevada – 123 miles west just across the Utah/Nevada state line.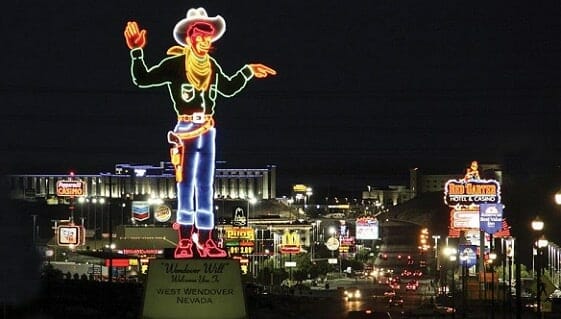 Casinos Near Salt Lake City, Utah
To be more specific, the town is called West Wendover, Nevada, (it borders the town of Wendover, Utah).
The 123 mile drive (or 197 km), is measured from downtown Salt Lake City. It typically takes you from 1 and ½ to 2 hours to get there.
The drive is a simple straight shot on Interstate 80 west. It has you touching the southern edge of both the Great Salt Lake and the world-famous Bonneville Salt Flats.
The drive is long and boring, but it can get a little crowded on Friday afternoons when residents of the Wasatch Front make their way to the casinos.
(Here's the ride from Salt Lake to the closest casinos in Wendover)
Casinos by Salt Lake City
There are five casinos in Wendover, not including a truck stop that has some slot machines.
These are regular, privately-owned casinos, meaning they aren't the Native American casinos that sometimes have weird slot machines.
Here in West Wendover, you'll find the town's five main casinos to have all the traditional favorite slot machines, video poker games, table games like craps, blackjack, roulette, Pai Gow, etc.
A nice thing here is that you'll find table games with just $5 minimums.
Four of the casinos have sports books, and four have poker rooms. One even has a keno game, which is getting harder to find.
In addition to gambling, there's also the Peppermill Concert Hall, which hosts pretty big name acts in its gorgeous 1,000 seat venue.
The five main casinos in Wendover are as follows:
Peppermill Hotel & Casino
Rainbow Hotel & Casino
Montego Bay Casino Resort
Wendover Nugget
Red Garter
A sixth gaming option is the Pilot Travel Center gas station on the western side of town. Not really a casino, they do have a small selection of slot machines and video poker machines.
Most of these casinos are resorts, (some boasting 500-plus hotel rooms), with spas, pools, bars, buffets and nice restaurants. While not as large as Las Vegas Strip casinos, all five casinos have over 20,000 square feet of gaming floor space. Even the smallest casino in Wendover, the Red Garter, has undergone a full renovation.
Closest Casino to Salt Lake City, Utah
All of these casinos are within a few miles of each other, but if we're being technical, the Montego Bay Casino Resort and Wendover Nugget Hotel & Casino are the closest casinos to Salt Lake as they are right on the Utah/Nevada border.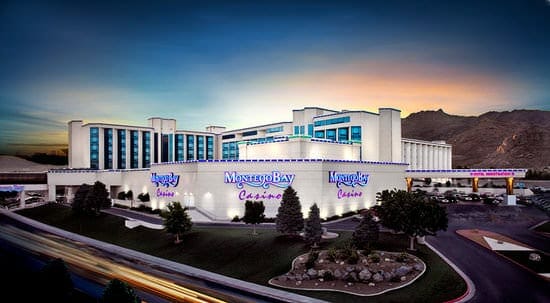 In fact, aerial views show that parts of Montego Bay are just 30 feet away from the Utah state line.
Distance from Utah Towns to Wendover, Nevada
West Valley City – 118 miles
West Jordan – 128 miles
Sandy – 134 miles
Layton – 142 miles
Orem – 157 miles
Ogden – 157 miles
Provo – 161 miles
How far is Wendover from Salt Lake City?
It's exactly 123 miles from Salt Lake City to Wendover, Nevada.
Fun Bus from Salt Lake City to Wendover, NV
A luxury bus outfitter called "LeBus" operates daily roundtrip bus service from SLC to Wendover.
Prices are subject to change, however recently the cost was $25 per person for a roundtrip ticket. While that may sound a little steep at first glance, it does include a free cocktail, and $20 bonus free play.
By my rough math, that makes it about a break-even proposition, not even factoring in gas prices or the wear and tear on your car.
Not to mention, the drive from Salt Lake City to Wendover (and back) can seem incredibly long and boring, so there's something to be said for the pleasure of spending the three hours (roundtrip), napping or reading, or playing the complimentary bingo game offered while reclined in a comfortable bus seat.
The bus runs Friday – Sunday, and on weekdays when demand warrants. There are pickup locations up and down the Wasatch Front, including stops in at the Sutherlands in Salt Lake at 1722 W North Temple, stops in Lake Point, Clearfield, Woods Cross, and Ogden.
You can get the current schedule here: LeBus Wendover, or their phone number is: (801) 975-0202.
(By Steve Beauregard. Photos courtesy of the town of West Wendover, and Montego Bay Resort Casino)