Updated January 2nd, 2021
(Editor's note: The Grand Via Buffet is open, with current hours and prices posted below. However the buffet is not the traditional self-service buffet, in that you are served dishes and portions. It's now more cafeteria style. Below is the pre-Covid write-up, which we will update when service returns back to normal.)
As the biggest casino in the U.S., the Winstar World Casino & Resort sees tens of thousands of visitors daily, many of whom refuel by diving into the casino's massive, well-stocked and reasonably-priced buffet.
The Winstar's buffet is called the Gran Via. It's big, even by buffet standards, with 156 tables that provide seating for 502 guests.
Each week, the buffet serves over 16,000 people, many of whom are here thanks to a comped buffet they received after using their Club Passport card.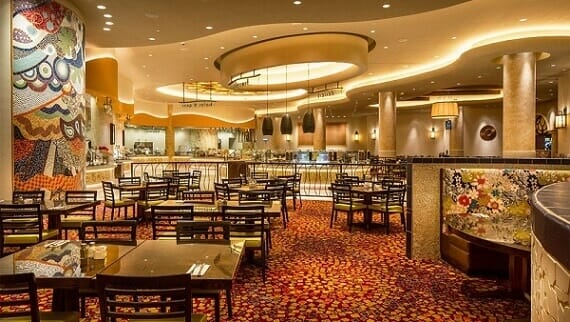 Located in between the Madrid and London Plazas, the Gran Via has an open, contemporary décor that is colorful and bright, with modern lighting and a massive, flower-adorned artistic light fixture as an aerial centerpiece.
Gran Via Buffet Menu
The WinStar claims their buffet has "about 200" different menu items. While we haven't performed an exact count, that figure seems reasonable.
Breakfast
Oddly, the Gran Via is open for breakfast just three days a week: Wednesday, Thursday, and Sunday.
Wednesday and Thursdays are the "Senior Breakfast." Despite the name, it's open to customers of all ages. It's just that those of you 50 and older receive it for free after earning 40 points on your player's card from Sunday to Tuesday. After acquiring 40 or more points, you'll just have to go to the player's club desk to receive your free buffet voucher.
If you, or a guest does not get 40 points on your card the breakfast price is $10.99 (when showing a player's card), and $16.99 for someone without a card at all.
The WinStar says 2,000 guests participate in the Senior Breakfast each of the two days. So you could say it's popular.
Some of the breakfast buffet items you'll find include staples such as scrambled eggs, pancakes, bacon, biscuits & gravy, country fried steak, pancakes, Danishes, pastries, and bagels. They recently re-introduced the made-to-order omelet station.
In addition, there is a waffle bar, along with a yogurt, oatmeal and grit bar.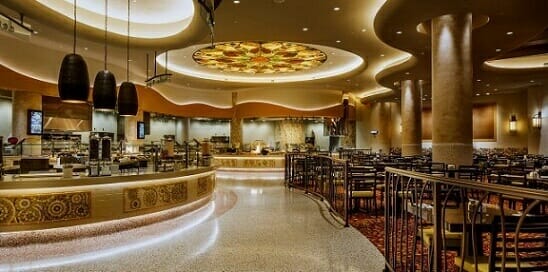 Lunch and Dinner Menu
The WinStar buffet has seven live action cooking stations: American, Mexican, Italian, Asian, Seafood, Salad Bar and Dessert.
Here's a small sampling of dishes found, with the disclaimer that there are subject to change, depending on the chefs' whims.
Lunch and dinner spreads are similar, but as you would expect, there will be a few more items available during the more expensive dinner buffet.
Salad bar: Standard make-your-own salad of course, with a variety of toppings. There are also soups, pre-made chilled vegetable salads, and breads.
Seafood: Mussels, fried shrimp, peel & eat shrimp, lemon & butter salmon, and fried fish (cod I believe). Please note that crab legs (King & snow crab) that were previously served on weekend nights are no longer part of the buffet.
Asian: Pho, Orange chicken, noodle dishes, fried rice, kung pao chicken, egg rolls, cooked vegetables, and beef with broccoli.
American: Chicken-fried steak, prime rib, mashed potatoes and gravy, roasted chicken, keilbasa sausage, fried shrimp, pork ribs, macaroni & cheese, turkey (with cranberry sauce option), and stuffing.
Italian: Pizza (including a 3-meat pizza), pasta salad, lasagna, tortellini diablo, and a make-your-own pasta section.
Mexican: Tamales, make-your-own taco bar, chicken fajitas, chips guacamole, and ceviche, among others.
Dessert: Pecan pie, coconut creme pie, white chocolate chip cookies, scoops of ice cream including coffee flavored, strawberry cheesecake, cute little cupcakes, carrot cake, candied-dipped apples, and even good old-fashioned funnel cake.
Winstar Gran Via Buffet Prices & Hours
The Gran Via has complicated hours that vary depending on the day of week. And as mentioned above, it's also that rare buffet to not serve breakfast seven days a week.
The prices below reflect what you would pay when showing your Club Passport card. The Club Passport is Winstar's version of a player's reward card. It's free to sign up for one at the player's desk and is definitely worth getting.
Prices for people without a Club Passport card will be a little more than the prices shown below. Specifically, not having a player's card will cost you $4 more than the prices show below for brunch, lunch and weekday dinners, and $5 more for breakfast and weekend dinners:
Brunch
Sunday (9 AM to 4 PM): $19.99
Lunch
Monday – Saturday (11 AM to 4 PM)
$14.99
Dinner
Monday – Thursday (5 PM to 10 PM): $19.99
Friday, Saturday & Sunday: (5 PM PM to 11 PM): $24.99
Crab Night
A call to WinStar confirmed a new all-you-can eat crab special on Wednesday and Thursday nights. The crab night started October 1st, however she was unsure as to how long it will run. This special crab buffet costs $49.99 (regardless as to whether or not you show a player's card).
A Note About Breakfast
Pre-Covid, the WinStar had a Wednesday & Thursday breakfast special for $10.99, that was free to guests over 50 who earned 40 points (or five hours of table play), on their player's card.
I reached out to WinStar about this popular Senior breakfast. A nice lady named Jennifer told me: "Currently, we are not offering the Senior Buffet. We are re-evaluating this situation on a monthly basis and hope to have an resume date soon!"
Winstar Buffet Children's Prices
Children's prices are in effect for kids ages 5 to 12. Kid's prices are below, and, as you may expect, kids don't have to get a player's card for these prices below:
Lunch: $10.99 (Monday – Saturday)
Dinner: $15.99 (Monday – Thursday)
Dinner: $18.99 (Friday – Sunday)
Brunch: $18.99 (Sunday)
Children 4 and under eat free.
Please note that on the 3rd Thursday of each month, the Gran Via hosts their Seafood Buffet, starting at 4 PM.
Winstar Grand Via Buffet Phone Number
1-800-662-6317
This is the resort's general number. Use this to get transferred to the buffet if you have questions or if you wish to sit with a large party.
(Related: Casinos near Dallas)
Tidbits
* Sunday night is steak night, where some steak cuts not available during the other six nightly dinner buffets are offered.
* Friday and Saturday nights are "Surf and Turf" nights at the buffet.
* As with many of the casino buffets in Las Vegas, the WinStar's buffet pricing may change on holidays. The pricing will vary based on the holiday, however they will be (at the minimum) $28.99 before using a Club Passport player's card, and a minimum of $23.99 each with the player's card. In addition, they often add some extra dishes not usually found on the normal buffet.
* According to the WinStar's website, the buffet employs 228 workers.
* Please note that crab legs are no longer served during brunch.
By Steve Beauregard. Photos courtesy of WinStar World Casino and Resort's media page and blog