Wynn Las Vegas Bars and Nightclubs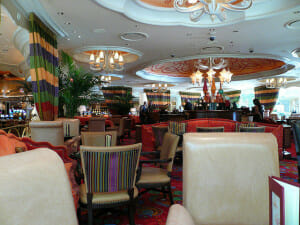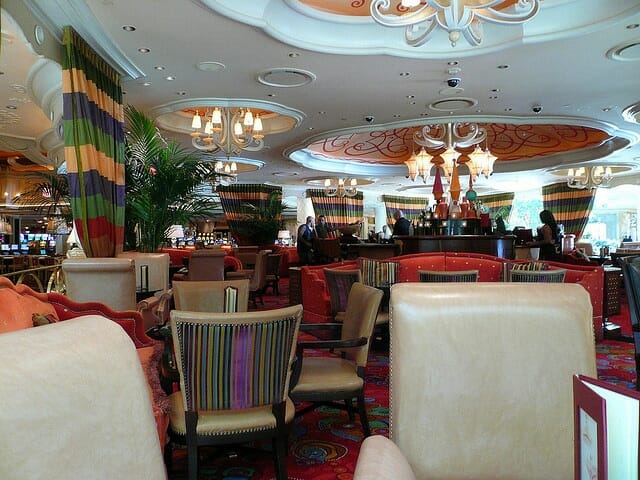 By Steve Beauregard
The Wynn Las Vegas resort has a variety of bars, ranging from the typical sit-down and play video poker bars to fancier dens with wonderful views of the waterfall.
Please note that here we're just counting the bars at the Wynn here, and not the Encore, which has very popular nightclubs like XS, Surrender, and the Encore Beach Club. We're also not covering bars that are just part of one of the many fine restaurants at the Wynn.
Tower Suite Bar
First is the Tower Suite Bar. This is NOT the place you go to order a Bud Light and watch the game. It's decked out in a comfortable, classy white, but some of their drink prices will have you turning white when you get the tab. Say you want some fine wine, but don't want to fork over for entire bottle.
They have this program here, where instead of you having to purchase a luxury bottle of wine for thousands and thousands of dollars, you can just buy a taste. So while a bottle of 2005 Chateau Mouton-Rothschild would run you nearly $2,000, you can instead, buy one ounce of it for $76, which, at that price, means you should definitely finish the entire shot class. I assume licking the inside to soak up every drop is acceptable.
So while the wine may cost you hundreds per glass, on the bright side, they have a piano player performing nightly.
Parasol
The Parasol Up and Down are a set of casual twin bars facing the Wynn's Lake of Dream. The Parasol Down is down the beautiful spiral escalators from the Parasol Up. The signature drink for both bars is the "Pear-a-sol." This fruity drink is said to be very delicious, (I've never had one), and consists of pear vodka, pear liqueur and fresh pears.
The nine signature drinks here are all $16.
Parasol Up is near the gardens area and is in a prime people-watching spot. It's casual and has a lot of couches, along with some views of the lake (especially if you sit up towards the front). Don't confuse casual with inexpensive however. Like their twin down below, they offer a large variety of unique (and costly) drinks, including the Sinatra Smash, and a cucumber type of mojito.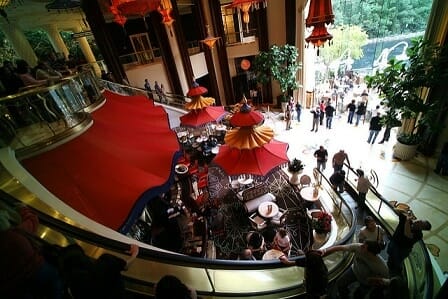 Parasol Down offers views of the nightly "Lake of Dreams" show. During the day, you still have a relaxing and calming view of the resort's waterfall through enormous three story glass, (and seemingly always sparkling clean), windows. Because it's at the intersection of two of the Wynn's most popular restaurants, (Lakeside and SW Steakhouse), it makes for a convenient meeting spot for those of you waiting for guests to join you for supper.
At the Parasol Down, you can also sit outside on the terrace. There are misters if you wish to brave a summer day's unbearable heat, and the patio is a great option at night, where you can enjoy your cocktail, while watching the Lake of Dreams light and musical show on the water.
The Parasol Down gives you a front row seat to a quirky, (but interesting) water show. It's reasonably affordable option for an otherwise expensive resort.
Both of the Parasol bars give you free nuts and potato chips with your drink.
B Bar
The B Bar (I think the "B" is for baccarat), is situated near the baccarat section and near the theater entrances, making it a good place to meet up before a show. It's an unremarkable bar, with a few seats with games at the bar. The bartenders here have been called snobby and rude, but that probably depends on who you happen to get that day. The B Bar is at a busy corner of this busy casino, so again, it's a good meeting point.
Sports Book Bar
The highly-regarded and fancy Wynn Sports book has a little bar, where you can grab and drink and check to see if you football parlays hit.
Cabana Bar
This is a pool-side bar, only this is a Steve Wynn place, meaning the decor is beautiful. Here you'll find a decent selection of domestic, imported and craft beers, along with refreshing cocktails and light meals (think salads, a few sandwiches, and appetizers). Because it is in the pool area, the Cabana Bar is for registered hotel guests only.
Intrigue
The newest nightclub addition to the Wynn/Encore stable of bars is Intrigue, the new buzz-worthy lakeside club at the Wynn.
Opened in April 2016, the 14,000 square foot club took the place of the now-closed Tryst, and is a high-energy dance club, with changing colors, chandeliers, and a celebrity clientele. There's even a super-exclusive club-within-a-club at Intrigue, where VIP's can access a private 85 person room.
The club's outdoor section sits on a pretty lagoon, with scenic views of the 94 foot waterfall.
Cover prices recently were $25 for women, and $45 for men.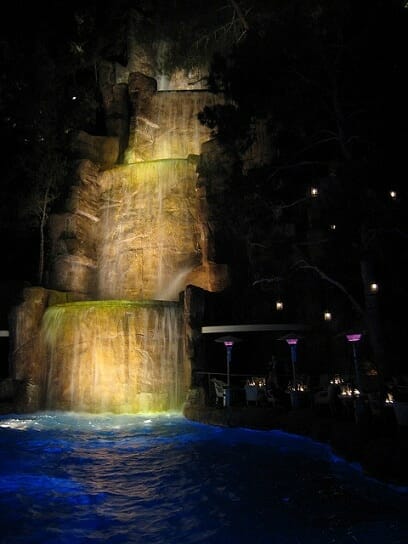 Bars and Nightclubs at the Wynn since closed
(Below is the original article we wrote about the Tryst nightclub, which closed in November 2015 and was replaced by Intrigue.)
Wynn's only nightclub is a popular one: Tryst. It's been known to have long lines at midnight to get in.
Tryst is beautifully-appointed (what else would you expect from Steve Wynn?) and has 12,000 square feet of party space – all in a lagoon setting with views of the 90 foot waterfall. And while 12,000 square feet sounds large, the dance floor can get very packed. Their website states that there is seating for 400 people at Tryst (including patio seating), but that the club can accommodate up to 1,200 guests.
In addition to the patio, waterfall and a lagoon, there is a lot of red here. The velvet walls, plush booths and everything in-between seems to be covered in some kind of crimson. The whole scene is opulent, but not over the top. It seems comfortable. There are high ceilings, cozy booths, and a special VIP area you'll never see. There's a staircase made out of marble and booths made out of alligator skin. There's also a little dance area with a pole, in case your lady wants to bring out her inner stripper.
You'll often read about Tryst in "People" magazine and other tabloids. Paris Hilton, the Kardashians and those types of celebrities often get photographed partying here. Nevertheless, Tryst seems to be losing its luster a bit to its larger sister club XS at Encore.
Tryst's signature cocktail is the Ménage a Trois, which is a drink made with aged Grand Marnier, Cristal champagne, Hennessy, and 24 Karat gold flakes in it. It's one of the most expensive drinks in the world, at $3,000, or in other words, the price of buying 3,000 Coors Lights down the strip at the Casino Royal. At Tryst, you don't go around offering to buy girls drinks.
The cover is around $45 for men and there are the millions of club promoters who promise to get you in cheaper. Check your local listings. I've heard of the cover for men being only $20 if you're with girls. (Go figure). Bottle prices start in the $400 range.
(Photos courtesy of Michael Gray, Peter Szanto and and Tom Lianza via Flickr).