"Where the strip began," goes the motto of the Flamingo Hotel and Casino. For a fun and affordable Sin City vacation, you may want your trip to begin here.
The Flamingo wasn't the first casino on the Las Vegas Strip – actually it was the third, (the last remaining portion of the old, original hotel was torn down in 1993. Yet the Flamingo remains the oldest strip casino still standing. I love this hotel and casino. Sure it's a little pinkish for a manly man like me, but it's got everything going for it: reasonably-priced rooms, one of the best swimming pools in Las Vegas, a variety of games, affordable eats, a "low-roller" poker room, clean updated rooms, and a perfect center-strip location that puts you in the heart of the action. Plus it always smells nice.
(Go here for more details on the Flamingo Swimming Pool).
With 28 floors, the Flamingo has over 3,600 hotel rooms. Its exterior is defined by its pink hues, and pink lights, and the much photographed signature sign – the large rising feathers in flashy neon lights that have become one of the symbols of glitzy Las Vegas.
As for the hotel: the well-appointed Go Rooms are unlike any room you've visited. They look like they were designed by a classier version of Austin Powers, with a hip retro 50 or 60's vibe. They've installed a TV screen that's implanted into the bathroom mirror, for those of you who don't want to miss a second of "The Voice" while washing your hands. Rooms also come with a radio/DVD player that is compatible with your Ipod.
Other recently refurbished rooms are called the "Fab Luxury Rooms." These 350 square feet are sleek and chic with touches of pink. They come with 32 inch plasma TVs and Las Vegas-themed art on the walls. Some have views of the strip and of the fountains at Caesar's Palace across the street. The Flamingo's website says staying in these rooms will make you "feel forever fabulous." Pink rooms that make you feel "fabulous." Straight men need not apply.
As for parking, The Flamingo's parking garage is a seven-story structure on the east side of the resort and is free.
Flamingo Casino
The Flamingo's 77,000 square foot casino floor has recently been updated. It's a fun and easy-to-navigate. And like I said earlier, it just smells nice inside. I don't know what scent they're pumping in, but it works.
1,600 slots are spread out over the gaming floor and your options include all the popular favorites, like Wheel of Fortune (my favorite), quirky video slots based on old TV shows, along with the more traditional slots like the Blazing 7's. In addition to Megabucks, there is a nice selection of other progressive slots, for those of you shooting for the home run of slot machine payoffs. Heck, they even have two cent machines with progressives. There are also tons of video poker machines, both separate aisles and at casino bars.
Seventy table games compete with their slot cousins for your attention. You'll find craps, blackjack, Let It Ride, Caribbean Stud, Roulette, (and that Rapid Roulette game), Pai Gow, Three Card Poker and the increasingly popular mini-baccarat.
In addition to all of these common table games, The Flamingo spreads a new test game called Wild 52. The game is played with a regular deck of cards (hence the "52" part of the name), but with a Joker included. The Joker is wild and can be used as any card to help your hand as opposed to Pai Gow, where you can only use the Joker to complete a certain set of hands. Wild 52 is sort of a draw poker game, where you only play against the house, rather than other players. My understanding is that the Flamingo is the only casino spreading this game currently.
Although it seems to be sort of dying in some places, Keno is alive and well and The Flamingo. To me, playing Keno while enjoying unlimited coffee refills and a cheap, greasy breakfast is one of the simple pleasures of Las Vegas.
With 25 TV screens and two large projection screens, the Flamingo's Race and Sports Book is a cozy way to watch and wager on a game. It's not a ten-seat afterthought, like at some casinos, but it's not an intimidating, huge NASA command center either, like you see at some strip casinos.
Their poker room is a fun, laid-back little room. In the 1970's, the Flamingo Poker Room was home to some of the biggest games in town. Poker legends like Stu Unger, Doyle Brunson and Chip Reece used to sling high-denomination chips here. Now however, the room is noob-friendly and almost strictly low stakes. Here you'll find one of the rare $2/$4 limit Texas hold'em games, where a person can buy in for just forty dollars, and have a good chance of making it last awhile (while downing comped drinks of course).
In addition to weak competition and low limits, the Flamingo poker room has the fun promotions and bonuses that Las Vegas professional poker players hate, but which many tourists like me love: high hand bonuses, and bad beat jackpots.
Because it's part of Caesars Entertainment, you can use your LV Total Rewards card here while playing to earn comps (it's based on how long you're seated at the table), and the room has daily tournaments. The phone number for the poker room, to check on tournaments, or the waiting list is: (702) 733-3485
In addition to the Flamingo casino, the resort also a separate, newly-opened Margaritaville casino under its roof.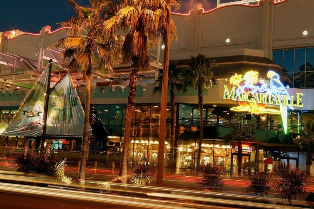 Jimmy Buffets' popular, strip-fronting Margaritaville Restaurant opened at the northeast corner of the casino, across the street from the now-closed O'Sheas, in 2003. Based on the popularity of the place, he (actually his holding company), opened the Margaritaville Casino in October of 2011 as part of the Flamingo, but with its own separate theme.

The Margaritaville Casino boasts 15,000 square feet of gaming space, and has 220 slot machines, 22 table games and the appropriately-named, 5 O'clock Somewhere Bar. I've found the dealers here to be especially friendly. The Margaritaville special $5 chip logo is pretty cool too. (I collect casino chips).

Other features of the main Flamingo hotel included the requisite spa, convention space, and nine different bars. Note that there's not a super hip trendy nightclub at the Flamingo, in case you're into that thing.

One of the best things about the Flamingo is that you get a lot of bang for your back. You won't be paying MGM Grand prices, nor will you be walking the incredibly long distances a stay at the MGM requires. At the Flamingo, the Caesar Palace Forum Shops are literally right out your front door. Sights like the Mirage volcano and Bellagio fountains are just steps away.

On the entertainment front, you're certain to know the Flamingo headliner, based on the way the resort plasters an enormous banner promoting the show across nearly the entire width and height of the hotel's strip-fronting side. Don't worry, even with the banner plastered over your hotel room windows, you're able to see out of your window just fine.

Currently the banner shows a super-sized Donny and Marie. A supersized photo of Toni Braxton previously graced the hotel front.

The unremarkable lineup of restaurants at the Flamingo include the Paradise Garden Buffet and the touristy bar you'll find at every cruise ship bar: Carlos' n Charlies'.

For being the third casino on the Las Vegas Strip, the Flamingo had held up nicely. It's been renovated, rebuilt and has changed with the times. It's clean and comfy, cheap, close to everything and one of my places to stay (and play) in Las Vegas.(Photo courtesy of Tony Hisgett via Flickr).

By Steve Beauregard