Flamingo Pool – A look at the Flamingo Hotel Swimming Pools, including the Go Pool and Hours of Operation
One of most pleasant parts of staying at the Flamingo Hotel and Casino is enjoying the resort's lush, tropical grounds and swimming pool area tucked away behind the casino.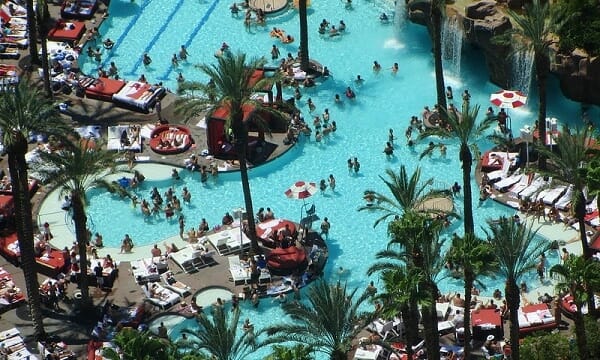 Flamingo Las Vegas Pools
The 15 acres of trees, ponds, grass, fish, birds, and pools is a 360 degree difference from the loud and scorching busy Las Vegas Strip just steps away. This tropical oasis at the Flamingo includes two different swimming pools:
The Go Pool
The Beach Club Pool.
Both are free to guests staying at the Flamingo. If you aren't staying there, you can still get in by purchasing a pricey daybed or cabana rental (more on that below).
Go Pool at the Flamingo Hours & Prices
The Flamingo's Go Pool is the large, main, adult pool, in which you have to be 21 or over to use. Some of you may know by its other name, the Lagoon Pool.
It was called that because of the faux-rock design, overhangs, and cozy, grotto-type escape behind a waterfall wall of water pouring down into the pool.
Now called the Go Pool, this formerly laid-back pool area is now party central, as the Flamingo has turned this into one of the many trendy beach day clubs found along the Strip. It's host to a rotating variety of dj's and performers.
The music is loud and pulsating, with hip and attractive twenty and thirty-somethings crowding the pool, drinks in hand, and occupying nearly every empty lounge chair within sight. The Go Pool vibe resembles that of a nightclub in the water, albeit one without a cover charge (so long as you're staying at the Flamingo).
Past artists who have performed here include Naughty by Nature, Nick Cannon, Jesse McCartney, Tone Loc and Flo Rida.
The lines to get in can be long, as security (whose interpersonal relationship skills leave much to be desired), will thoroughly check every bag and/or purse.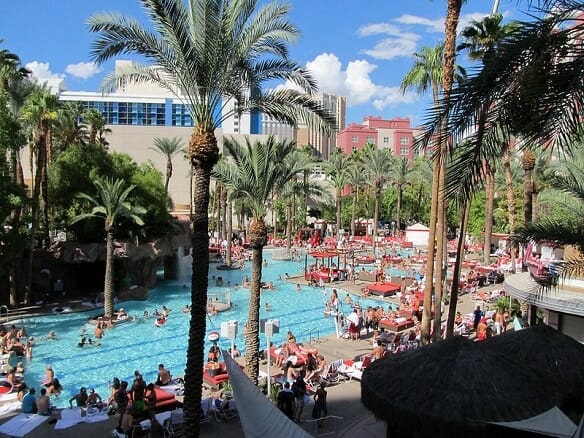 At the Go Pool, the hip-hop beats blast out of large speakers, the tatted-up twenty-something dues – red bull and vodka in hand – wade into the pool to flirt with the bikini clad vixens holding their Coors Lights, and the party vibe is in full force.
If that's your thing, great – it's just that boring middle-aged married tourists (like myself) should be warned that if you're looking for some nice, quiet and relaxing poolside nap or lounge time, the Flamingo's Go Pool is not for you.
Then there's the matter of drinks.
Flamingo Go Pool Drink Prices
Bottled beers run you $10 each. A bucket of 5 beers (like 16 ounce Coors Lights, or 12 ounce Coronas), at the Go Pool's bars cost $45. Regular, 12 ounce slushy drinks are $19 each. 22 ounce drinks are $29, or you can get a 54 ounce behemoth for $54.00
Bottle Service runs from $275 for a 1 liter bottle of Absolut up to $800 for Don Julio 1942 Tequilla.
Please keep in mind that you cannot bring in your own drinks to the Go Pool. Oddly, and in a gesture that brings no good will to the Flamingo or its Caesars Entertainment overlords, to the Flamingo "outside drinks" include drinks you purchased at…the Flamingo.
In other words, that happy-hour two-for-one margarita special you purchased at Carlos N' Charlie's just steps away from the Go Pool, or that beer you got while losing money at the blackjack table inside, cannot be taken into the pool area. The suits at Caesars Entertainment should thank you for being a good customer, but instead they punish you by making you discard your drink so that you'll be forced to buy one of their over-priced cocktails inside the pool area.
You can, however, bring in one unopened non-alcoholic beverage into the Go Pool area. I recommend you pack one large water bottle you buy at the CVS or ABC stores for a couple of bucks to avoid the pricey water inside the gates, ($7 for a regular Fiji water, or a bucket of 5 bottled water bottles for $30.)
In case you have any money left over, there are also some table games a few feet away from the bar area. Whether or not they are open is hit and miss, but I've seen both craps and blackjack games operating there, which is sort of fun to play when you're wet.
Flamingo Go Pool Hours & Prices
| | |
| --- | --- |
| Seven Days a Week | 9 AM – 6 PM |
Current artists and covers can be found at the official site here: GoPoolVegas.com
Use of the GoPool is free for those of you staying at the Flamingo (seven days a week). Lounge chairs are available, but on a first-come, first-serve basis, (and they go quick).
Entrance into the GoPool used to cost extra for Flamingo guests on weekends. However per the GoPoolVegas website, there is now, "FREE ENTRY FOR ALL FLAMINGO HOTEL GUESTS. NON – HOTEL GUEST ARE WELCOME WITH THE PURCHASE OF A DAYBED OR CABANA (SUBJECT TO MANAGER'S DESCRETION)." Previously, non-hotel guests could get in for $22.00
Flamingo GoPool Cabanas and Daybed Prices
By my count, The Flamingo Go Pool has a total of 66 cabanas and daybeds for rent.
A search for a recent Saturday showed lounge bed prices starting at $250 and poolside daybeds starting at $325 (these are for two people maximum). A premium wet deck daybed for a maximum of six guests recently went for a total of $550. ($350 fee and $200 minimum food and beverage spend).
Weekday prices are typically cheaper; we're talking $75 less for lounge beds for example.
(Related: Flamingo parking garage fee)
On the higher end the Flamingo Go Pool's "Premium Party" Cabanas (for 12 people) recently went for $900 on a Saturday. This does not include the $600 in food and beverage spend, and not including tax and tips. On a recent Wednesday, these same cabanas went for "just" a total of $650 ($400 fee and $250 food and beverage spend).
Beach Club Pool
In addition to the 21 and over adult Go Pool, the Flamingo has the Beach Club Pool for you quieter, lamer types (like me), and/or those of you with kids. Previously it was a topless pool with a $20 entry fee for male guests. However it's now a family-friend pool area called the Beach Club.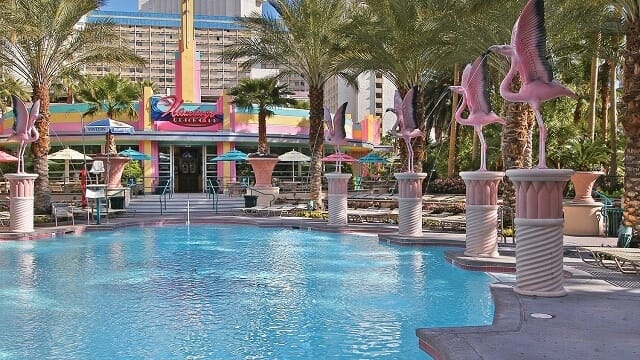 The pool here is pretty basic, without the more interesting character of the Go Pool down below. The pool does, however, have a cafe just steps away, and is surrounded by palm trees and lush vegetation and even nice views of the High Roller Observation Wheel next door.
There are also two waterslides steps away available for the kids to use.
Overall, it's a nice atmosphere if you're looking just to relax or splash around with the kids.
Beach Club Pool Hours
9 AM – 5 PM Seven days a week
The Flamingo's Beach Club Pool is only open the guests staying at the Flamingo and it's free – every day of the week.
Beach Club Pool Daybed & Cabana Rentals
This smaller pool area has daybeds for rent, along with six cabanas. On a recent search for a Saturday, a family day bed for four guests cost $375, which is actually $225 plus $150 in minimum food and beverage spend.
So whether you're looking for a party, or just to cool off and relax, the Flamingo has a couple of different pools that should satisfy either taste.
(By Steve Beauregard. Photos courtesy of Caesars Entertainment, and daryl_mitchell & Loozrboy via Flickr).