By Steve Beauregard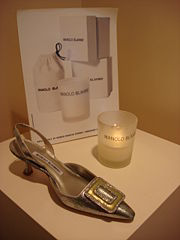 High, bright ceilings, wide hallways, towering curtains, luxurious shops, red carpeting complimenting beautiful tile. Prices you cannot afford unless you sell a major body organ: welcome to the Wynn Esplanade.
Retailers at the 75,000 square foot Esplanade include Christian Dior, Cartier, Louis Vuitton, Rolex (the only American Rolex store), and my wife's personal favorite (for window shopping only), Manolo Blahnik, which you may recall as Carrie's favorite high-end shoe store from "Sex and the City." I'm embarrassed that I actually know this.
I'm also ashamed to admit that I know of another famous designer who has set up shop at the Wynn: Alexander McQueen.
McQueen was the famous designer from England, whose reputation has only escalated since his suicide in 2010. The four time winner of the prestigious "British Designer of Year" launched a company that is now famous for dressing the stars – many of whom wear the McQueen label at big time gala award shows, including the Academy Awards.
Here is a list of the other stores at the Wynn Las Vegas. For our purposes here, we're including shops along the Encore Esplanade. The Encore Esplanade is the luxurious-looking hallway that connects the Wynn to the Encore. It's home to uber-hip nightclub, XS, as well as the very red Le Reve – the Dream theater.
(Here's some video from Wynn themselves, about shopping at the resort.)
Chopard – a Swiss retailer offering high-end watches and jewelry.
Graff Diamonds – I had to do a double-take when I first saw the sign out front of this luxurious diamond merchant. There is a "Graff Diary" in my hometown. Needless to say, there are no cows to be found at the Graff Diamonds store at the Wynn, however you will be shelling out a lot of moooo-la. (Rimshot).
Hermes – one of Oprah Winfrey's favorite stores. You should go there anyway.
IWC Schaffhausen – a Swiss watch maker. (The "IWC" stands for International Watch Company).
Upscale Italian men's wear retailer Brioni has a presence at the Wynn (The store is just one of six Brionis in the United States). Brioni is the designer of the official suit for James Bond. (Yes he's fictional, but it's still incredibly cool). Other, more real clientele have included everyone from Clark Gable to John Wayne, to former President George W. Bush. Former mob boss John Gotti's "dapper don" nickname came in part from his love of Brioni suits.
Hmm. John Wayne, James Bond and a mob leader all love Brioni. Something
about wearing these suits makes you want to shoot someone.
Piaget – Luxurious Swiss-made jewelry and yes, more watches. A rich man has no excuse for being late at the Wynn
Vertu – This British outfit sells cell phones. Sort of like at your local mall kiosk. Only these phones can sell for over $300,000 (true story). They come with call waiting.
Wynn & Company Watches (In keeping with casino tradition, these watches don't actually tell time – that way you never know what time it is, which keeps you gambling).
Jaeger-LeCoultre – Based in Switzerland, Jaeger-LeCoultre is another upscale clock and watch manufacturer. Steve Wynn sure does love his expensive watch stores.
Loro Piana – an luxury Italian clothing company that sells expensive Italian clothes. Actually, I don't know what kind they sell, but it's said they specialize in wool and cashmere. This is the perfect store for you to visit when you're in Las Vegas in July, and it's 109 degrees and you naturally want to purchase some warm wool clothing.
Chanel – You may have already heard about this company.
Chloe – A French apparel and handbag designer.
Chopard – (Every store at the Wynn or Encore has to start with a "C." If they start with a "CH" I think they get a discount on their rent or something.
Oscar de la Renta – the label's namesake became popular after designing gowns for Jackie Kennedy.
The Wynn Home store. They sell home furnishings, bedding, etc. Or you could just take the sheets from your room. In reality, this is a beautiful store (a window faces a waterfall), one in which my wife could spend hours browsing and dreaming.
The most unique shopping experience in the Wynn is away from the Esplanade. The hotel is home to a luxury car dealership, where you (well not YOU per se, but someone like you with a lot more money) can buy a brand new Ferrari or Maserati.



Officially called Penske-Wynn Ferrari, the 10,000 square foot showroom is open to the public, even to guests who couldn't afford to buy at the Kia dealership, however there is an admission fee of $10 to view the xxx automobiles, most of which are safely ensconced behind a velvet rope – similar to what you'd see in a museum. In addition to brand new, hot off the factory floor models, the dealership has used (or as the salesmen call it "pre-owned) cars. These include Ferraris, Maseratis, and even an occasional Mercedes-Benz (for you poor people).
Looking at the inventory, you'll see that prices generally range from the $100,000 to $300,000 range for the 2011 Ferrari 458 Italia 2 door coupe, which comes with an AM/FM radio I presume. And these are the used cars.
Next door to the car showroom is an official Ferrari shop, where you can purchase t-shirts, or hats emblazoned with the Ferrari logo.
Overall, shopping at the Wynn Las Vegas is not for the faint of heart. However it does provide my wife and probably millions of other women, a fun way to dream for an afternoon.