By Steve Beauregard
Your drinking options at Caesars Palace range from a pulsating hot new club to casual drink stands, to everything in between. Here are the bars and clubs at Caesars Palace.
Omnia
Replacing "Pure," with a $75 million remodel, Caesars new club Omina opened in March of 2015. It appears to live up to the hype, as this club is one of the hot new clubs in Las Vegas. It's the rare place that gets almost all universal love on Yelp.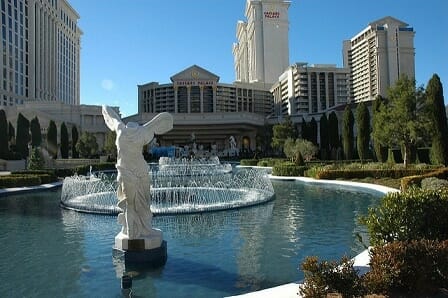 The long lines getting into Omnia are testament to its popularity, but you can buy pre-sale tickets ahead of time.
The crowded club has 75,000 square feet of club space on several different levels, including the dance floor and terrace space with incredible views of the Strip. There's the main club, the patio, and the exclusive "Heart of Omnia" space.
Calvin Harris, Afrojack and the like are frequent guest D.J.s. (A ticket for a recent Calvin Harris night cost $75 (for men), and $40 for women. The club hosted Justin Bieber's 21st birthday party, which means Bieber had his very first drink at Omnia, right?
(Here's Omnia)
Cleopatra's Barge
One of my favorite places in Las Vegas is the cheesy (but fun) Cleopatra's Barge. It's one of those places that you stumble across, not really expecting to have any fun, yet you do.
The bar is a little floating lounge off the casino floor. They often have live music (with no cover to boot). It's a nice little, cozy getaway from the large, boisterous casino.
On top of its intimate Egyptian decor, there is a ship! Or at least a replica of one, and a dance floor and a little river. On top of that, Cleopatra's Barge was the shooting location for the famous scene in "Rain Man," where Dustin Hoffman meets the prostitute.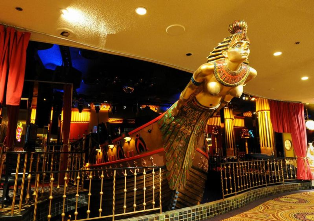 Fizz
Opened in March of 2014, Fizz is an upscale champagne bar owned by David Furnish and frequent Caesars Palace entertainer Elton John. It has 2,750 square feet and is elegantly appointed with "silk moire, walnut walls" chandeliers, and photos from Elton John's personal collection. It's the kind of place that would be home at The Cosmopolitan.
You can get glasses of champagne that range from $9 to a glass of Dom that costs $130 (yes, for one glass). Their 2005 bottle of Cristal goes for $2,725. There are several signature drinks, including champagne cocktails, one of which, the "Fizz Deluxe," costs $2,500, but it comes, according to their website, "dusted with real 24K gold flakes."
Fizz also serves small plate food offerings. These include a Thai lobster summer roll, panini bites, and caviar.
Fizz opens at 5 p.m. on weekdays, and at noon on weekends. It's tucked in the corner by the Colosseum, and close to the entrance to the Forum Shops at Caesars Palace.
Spanish Steps
This is an outdoor bar, and a self described "Mojito Hut" sitated on the steps leading to the southern Strip entrance of Caesars.
An outdoor bar sounds insane considering Las Vegas can get to 117 degrees in July. But this place gets decent traffic – thanks to misters and icy cool frozen drinks, and to people like me who are so hot and ready for a drink that they'll pay $13 (not including tip) for a smallish margarita. Las Vegas already makes you somewhat numb to money, and I guess the heat only adds to that effect.
This place got my business once after an unbearable short walk from the Bellagio. It's amazing how sweaty and drained you can get in Las Vegas in the summer just walking outside to one casino. No wonder those guys selling the $1 dollar bottles of water on the pedestrian bridges do so well!
The Spanish Steps has a row of fruity frozen drinks, similar to that of Fat Tuesday's. The mojitos here get good marks, as does the Bacardi lemonade stand, which is a few steps away and not really part of the Spanish Steps bar itself.
There are misters and tables to keep you cool, and in the winter, they put out heat lamps.
Numb Bar and Frozen Cocktails
Your requisite casino daiquiri bar, where there are a few seats at the colorful, neon-lit bar. This glorified frozen drink stand has expanded now to both Harrah's and the Tropicana.
Situated across from the Colosseum, the Caesars Palace version of Numb Bar is known for its gorgeous bartenders and signature drinks, such as the Acai Mojito (a regular mojito with acai berry), Purple Haze, and the Up All Night, which consists of an energy drink, vitamins, and Skyy Vodka.
Vista Cocktail Lounge
This new bar by the Hakkasan Group (who brought your Hakkasan at the MGM Grand and Omnia at Caesars), replaces the previous Shadow Bar.
(Inside the Vista Cocktail Lounge)
Although there are DJ's at night, this isn't a traditional Vegas dance club in the sense that there aren't doorman nor is there a cover charge, which is good, since drinks run $18 here.
The unique feature of this upscale bar, (which opened in May of 2015), is the LED lighting which gives you the impression that the view out of the faux windows are those of the famous skylines of the world's most beautiful cities and settings.
Montecristo Cigar Bar
This elegantly-appointed 4,000 square foot space includes cigars, of course, and specializes in fine whiskeys: Bourbon, Irish whiskey, Scotch, Tennessee whiskey, you name it. They also offer a small plates menu of gourmet appetizers.
Lobby Bar
Nothing exciting here, just your typical gathering place type of bar: open 24 hours a day, centrally located, and situated just to the right of the hotel's registration desk. There are video poker machines at the bar, and Caesars says that a well known mixologist has created eight signature drinks for this bar.
Alto Bar
In the fall of 2016, Caesars Palace closed the long-established Seahorse Lounge, and converted it into the fancier Alto Bar. Still its an open, casual casino bar – the type where you sit and have a drink while waiting for someone to meet you.
Situated close to Omnia and the race and sports book, Alto has private booths, 15 TVs, and some video poker machines.
Cocktails here range in the $15 to $21 range.
Apostrophe Bar
This is a circular bar near the entrances to both the very popular Bacchanal Buffet, Rao's and other of popular Caesars Palace Restaurants. The specialty cocktails here go in the $14 to $15 range, including the bar's signature "Missing Apostrophe."
**************
Here are some past writings on bars and clubs at Caesars Palace that are no longer open:
PURE
As a happily married man, I'm both too old and too unfashionable for the club scene, but if you're into that, PURE is about as good as it gets. It has about 40,000 square feet of space, including an outdoor patio with some of the best strip views in Las Vegas. It's one of the clubs you hear about on Entertainment Tonight, when people like Kim Kardashian or Brittany Spears are attending some big bash.
Inside, there's a lot of white, and with the curtains it resembles an incredibly large bedroom. There's the main area, where famous DJ's perform, as well as several different rooms featuring different music. Outside, however, is the place to be, with the views and the fresh air coming off of all the taxis on the Strip.
Pure is open Thursday through Sunday, and then again on Tuesday. Your basic cover without table bottle service is around $30, but I believe there are free passes for guests staying at Caesars. And of course there are the millions of Las Vegas promoters who promise to get you in for free, with VIP service, and with Paris Hilton giving you lap dances.
I've seen long lines stretching to the poker room to get into this club, which opens at 10 p.m., or the time I'm going to bed (I told you I'm old).
The dance floor and even non-dance floor can get packed – I realize you don't want an empty club – but the design of PURE, with a journey through the crowded dance floor to get to a bathroom , is not for the claustrophobic.
Shadow Bar
You may have seen this joint on the Travel Channel, during one of their Las Vegas specials. This is the bar where presumably beautiful women dance behind a curtain, (nude I believe – I didn't look THAT close), allowing only their silhouette to be seen gyrating, (hence the "Shadow" name). It's sexier than I'm making it sound.
Right off of the casino floor, Shadow can be a convenient meeting spot. There's no cover charge here. It has comfy chairs and couches but can get sort of loud if you just want to chill out and talk.
Seahorse Lounge
This place is open, casual, blue in decor, and filled with comfortable chairs. It's not real noteworthy, other than the presence of an enormous aquarium.
Seahorse Lounge
This longtime Caesars Palace staple is a gathering-place type of bar that is easily recognizable by it's aquatic decor, including its 1,700 gallon aquarium. It's pretty close to the Colosseum, and therefore a favorite of ticket-holding guests wanting a relaxing drink before, or after a show.
Beware of the hefty prices however, as a standard drink will run you in the $15 to $25 range. If your budget allows it however, the Seahorse Lounge at Caesars Palace is great for people-watching.
Galleria Bar
Just your typical Las Vegas casino bar. No cover charge here, and they often have a piano player performing. It's open 24 hours a day.
Photos courtesy of Rob Lee via Flickr.)