Biggest Casino in Reno, Nevada & Top 10 List
It may not get as much as attention as Las Vegas or Lake Tahoe, but Reno, Nevada is home to a thriving casino market.
The area of nearly a half a million people in far western Nevada, near the California state line is home to 12 main casinos, not including small video poker bars or gas stations with slot machines.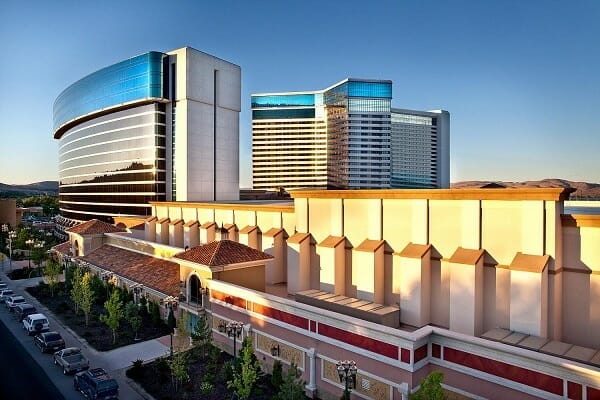 Many of these casino are congregated in Reno's famed downtown area on N. Virginia Street, (where you'll find the famous arch boasting "the Biggest Little City in the World"), while a few others are situated by themselves a few miles away from the city's center.
In either case, the twenty-three licenesed casinos in Reno combine to bring in over $65 million dollars in gaming revenue per month.
Below is a list of the ten biggest casinos in the Reno area, as determined by gaming floor size.
These figures come from the Nevada Gaming Control Board, which requires each gaming license location to disclose the square footage of floor space devoted to gambling (slots, table games, race/sports books, etc.). The figures here only include gaming space, and not convention rooms, restaurant square footage, etc.
One other note, we're including nearby Sparks, Nevada, casinos here too, since Sparks is just located to the east of Reno proper.
Largest casino in Reno
The biggest casino in Reno is the Peppermill Resort Spa Casino, located 2 ½ miles south of downtown Reno.
The Peppermill is one of only two Reno casinos to have over 100,000 square feet of gaming space, and one of 22 casinos in the state of Nevada to cross the 100K mark.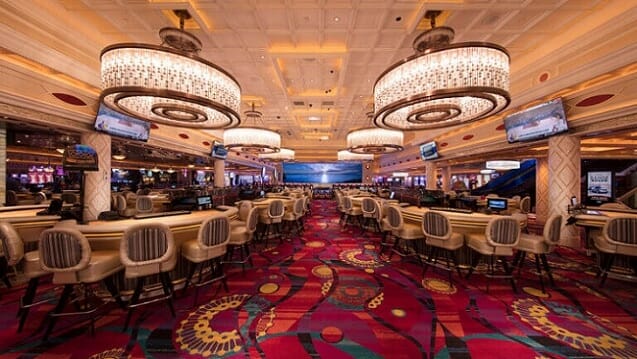 In fact, the Peppermill has a bigger casino than many of the famed resorts on the Las Vegas Strip. It may surprise you to learn the Peppermill's casino is bigger than the Luxor, Excalibur and Mirage in Las Vegas. To be fair, a large chunk of Peppermill's gaming floor square footage includes space only for bingo.
Built in 1971 and expanded numerous times since on its 45 acre parcel, the Peppermill has over 2 million square feet, when factoring in the 1,623 room hotel, 33,000 square foot spa, along with the resort's fifteen bars and ten restaurants.
The casino itself boasts 1,500 slot machines, 48 table games, a 6,525 square foot sports book, and the largest poker room in Reno, with 19 tables.
Top 10 Biggest Casinos in Reno, Nevada
Here's the full list of the top ten biggest casinos in the Reno and Sparks, Nevada area, as measured by gaming floor square footage:
Peppermill Resort Spa Casino – 105,041 square feet
Grand Sierra Resort and Casino – 103,847
Silver Legacy Resort & Casino – 93,933 square feet
Legends Bay Casino (Sparks) – 80,000 square feet
Eldorado Hotel & Casino – 70,000 s.f.
Circus Circus Reno – 65,515
Atlantis Casino Resort – 64,814
Nugget Casino Resort (Sparks, NV) – 50,200
Baldini's Sports Casino (Sparks, NV) – 41,750
Club Cal Neva – 39,637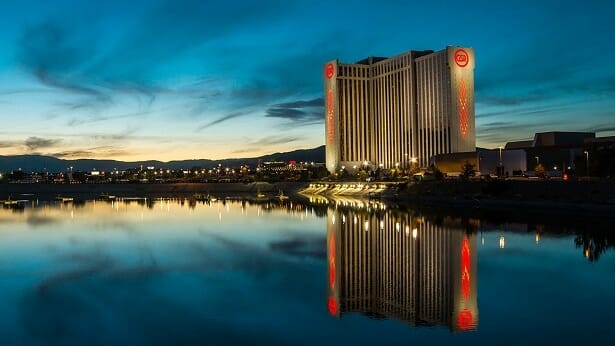 Which Reno Casino Has the Most Slot Machines?
The Peppermill takes top honors here as well, with 1,700 slot machines/video poker games.
Atlantis Casino resort comes in second, with 1,400 slots. The Grand Sierra boasts 1,200 slots.
Biggest Sportsbook in Reno
The biggest sportsbook in Reno is found at the Grand Sierra Casino, and it's not even close.
The Grand Sierra's sport's book is 9,125 square feet in size, almost 40% larger than that of Reno's next largest sportsbook. The Grand Sierra's race and sports books has 130 TV screens, VIP boxes, and capacity of 700 people.
Here's a list of the five biggest sportsbooks in Reno:
1) Grand Sierra Resort & Casino: 9,125 square feet.
2) Peppermill Resort Spa Casino: 6,525 square feet. The resort's spacious race and sports book features not one, but two ten foot wide TV screens (and you thought your 55 inch TV was big), along with 61 other big screen televisions.
3) Club Cal Neva: 3,743 square feet.
4) Atlantis Hotel and Casino: 3,000 square feet.
5) Eldorado Hotel and Casino: 2,487 square feet.
Please note, this sportsbook list does not include the new Circa Sportsbook at Legends Bay. Official square footage figures for this sports book are not available as the casino opened on August 30th, 2022.
(By Steve Beauregard. Photos courtesy of TravelNevada.com.)