Casinos in Reno, Nevada
It may not be as famous as its cousin to the south in Las Vegas, but Reno Nevada is no slouch when it comes gambling and casinos.
In fact, according to the Nevada Gaming Commission, there are 23 licensed casinos in Reno, NV – 12 main, bigger casinos in town, with others being either smaller slots-only joints (like gas stations), or casinos on the outskirts of town. This figure doesn't count seven more casinos in Sparks, Nevada, the city just to the east of Reno.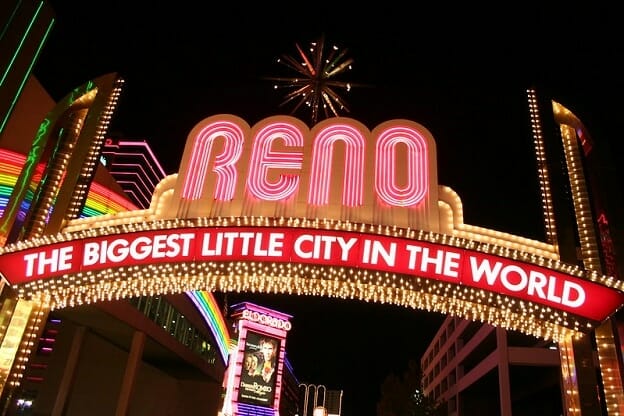 My wife and I found Reno to be a little more laid back, and much less expensive than a visit to Las Vegas. The vibe is certainly more low-key here, with lower limits, cheaper meals and the like.
Nevertheless, the 23 Reno casinos combine to produce over $728 million dollars in gaming revenue each year per the Nevada Gaming Control Board.
There is a main casino street, (similar to Fremont Street in downtown Las Vegas), as well as casino scattered around town.
Reno Casinos
Reno's Version of the Strip
Downtown Reno's main drag is N. Virginia Street, which is Reno's version of the Las Vegas Strip.
However it may remind you more of Fremont Street in downtown Las Vegas, in that it's a place where you can easily casino hop. Here you'll also find friendly dealers, lower limit gaming, food specials and an overall more laid-back vibe that harkens back to the Las Vegas of old.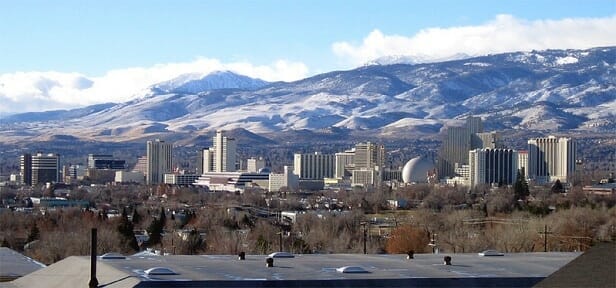 It's in this downtown area where you'll find the iconic arched "Reno" sign pictured above. It's also just a block east of both the Reno Events Center and the National Bowling Stadium.
Casinos here downtown, and in the outlying parts of Reno range from small dumpy dives, to luxurious resorts with spas and fine dinning.
The 23 different casino licensees in Reno even include the Tahoe-Reno International airport. However here were focusing more on the number of "real" casinos in Reno.
List of Reno Casinos
Here is a list of all of the 12 main casinos in Reno, NV proper.
Atlantis Casino Resort Spa
Bonanza Casino
Circus Circus Reno
Club Cal-Neva
Diamond's Casino
Eldorado Hotel & Casino
Gold Dust West Casino
Grand Sierra Resort and Casino
Peppermill Resort Spa Casino
Sands Regency Casino Hotel
Silver Legacy Resort Casino
Siri's Casino
Here is more information on the big six – the more "real" Las Vegas-style casino/resorts in Reno.
Atlantis Casino Resort Spa
The Atlantis is four miles south of downtown Reno, and is connected to the Reno Convention Center via a pedestrian walkway.
This 824 room hotel is a AAA Four Diamond resort, and boasts three distinctive-looking towers. Inside you'll find a 30,000 square foot spa, and eight restaurants, including a buffet and steakhouse.
There are also ten different bars, 50,000 square feet of meeting space, both an indoor and outdoor pool, an esports lounge, along with a "Fun Center" arcade for the kids.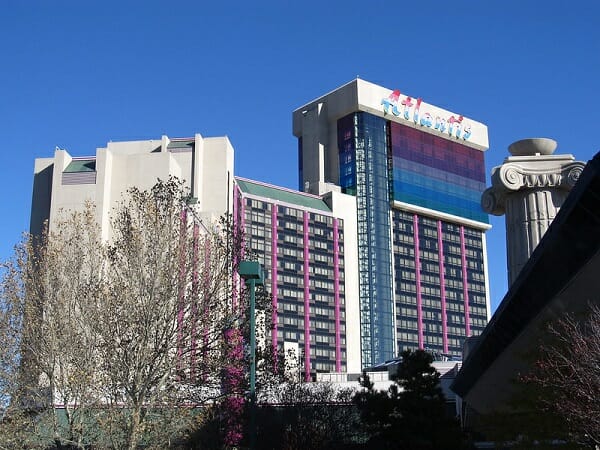 The 64,814 square foot casino has 1,400 slot and video poker machines, all of the normal table games (blackjack, craps, roulette, baccrat, Pai Gow poker, etc.), a sports book, Keno, and a poker room.
Atlantis Casino Resort Spa Address, Phone & Website
3800 S. Virginia Street
Reno, Nevada 89502
(800) 723-6500
Website: AtlantisCasino.com
Circus Circus Reno Hotel & Casino
Circus Circus Reno is located right on N. Virginia Street, and is part of "The Row" – 3 Caesars Entertainment casino/hotels bunched together in the heart of Reno.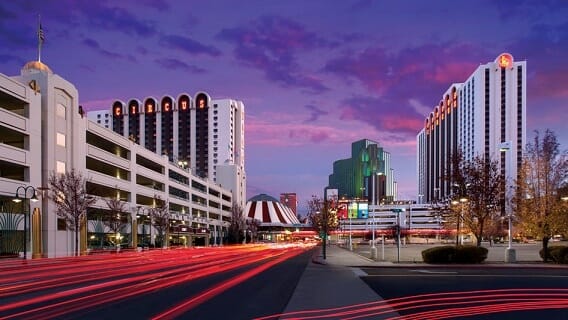 At just over 65,000 square feet of gaming space, it's the 5th biggest casino in Reno, and boasts around 700 slots, table games and electronic table games. There's also a Caesars Sportsbook here as well.
Unique to this resort is the Midway area, where there are live circus acts performed daily. The shows are free.
With just under 1,600 hotel rooms in the two towers, Circus Circus Reno is one of the largest hotels in Reno. Although it does not have a spa, hotel guests can access the spa at their sister property Silver Legacy, via the enclosed pedestrian walkway.
You'll find eight dining options at Circus Circus Reno, (including those at the food court), along with four bars.
Circus Circus Reno Hotel & Casino Address, Phone & Website
500 North Sierra Street
Reno, Nevada 89503
(800) 648-5010
Website: CircusReno.com
Eldorado Casino Resort
A spacious bright purple and pink lit casino on Reno's main drag, N. Virginia Street, the Eldorado is right in the heart of the action.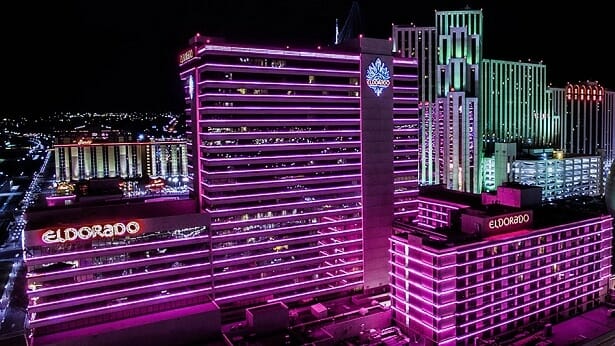 The Eldorado boasts 815 rooms, and the resorts nine dining options, (not including a Starbucks and another coffee/gelato stand) include the popular Brew Brothers brewpub. There are six bars and lounges, a spa and shows in the 580 seat Eldorado Showroom.
As for the casino, it has 70,000 square feet with all the usual table games and around 1,000 slots/video poker games and the Caesars Sportsbook.
I've personally stayed here and thought highly of it, especially the rates and location.
Eldorado Resort Casino Address, Phone & Website
345 N. Virginia Street
Reno, Nevada 89501
(800) 879-8879
Website: EldoradoReno.com
(Related: Distance from Reno to Las Vegas)
Grand Sierra Resort and Casino
About a 3 mile drive east of Reno's downtown gambling core, the "GSR" is Reno's largest hotel, with 1,990 rooms, and an RV park to boot.
The Grand Sierra is probably the most "Vegasy" of the casinos in Reno. There are Las Vegas style ultra-lounges (Lex), an 1,800 person concert hall for acts ranging from Billy Idol to Colbie Caillat, and ten bars and lounges.
It may also be the most family-friendly casino resort in the Reno area, as it boasts a bowling alley, arcade, movie theater, go-karts, driving range, heated outdoor pools, a splash pad, mini-golf and more.
The resort has the requisite luxurious spa, a convention center for up to 4,000 people, and 11 restaurants (five of which are fast-casual options), along with a Starbucks and frozen yogurt stand.
At just over 100,000 square feet, the casino is the second largerst one in Reno with 1,200 slots and 47 table games, including ones found in their Infinity High-Limit room.
The 7 table poker room has daily tournaments and some bad beat/high hand types of promotions. The Grand Sierra used to be the Reno Hilton. In the early days of the poker boom, the resort hosted popular World Poker Tour events.
On top of this, you'll find Keno here, and the 14,200-square-foot William Hill Sports Book.
Grand Sierra Resort and Casino Address, Phone & Website
2500 E 2nd St
Reno, NV 89595
(800) 501-2651
Website: GrandSierraResort.com
Peppermill Resort Spa Casino
Just up the road from the Atlantis, the Peppermill Reno is 2.3 miles south of downtown Reno. It's one of the Reno area's nicer resorts, as this AAA Four Diamond property boasts 1,600 hotel rooms. There's even a complimentary airport shuttle to the hotel.
With just over 105,000 square feet of gaming space, it is the biggest casino in Reno. The spacious casino has 1,700 slot and video poker machines, a high-limit slot area, 48 table games, a keno lounge, very attractive sports book, and a contemporary, 19 table non-smoking poker room complete witht lots of HD TVs.
The Peppermill has the most bars of any casino in Reno, with 15. There are also nine restaurants and a coffee stand. Recreation options (other than drinking and gambling), include a spa, two swimming pools, a concert venue, kids arcade, and a 33,000 square foot spa that has been rated as one of the top ten hotel spas by USA Today.
Peppermill Resort Spa Casino Address, Phone & Website
2707 South Virginia Street
Reno, NV 89502
(866) 821-9996
Website: PeppermillReno.com
Silver Legacy Resort Casino
The third of the three "Row" casinos, this hotel/casino is easily recognizable by what appears to be a giant golf ball stuck on the roof. It's also lit up at night in distinctive green lighting.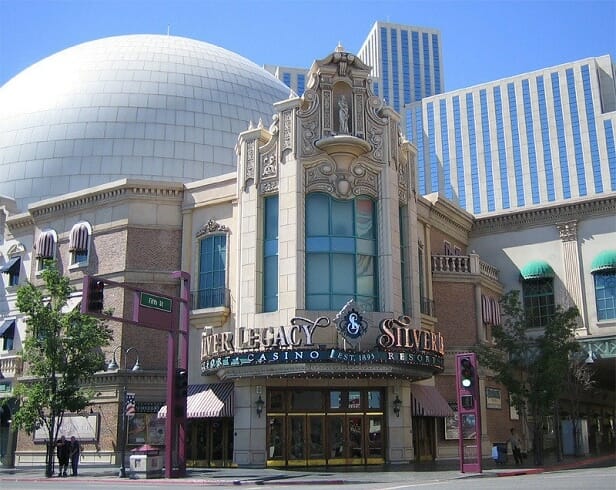 With 1,685 hotel rooms, the Silver Legacy is the second largest hotel in Reno. The casino is equally large for Reno standards, (the third largest in the area), boasting over 1,000 slot and video poker machines, along with 48 table games, a poker room, Keno, and a Caesars Sportsbook.
This hotel also has a 21,000 square foot spa, The Laugh Factory comedy club, the Grande Exposition Hall entertainment and convention venue, six restaurants, six bars and even a Topgolf Swing Suite.
Silver Legacy Resort Casino Address, Phone & Website
407 N. Virginia Street
Reno, NV 89501
(800) 687-8733
Website: SilverLegacyReno.com
Other Reno Casinos
Club Cal Neva Casino
Located downtown on the southern end of Reno's "Strip" on N. Virginia Street, the Club Cal Neva is definitely an old school joint. No one will confuse it with the Bellagio, but it offers nearly 40,000 square feet of low-limit gaming with 700 slots and table games.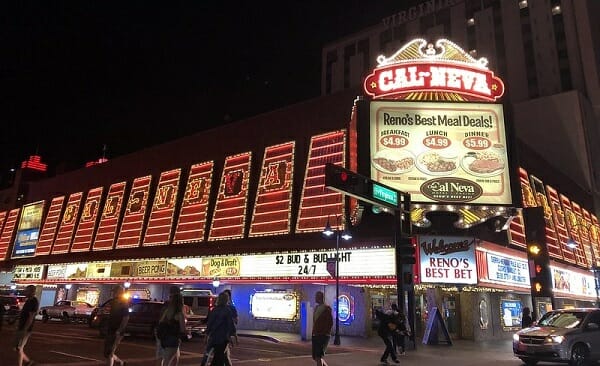 You'll find very affordable dining options here, including some of the casino food specials of old. My wife and I ate here at the Top Deck, which is your classic casino coffee shop. Overall we enjoyed the low prices and classic casino vibe of the Cal Neva.
Sands Regency Casino Hotel
This is a smaller, but renovated 300 room property 3 1/2 blocks west of Reno's main drag. It has around 100 slots, table games, bingo, a William Hill sportsbook, buffet and "The Original Mel's Diner."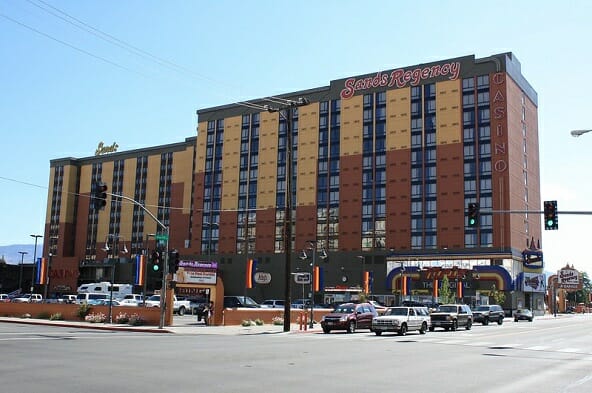 Siri's Casino is located Downton on N. Virginia Street in an art-deco style building near the famous Reno arch. It boasts around 90 slot machines, and has an extensive selection of frozen drinks and beers on tap.
The Gold Dust West Casino Reno is located in downtown Reno, 1/2 mile west of N. Virginia Street. This locals casino boasts 450 slot machine/video poker games and a William Hill sportsbook.
Diamond's Casino is about a mile and a half northeast of downtown near I-80. It has 262 slot machines, a few table games and sports betting kiosks.
Bonanza Casino is a locals joint three miles due north of Downtown Reno. It boasts 400 slots, a William Hill sportsbook and two restaurants.
Hobey's Casino and Restaurants is five miles northeast of downtown Reno, in Sun Valley, Nevada.
Tamarack Casino – This local's casino has a Reno address, but is ten miles south of town, on the way to Carson City, and usually off of the radar of folks visiting from out of town.
Boomtown Casino – The Best Western Plus Boomtown Hotel & Casino sits right off of Interstate 80, 9 mile west of downtown Reno, near the California border.
Gold Ranch Casino – Just down the highway from Boomtown, and also just off of I-80 this casino and RV park (no hotel) is located in Verdi, NV, 11 miles west of downtown Reno. The western part of the building is just 400 feet away from the California/Nevada state line.
The small casino has 250 slot machines and there is a William Hill sportsbook. The casino's Sierra Café is where you'll find affordable breakfast specials and prime rib dinners.
Bordertown Casino & RV Resort is a good 17 miles northwest of downtown, but boasts a Reno mailing address.
Lastly, the Nevada Gaming Commission lists the Reno-Tahoe International Airport as a Reno casino, due to all of their slots in the terminals.
Reno Casinos Map
Each black dice represents one of the twelve main casinos in and around downtown Reno, Nevada.
(Related: Number of casinos in Nevada).
Reno Casinos FAQ
Reno Casinos that have Since Closed
Harrah's Reno closed down permanently in March of 2020. The downtown Reno Caesars Entertainment property boasted 982 rooms and a 40,000 square foot casino.
(Steve Beauregard is a Reno/Tahoe visitor and recovering journalist. He has contributed to PokerNews.com and DenverPost.com among others, and has won four first-place awards from the Colorado Press Association. Photos courtesy of the Atlantis media page, The Reno-Sparks Convention and Visitors Authority, Atlantis from Ken Lund, sling@flickr, and Prayitno. Cal Neva Casino from Sarah Stierch and Sands Regency from Nick Ares via Flickr.)