It may not be as famous as its cousin to the south in Las Vegas, but Reno Nevada is no slouch when it comes gambling and casinos.
In fact, there are 20 casinos in Reno, NV. They combine to produce over $570 million dollars in gaming revenue each year.
In many ways, Reno resembles the Las Vegas of old. The dealers are friendly, the vibe is more laid-back with some casinos still spreading $2 blackjack and $1 craps.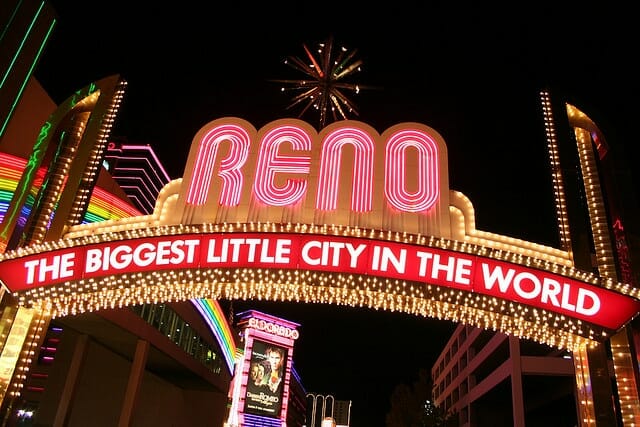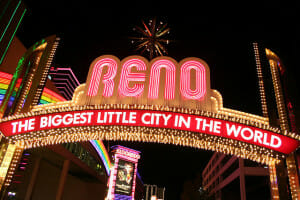 Downtown Reno's main drag is N. Virginia Street. It will remind you of Fremont Street in Las Vegas. It's a place where you can casino hop, and where you'll find some of the vibe and food specials resembling that of old Las Vegas, (I'm talking about $5.99 prime rib dinners for example).
It's downtown, where you'll find the iconic arched "Reno" sign pictured above. Casinos here, and in the outlying parts of Reno range from small dumpy dives, to luxurious resorts with spas and fine dinning.
The 20 casinos in Reno are actual casinos as defined by the Nevada Gaming Control Board. Lots of places in Reno, (gas stations, bars, etc) have a few slot machines, or video poker machines, however we don't count them as casinos. The state defines a casino as an establishment having either 16 or more slot machines, or any number of slot machines combined with a table game(s) or sports book.
Per the Nevada Gaming Control Board, Reno has six big casinos – that is, casinos that generate $36 million or more per year in gaming revenue. These big six brought in $462 million in gaming revenue last year, or 81% of all the gambling money generated in Reno, NV.
Here are the big six
Atlantis Casino Resort Spa
The Atlantis is ten miles south of downtown Reno. This 824 room hotel has three distinctive-looking towers. Inside you'll find a spa, and ten restaurants and eight bars, and a "Fun Zone" arcade for the kids.
The 60,000 plus square foot casino has 1,500 slot and video poker machines, a sports book, Keno, and a poker room.
A large casino in the heart of Reno's main street, N. Virginia Street, the Eldorado has 815 rooms, eight restaurants, and a coffee stand. The six bars and lounges help keep guests occupied, as does the hotel's spa and shows in the 580 seat theater.
As for the casino, it has 76,000 square feet with all the usual table games. There is also Keno and the rare poker room that spreads Stud.
I've personally stayed here and thought highly of it, especially the rates and location.
(Related: Distance from Reno to Las Vegas)
Grand Sierra
About a 3 mile drive east of Reno's downtown gambling core, the Grand Sierra is Reno's largest hotel, with 1,990 rooms. It's probably the most "Vegasy" of the casinos in Reno. There are Las Vegas style lounges (Lex), a 1,800 person concert hall for acts ranging from Billy Idol to Colbie Caillat, a bowling alley, movie theater, go-karts, mini-golf and more.
The resort has the requisite luxurious spa, a convention center for up to 4,000 people, and 12 restaurants/snack bars, not including a Starbucks and frozen yogurt stand. No less than ten bars and lounges dot the property.
The casino is one of the larger ones in Reno. The poker room has daily tournaments and some bad beat/high hand types of promotions. The Grand Sierra used to be the Reno Hilton. In the early days of the poker boom, the resort hosted popular World Poker Tour events.
Harrah's Reno
Right in downtown Reno, this Caesars Entertainment property boasts 982 rooms and a 40,000 square foot casino.
Peppermill
Just up the road from the Atlantis, the Peppermill Reno is ten miles south of downtown Reno. It's also the Reno area's second largest resort, with 1,600 hotel rooms.
With over 100,000 plus square feet of gaming space however, it is the biggest casino in Reno. The spacious casino has 700 slot and video poker machines, a very attractive sports book, and a classy, 19 table poker room.
The Peppermill has the most bars of any casino in Reno, with 14. There are also 11 restaurants and a coffee stand. Recreation options (other than getting drunk and gambling), include a spa, two swimming pools, a concert venue, kids arcade, and spa.
Silver Legacy
One of the big six casinos in Reno, this hotel/casino is easily recognizable by what appears to be a giant golf ball stuck on the roof.
The largest hotel in Reno, the Silver Legacy has 1,700 rooms. The casino is equally large for Reno standards, boasting 1,400 slot and video poker machines, along with 85 table games.
This hotel also has a comedy club, convention hall, spa, five bars, seven restaurants and a Starbucks.
Full List of Reno Casinos
Here is a list of all of the casinos in Reno, NV.
Atlantis Casino Resort Spa

Baldini's Sports Casino

Bonanza Casino

Boomtown Casino

Circus Circus Reno

Club Cal Neva

Eldorado

Gold Dust West

Grand Sierra Resort and Casino

Harrah's Reno Hotel and Casio

Peppermill Resort Spa Casino

Rail City Casino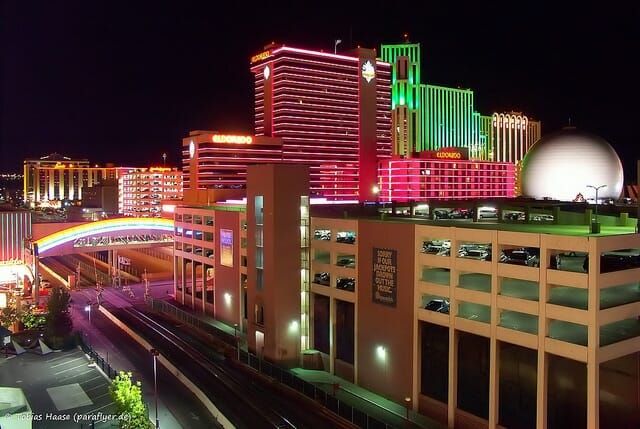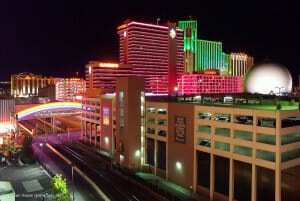 Sands Regency Casino

Siena Hotel Spa Casino

Silver Legacy Resort Casino
Also…
Tamarack Junction – This local's casino is in Reno, but ten miles south of town, on the way to Carson City, and usually off of the radar of folks visiting from out of town.
For convenience's sake, we're including here below some outlying casinos, including ones in Sparks, Nevada, which is basically an eastern suburb of Reno.
Alamo Casino (Sparks, NV)
Nugget Casino Resort (Sparks, NV)
Gold Ranch Casino – This casino and RV park (no hotel) is located in Verdi, NV, just 10 miles west of downtown Reno. The small casino has 250 slot machines and there is a William Hill sportsbook. The casino's Sierra Café is where you'll find $3.99 breakfast specials and $6.99 prime rib dinners.
Western Village Inn and Casino – Located in Sparks, Nevada. This 147 room resort sits near the Sparks Marina. The casino has 800 slots, a sports book, and table games, including the aforementioned $2 blackjack (single deck even), $1 craps and 25 cent roulette.
Other note: the Bourbon Square Casino closed in Feburary 2015.
(By Steve Beauregard. Photos courtesy of sling@flickr, Tobias via Flickr, and Prayitno via Flickr.)