Sparks Casinos – List & Map
It doesn't get nearly the attention of its big brother, Reno, to the west, however Sparks, Nevada has a thriving casino industry.
The city of around 100,000 three miles east of Reno boasts 13 casinos. In addition, there are 23 casinos in Reno.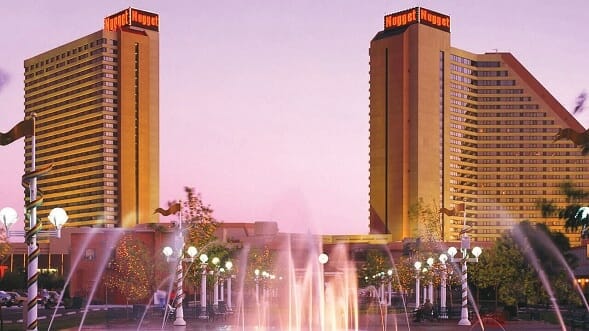 Most of these are simple casinos (one is part of a truck stop), rather than resort-style properties. Most cater to locals and do not have hotels nor table games.
Either way, these 13 casinos in Sparks combine to bring in around $160 million in gaming revenue each year. Recent figures from the Nevada Gaming Control Board show that there are just over 3,000 slot machines in Sparks, along with 21 blackjack tables.
Casinos in Sparks, NV
Alamo Casino & Travel Center
Baldini's Sports Casino
Dotty's Casino (five locations)
JJ's Sports & Spirits
Legends Bay Casino
Nugget Casino Resort
Rail City Casino
Sierra Sid's Casino
Western Village Inn and Casino
Here's a more in-depth look at the biggest, most popular casinos in Sparks.
Baldini's Casino
Located in a mostly industrial/commercial area south of I-80, Baldini's targets locals, ("Free paycheck cashing").
It doesn't have table games, but does have 520 slots and video poker machines.
Live keno can be found here, along with a brand new sportsbook, and two restaurants.
Legends Bay Casino
Directly across the marina from the Western Village Inn and Casino, the brand new Legends Bay Casino is next to the popular Outlets at Legends shopping mall.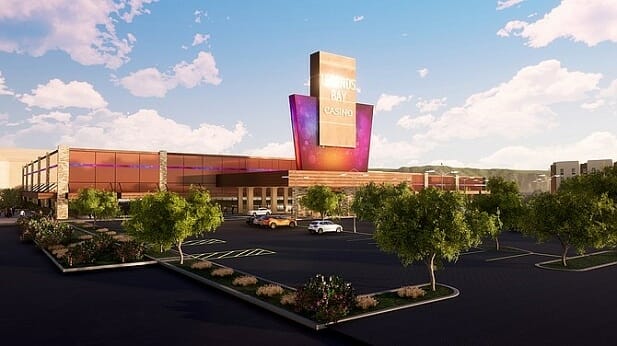 The casino is the first brand new casino in the Reno/Sparks area since the mid-90's, and is 80,000 square feet in size. It cost $130 million to build.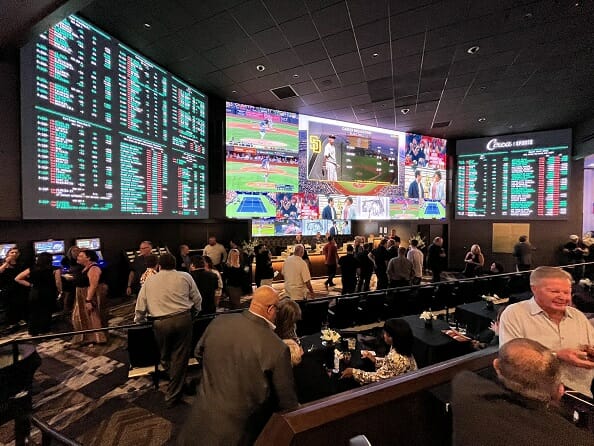 Opened on August 30th, 2022, Legends Bay has 650 slot machines/video poker game, including a high limit room.
Legends Bay table game line-up includes five blackjack tables (two of which are single deck games), along with craps, roulette, Pai Gow Poker, Ultimate Texas Hold'em, roulette and three-card poker.
There's also like keno and the Circa Sports Sportsbook, which is a real sportsbook, and not just sports betting kiosks. It's the first Circa Sportsbook in Northern Nevada, and cousin to the giant sportsbook at Circa Las Vegas on Fremont Street.
On the restaurant front, you'll find Duke's Steak House, a casino coffee shop called the LP Grill (open 24 hours a day), and the Food Truck Hall, which features the following fast-casual options: Pizza Genius, Loco Bueno, Red 88 (Asian), and Craft 55 beers. The Bandwagon here in the Food Truck Hall has live music.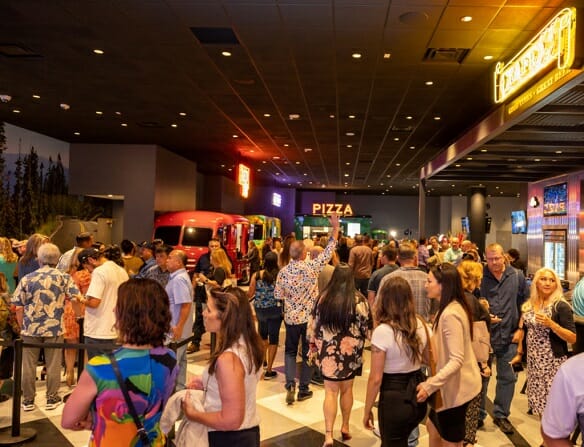 While it doesn't have a hotel as part of the casino, the owners have already built two hotels (a Residence Inn by Marriott and a Hampton Inn) directly across the street.
Legends Bay Address, Phone & Website
100 Legends Bay Drive
Sparks, NV 89434
(775) 473-8000
Website: Legendsbaycasino.com
Nugget Casino Resort
The Bellagio of Sparks, the Nugget is easily identified from its location just off of Interstate 80 by its two 28 story hotel towers.
The second largest casino/hotel in Sparks, the Nugget boasts 1,380 hotel rooms and over 100,000 square feet of meeting/convention space.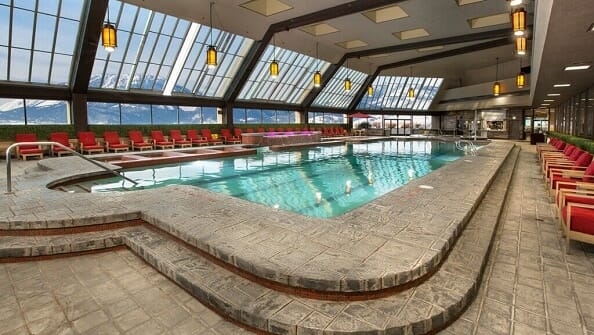 There are 900 slot machines here, along with numerous table games (including all of the favorites: blackjack, craps, roulette, etc.), a keno lounge, 150-seat Bingo hall, and an attractive sports book.
There is a Starbucks here, along with five restaurants, including an upscale steakhouse and an Oyster Bar.
The Nugget also boasts an arcade and an atrium indoor pool with mountain views.
In addition to the 700 seat showroom and 2,000 person Grand Ballroom (which hosts event and concerts), the Nugget is home to the 8,500 capacity outdoor Nugget Event Center.
Nugget Casino Resort Address, Phone & Website
1100 Nugget Avenue
Sparks, NV. 89431
(800) 648-1177
Website: NuggetCasinoResort.com
Rail City Casino
Bordering I-80, Rail City is just one of four Sparks casinos to offer table games.
They have plenty of slots and video poker machines too of course, along with a sportsbook and keno lounge.
No hotel here, but there are two restaurants. The popular Rail City Ale House has very affordable deals, especially at breakfast.
Western Village Inn and Casino
Sister property to the Peppermill a few miles west in Reno, this 145 room resort sits near the Sparks Marina.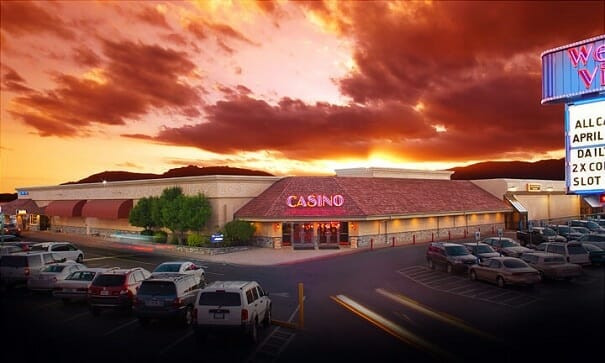 The casino has 800 slots and a contemporary sports book with plenty of hi-definition screens. While they used to have plenty of the usual table games, (blackjack, roulette and craps), those are no more as of this update.
In addition to the casinos listed above, there are five Dotty's locations. Dotty's is a popular Nevada locals' chain of slots-only casino parlors
Alamo Casino
Although it's part of a truck stop, I mention this because it's one of the few places left in the world where you can play $5 single deck blackjack.
There are 145 slot machines packed in here, along with and a few table games. There's also a William Hill sports betting kiosk and Texas Hold'em poker table.
The property on the east end of Sparks, just south of I-80 also has a sports bar, a nearby Super 8 by Wyndam hotel, sports bar and the Iron Skillet restaurant.
Sparks Casinos Map
Here's a map of the casinos in Sparks. We didn't include all of the Dotty's casinos.
Biggest Casino in Sparks, NV.
The new Legends Bay Casino is the largest casino in Sparks, with 80,000 square feet of casino floor space.
With just over 50,000 square feet of casino floor space, the Nugget Casino Resort is the second largest casino in Sparks.
Baldini's Sports Casino comes in at thrid, with a little over 40,000 square feet of gaming floor space.
(Related: Largest casino in Reno, NV.)
Other
One other Sparks casino, The Bourbon Square Casino, closed in February 2015.
(By Steve Beauregard. Photos courtesy of Travel Nevada. Food Truck Hall photo courtesy of the Legends Bay Casino newsroom).