Distance & Driving Time from Reno to Las Vegas
By Steve Beauregard
The two biggest gambling towns in America's biggest gambling state are separated by mountains, desert, and over 400 miles of a whole lot of nothing.
It's exact 441 miles (or 709 kilometers), from Reno, Nevada to Las Vegas, as measured from downtown Reno to the Las Vegas Strip. Under normal driving conditions (i.e. no snowstorms or excessively heavy traffic), it would take you just over 7 hours to drive it.
This, by the way, is taking the fastest route, down U.S. Highway 95. There is another, more scenic route through the high Sierras that has you crossing into California. (More on that below).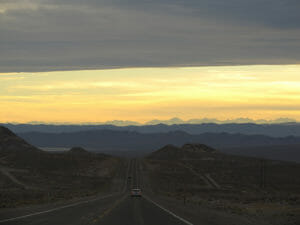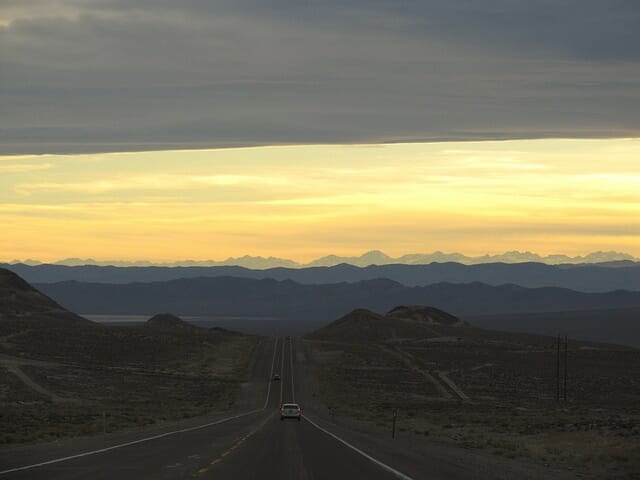 The drive down U.S. 95 to Las Vegas is a long one, traversing down nearly the entire far western portion of the state. And while it is scenic in spots, the road is lonely and desolate, with only the occasional small town to keep up your attention. (And your gas tank full).
There is one lake, abandoned buildings, towns whose hay day peaked back in the mining days of the early 20th century, and lots of open space. Those of you from urban areas on the east coast where some areas are wall-to-wall people may feel like you have fallen off of the edge of the Earth.
Other than a short distance starting off on Interstate 80 going East with a turn south down into Fallon, Nevada, the vast majority of the drive will be spent on Highway 95, which is a lonely two lane road surrounded on both sides by desert and mountain ranges.
(The map below shows you Reno "A" to Las Vegas "B")
About halfway between Reno and Las Vegas, on U.S. 95, you'll come to the small town of Tonopah. It's so remote it has been ranked by USA Today as the nation's top destination for star gazing.
If you are road weary and need a place to crash, Tonopah is your best bet. You can even stay at the 31 room Clown Motel (its real name). And just in case the clown motif doesn't scare you, there's a cemetery located right next door. The town also is home to a well-respected mining museum.
There's at least one casino in town, the Tonopah Station Hotel and Casino. There was another, called the Banc Club, however I am not sure if it is still open, and I couldn't find a website for it online.
The town is also known as the place where reclusive billionaire Howard Hughes got married. (It's that glamorous).
Driving 27 miles south of Tonopah, you'll come across the tiny town of Goldfield, Nevada. Back in 1904, at the height of its gold mining days (and before the city of Las Vegas was even a city), Goldfield had 20,000 residents, making it the largest city in Nevada at the time.
(Related: Distance from Las Vegas to Lake Tahoe)
Today its population is under 300 people. It is, however, famous for being home to the Goldfield Hotel. Rumored to be haunted, the hotel has been the subject of episodes of both the TV shows, "Ghost Adventures" on the Travel Channel, and SyFy's "Ghost Hunters."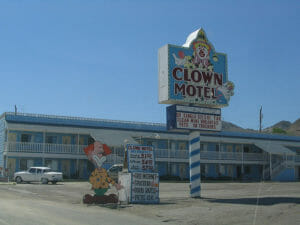 Sixty-six more miles south is the town of Beatty, Nevada. It's just seven miles away from the entrance to Death Valley National Park, if that's on your bucket list.
Scenic Route When Driving From Reno to Las Vegas
As hinted at above, there's another, long, but more scenic route available if you're so inclined. While prettier, it does take 8 hours, and is 475 miles long (or 34 more miles than the faster, U.S. 95 route from Reno to Las Vegas.
(Here's the scenic, but longer route from Reno to Las Vegas)
This route has you going south on Interstate 580 for a ways, into the state capitol, Carson City. After that, you'll shoot into California, where you'll drive for hours on Highway 395.
You'll drive along the eastern border of Yosemite National Park, past the pretty Mono Lake. You'll also see gorgeous mountains, and be within 2 miles of Mammoth Mountain ski area. (Photos courtesy of Ken Lund via Flickr.)