Las Vegas to Lake Tahoe Distance, Driving Time, Map & Directions
It's two million years old, impossibly gorgeous, and so deep, its water would cover the top of the Empire State Building.
And it's 7 ½ hours from Las Vegas.
More specifically, the beautiful shores of Lake Tahoe are 447 miles (or 719 kilometers) from the Las Vegas Strip.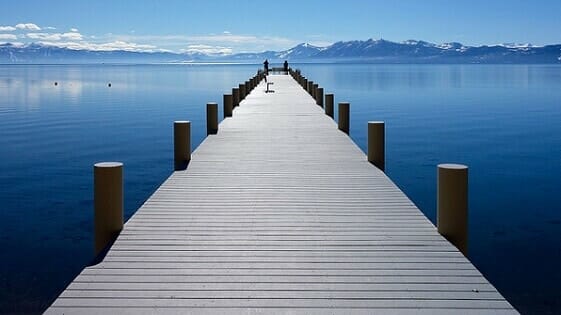 This drive is measured starting from the middle of the Las Vegas Strip to the town of Stateline, Nevada. This small gambling town borders the town of South Lake Tahoe, California are rests on the south eastern shore of Lake Tahoe.
Of course, since the lake has a circumference of 72 miles, a destination other than South Lake Tahoe or Stateline, Nevada would result in a further drive. In fact, driving to towns or ski resorts on the lake's western edge would resort in a drive of a little over 8 hours. (More on that below).
Directions from Las Vegas to Lake Tahoe
(Here's a map of the drive from Las Vegas to Lake Tahoe via Highway 95)
Starting out from the Las Vegas Strip, you'll want to go north on Interstate 15, until you get to Exit 42A. You'll be going north on Highway 95 towards Reno.
For the next 170 miles, you'll drive on Highway 95, (also called the Veterans Memorial Highway in places). As you get outside the Las Vegas metropolitan area, the drive is flat and boring, with nothing but dessert, sagebrush and distant mountains to possibly distract you.
Around 30 miles after passing the small town of Beatty, you'll come to the point where Highway 95 intersects with Highway 266.
From here you have two choices: Stay on Highway 95, or go left at Highway 266.
Staying on Highway 95 is the simplest option, while the turn onto 266 offers the more scenic view.
In either case, the distance is almost exactly the same, as are driving times with one caveat: in winter, the Highway 95 drive is the safer bet, as the more scenic route can often be closed in winter due to weather.
Here's a quick run-down of the two routes:
Stay on Highway 95
After skipping the left hand turn at Highway 266, you'll simply continue for 179 miles north.
Right before you get to the tiny town of Schurz, signage will show you how to get off Highway 95 to "Alt" 95 towards the town of Yerington.
Just outside of Yerington, you'll stop at an intersection. It's not well marked, but you'll want to go left (south) onto Highway 339, rather than turning right onto "alt" Highway 95.
Highway 339 turns into Highway 208 which will lead you to Highway 395, which you will take north.
A few miles before you get to the town of Gardnerville, you'll take a left at Riverview Drive. Perhaps things have changed, but surprisingly this required left turn towards Lake Tahoe was not marked by signage last time we saw it.
This road has several names along the way (don't they all), but after about five miles, you'll come to a stop where you'll want to go right (north), on 206.
In about a mile, signage is pretty good at leading you left on Highway 207, which takes you up the remaining way to Stateline, Nevada and the shores of Lake Tahoe.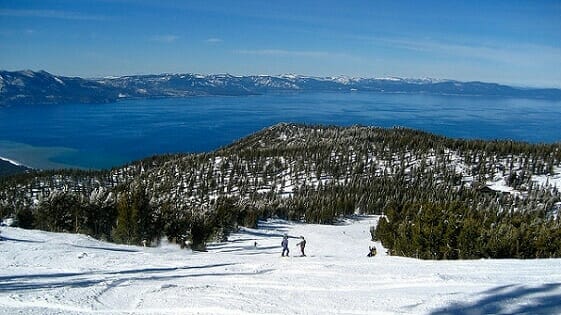 Left on Highway 266
Technically this route is 7 miles less of a drive than staying on 95, however the drive time is almost exactly the same (in standard conditions).
This drive is not advisable during winter, as parts of the road may be shut down. And even if the road is open, you may have to be on guard for slick conditions and significantly reduced visibility.
(Related: Distance from Las Vegas to Reno)
Should you take this route, you'll find 266 crisscrossing the Nevada/California border a few times before turning into California Highway, then eventually Highway 395.
This route is pretty much a straight shot north to Lake Tahoe, with a left before Gardnerville and the right up to 207, like with the Highway 95 route.
However this route – while more mountainous, and much prettier – also has the disadvantage of being more tricky to navigate in questionable weather, so keep that in mind.
Distances from Las Vegas to Lake Tahoe Attractions
These are measured by taking the Highway 95 route. In some cases there are routes with shorter mileages than shown below, but with longer travel times due to inferior and/or curvy roads:
Heavenly Ski Resort – 449 miles
Sierra-at-Tahoe – 452 miles
Mt. Rose Ski Area – 455 miles
Kirkwood Mountain Resort – 461 miles
Incline Village & Diamond Peak Ski Resort – 463 miles
Crystal Bay – 466 miles
Homewood Mountain Resort – 473 miles
Northstar California Resort – 483 miles
Squaw Valley – 488 miles
Alpine Meadows – 490 miles
Tahoe City – 491 miles
(By Steve Beauregard. Photos courtesy of Bit Boy, and by jcookfisher via Flickr).