Binion's Parking Garage Fee 2023 & Valet
The iconic Binion's Gambling Hall Casino and its Hotel Apache offer plenty of parking to guests courtesy of two large parking garages that stretch a full block and half behind the hotel and casino.
Like almost every other casino in downtown Las Vegas, Binion's charges a fee to park – even for hotel guests. However it's fairly easy to receive free parking (more on that below).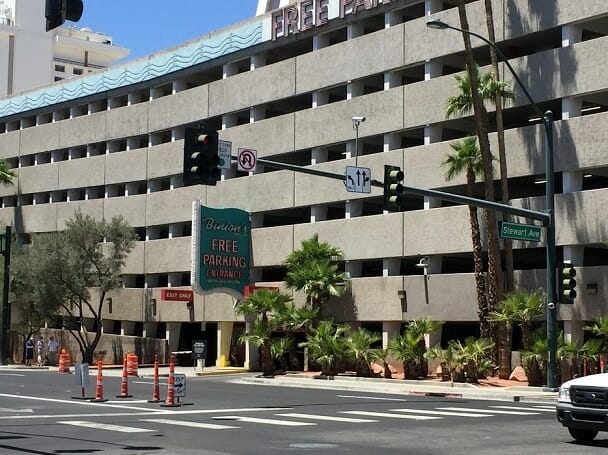 Binion's Casino & Hotel Apache Parking Fee
Registered hotel guests pay a flat $5 per day for self-parking. Again, however it's easy to get that validated.
Those not staying at the Hotel Apache who want to self-park at Binion's pay the following:
| | |
| --- | --- |
| 0 – 1 Hour | $3 |
| 1 – 2 Hours | $6 |
| 2 – 4 Hours | $9 |
| 4 – 6 Hours | $12 |
| 6 – 24 hours | $18 |
Free Parking at Binion's via Validation
Hotel Guests
For hotel guests, the $5 daily parking fee can be waived just be signing up for the casino's player's card "Club Binion's" and presenting that at the front desk. (This was confirmed in a recent call to the casino).
Everyone Else
For those just visiting Binion's to gamble, eat, or drink at the popular Whiskey Licker Up Saloon, your self-parking fee can be validated.
According to the casino, free parking validation is "Available to guests who are actively gambling, eating in restaurants," or attending a show at their sister property, The Four Queens, which is catty-corner from Binions.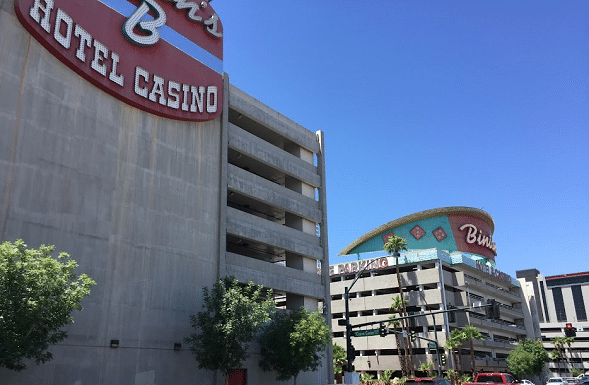 Be sure to use your Club Binion's card when playing slots, as you simply have to earn 5 points to score free parking. You'll then take your card to the player's desk for validation.
If playing table games, you'll have to ask the pit boss to validate your parking. If instead, you're just going to eat or drink inside, – be sure to ask your waitperson about the validation.
Valet Parking at Binion's & Hotel Apache
As of this update in early 2023, valet parking is still not available. I'll try to update this as soon as it returns.
When it does return, valet parking will be accessed off of Casino Center Boulevard (the street between Binion's and the Fremont Hotel/Casino). It's the same entrance as the closer self-parking garage entrance.
One last note: what appears to be a valet parking area at the northwest corner of the property, (at the corner of 1st Street and Odgen), is the old valet parking area, and no longer in use (as a valet stand).
This lighted area is very close to the casino, however on a recent visit, it was being used to wash cars. Another sign indicated this is parking only for those with a "Binion's Credential in your car window."
Binion's Parking Garage Map
(The two black "P" signs represent the entrance into the self-parking garages. The brown star is the valet parking area).
Binion's has two different parking garages.
The closest one is attached to the casino. It's a six story garage with just under 300 spaces.
The second garage is a little further walk, as it's across the street. It's still behind the resort, but across E. Ogden Avenue and connected by an enclosed pedestrian bridge.
This enormous seven story parking structure stretches a block long, from Ogden Avenue all the way to Stewart Avenue, and has a gorgeous, classic Old School Vegas neon Binion's sign atop the garage.
To make it a little more confusing, there is another large concrete parking garage across the street (across N. Casino Center Boulevard), that boasts a large "Binion's" sign on the side. However this garage isn't really part of the Binion's & Casino.
Recently this garage has been used as parking for Downtown Grand employees. Now it appears it is public parking garage operated by a private company (LAZ Parking), with a flat daily rate of $5. They also offer monthly parking rates.
More About Parking at Binion's Gambling Hall in Las Vegas
Clearance into the fist garage (the one closer to the casino), is 6 feet, 7 inches, with parking typically available starting on the 3rd level.
For the more distant garage, clearance is 6 feet, 5 inches. Either way, Vans, campers, buses and trailers are not allowed.
According to the fun website, VintageVegas, the larger, more distant parking garage was built in 1973, as part of the old Mint Hotel & Casino.
(By Steve Beauregard. Photos copyright gamboool.com)