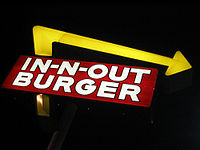 By Steve Beauregard – Yes you can. Especially if you take the free Las Vegas tram from the Mandalay Bay to the Excalibur, in which case, it's only a 6/10 mile walk, or about 15 minutes walk time.
The restaurant on Dean Martin Drive is the closest In-N-Out Burger to the Las Vegas Strip. The route is not real pedestrian-friendly, but there are sidewalks the entire way.
First things first: take the free tram, past the Luxor. The tram appears around every five minutes, starting at 11 a.m. and going until 12:30 a.m. (on weekends) and until 10:30 p.m. Monday – Friday. You'll get off at the northernmost, last, stop at the Excalibur station, right near the busy intersection of the 4 large hotels, the New York, New York, the Excalibur, the MGM Grand, and the Tropicana.
The busy street in front of you that crosses the Las Vegas strip and goes East and West is Tropicana Avenue.
You'll want to go left (west) on Tropicana Avenue, making sure to stay on the Excalibur side of the street, (the south side of the street). And yes, you'll want to stay on the south side, even though the In-N-Out Burger is on the other side of the street. That's because the NY NY side of the street doesn't have sidewalks when you get closer to the bridge over I-15, and as a result, you'll have to dodge cars. I love In-N-Out Burger as much as the next guy (probably more), but it's not worth getting run over by a Ford F-150 for (unless you get the shake too).
So you're on the Excalibur side of Tropicana Street walking west.
(Go here to see the closest In-N-Out Burger to the Venetian and Palazzo)