By Steve Beauregard
Warning: Carrot Top may physically hurt you.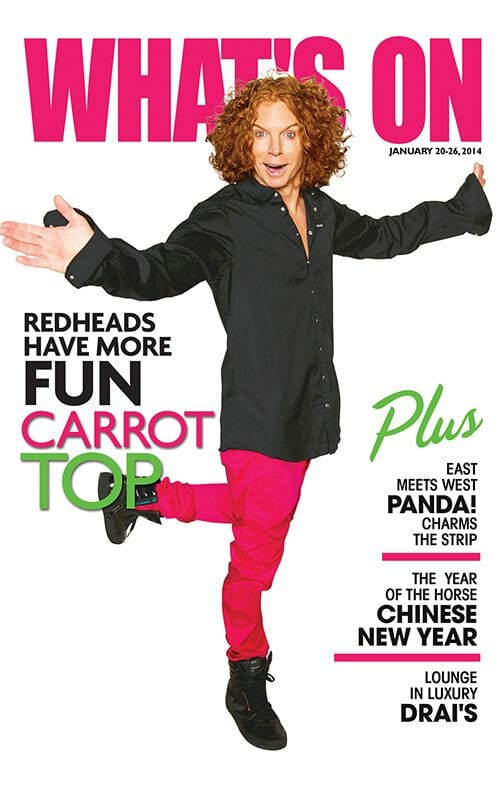 Several hours after attending his show, I woke up in my hotel room bed around 4 AM with pain in my rib cage area. Was it from drinking too much that day? All the walking you do in Las Vegas? The big steak dinner?
No. It was from laughing.
Carrot Top's insanely funny show caused me to laugh so hard for so long that it brought pain to the muscles of my chest. It's actually a real medical condition called "pleurisy", and is the only source of pain that I would gladly pay to experience again.
My point is that if you're considering going to see Carrot Top while in Las Vegas, DO IT. I've seen the show twice –ten years apart – and both times have been the highlight of the trip.
Ticket prices for his show are very reasonable by Las Vegas standards, and well worth it, as Carrot Top constantly delivers an extremely high-energy, jam-packed, 1 and ½ hour show full of prop jokes, videos, special effects and stand-up that will have you leaving the theater grinning from ear-to-ear.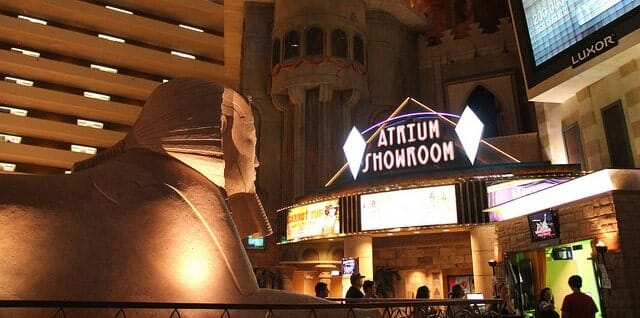 Below are the times for Carrot Top's Las Vegas residency at the Luxor Hotel and Casino. Keep in mind, like all the rest of us, he gets vacation time too, and does not perform every single week.
In addition, he will leave Las Vegas every few months to make appearances at other venues and big casinos across the country, such as the WinStar World Resort in Oklahoma, and the Potawatomi Hotel & Casino in Milwaukee, among others.
Carrot Top Las Vegas Schedule
Most of the year, however, Carrot Top stays in Las Vegas, and his weekly schedule is as follows:
Sunday & Monday: 8 PM

Tuesday: No show

Wednesday – Saturday: 8 PM
(Some of the links on this page are affiliate links. Should you make a purchase through one I may receive a commission.)
Luxor Atrium Showroom
All shows take place on the second level of the Luxor, at the Atrium Showroom.
(Despite the different colors on this seating chart, the first three rows (A – C) are "A" seating. Rows D – J are the middle "B" seating, while K and L are the less expensive "C" seating. Only the very last row M, has the cheapest prices).
There are 350 seats in this intimate theater. The sloping design, with high angled seats mean there's not a bad seat in the house.
There are three levels of tickets, A, B, and C, with A being the closest to the stage (and therefore more expensive) followed by "B" in the middle and "C" at the top.
I've personally sat in both B and C sections and had the same fun experience, so I don't think you will miss out if you decide to go for the cheap seats. However at many shows, Carrot Top will stop and chat and provide shots of Crown Royal to those in the first few rows. If you want a chance to do shots with Carrot Top, you may want to pony up for the more expense seats up front.
Carrot Top Ticket Prices at the Luxor Las Vegas
Here's the short version:
$63.44 per person (after all taxes and fees)

(or $122.87 for a couple after everything)
These are for typical seats in the middle section, "B" as found Here on Vegas.com, after all taxes and fees (and after giving them your email address).
If you spend enough time searching various ticket brokers, and you feel it's worth your time, you may be able to save five bucks here or there. However prices for Carrot Top tickets will generally be close to the same wherever you buy tickets.
The popular show has been a Vegas staple for 22 years. Even with his 240 Las Vegas shows a year, the demand is solid, and you won't find ½ tickets or anything approaching twenty or thirty bucks a seat. (Trust me, I've tried).
The Tix4Tonight booths found along the Strip for example boast of discount Carrot Top tickets, however my wife and I paid slightly more than the $61.44 figure shown above (and before I did any research).
And keep in mind those enticing ticket prices you'll find advertised on magazines and websites do not include the hefty entertainment taxes and fees Las Vegas businesses graciously pass onto us visitors.
You can also of course, buy the tickets direct from the Luxor. In some cases, they will be cheaper, but in some cases they can be more expensive.
For example, for an upcoming random Wednesday night show, average seats in rows "G" or "J" in the middle section, "B," had the following prices for 2 people combined after ALL taxes and fees:
Ticketmaster: $182.47

Luxor.com: $153.70

Tix4Tonight: $140.40

Vegas.com: $126.87
To be fair, I have seen Ticketmaster 72 hour sales in which the price for 2 seats is $110.67 after everything for "B" sections. That comes out to $55.34 a seat.
Also what I've found is that if you want to sit in the first few rows, it's a little cheaper to buy from the Luxor. For an upcoming Wednesday night show for example, 2 seats in the second or third row would set you back $175.50 (total for 2 people after all taxes and fees), versus $184 on Tix4Tonight, $192.59 on Ticketmaster.com, and $201.35 on Vegas.com.
Buying direct from the Luxor also seems the way to go if you're willing to sit in the very last row up top. You will often be able to get seats for $99.20 (total for 2 people combined after fees and taxes) directly from the Luxor's official site here: Carrot Top page at the Luxor
Carrot Top Las Vegas Luxor VIP Meet and Greet Tickets
For roughly $50, you can meet Carrot Top backstage at 7 PM before the show.
Please note that the meet and greet tickets do not get you entrance into the show. You still have to buy those separately.
Tickets for the Meet and Greet cost a total of $49.50 per person.
The Meet-n-Greet ticket itself is $43.50 (after taxes), however the Luxor charges an additional $6 convenience fee on top of that. If you choose to pick up the tickets at the will call booth, there is an additional $7 fee.
In addition to meeting Carrot Top, you'll get to pose for photos (with him) and you'll receive a gift bag that includes an autographed photo.
If buying both tickets and Meet and Greet tickets, I've found the Luxor.com prices to be slightly cheaper (2% cheaper) than Vegas.com.
For an upcoming Wednesday show, for example, two tickets in the "B" section combined with 2 Meet and Greet tickets would cost you a total of $129.27 per person (after everything) on Vegas.com, versus $126.35 when buying direct from the Luxor.
About the show
Once you make your way up the long uphill walkway, an usher will can your tickets and show you to your seats.
Once seated, you'll be treated to a montage of humorous-video clips, many on the risqué side. Think of an "R" rated version of "America's Funniest Videos."
This montage was almost worth the ticket price itself and gives your lungs a good warm-up for what's to come.
After that is a short routine from a stand-up comedian. The comedians may vary from show to show, and can be hit-or-miss in my view.
Is the Carrot Top Show Appropriate for Kids?
No.
While I love Carrot Top and the show, I would never take my kids (now ages 7 and 9) to this performance.
The vast majority of the props and gags are great for all ages, however the intro video montage, the warm-up comedian are both R-rated.
In addition, there are several jokes and props in the show with sexual innuendo – things you would be incredibly embarrassed to see when sitting next to your kids, (or grandma for that matter).
Carrot Top Ticket Prices
Other
* You're not allowed to take picture nor film during the show. You're not allowed to bring in your own alcohol either.
* Also please note that anyone under 18 years old must be accompanied by an adult.
* According to a great article in the Las Vegas Sun newspaper, Carrot Top has 8 trunks on stage which are full of 200 props. He uses about 70 different props per show however.
(Photos courtesy of Quinn Dombrowski via Flickr).