Bestbet Orange Park Casino
Address: 455 Park Ave, Orange Park, FL 32073
Phone Number: +1 904-646-0001
Website: www.bestbetjax.com
Hours: Bestbet Orange Park is open Monday 10 AM – 4 AM, Tuesday 10 AM – 4 AM, Wednesday 10 AM – 4 AM, Thursday 10 AM – 4 AM, Friday 10 AM – 12 AM, Saturday Open 24 hours, Sunday Open 24 hours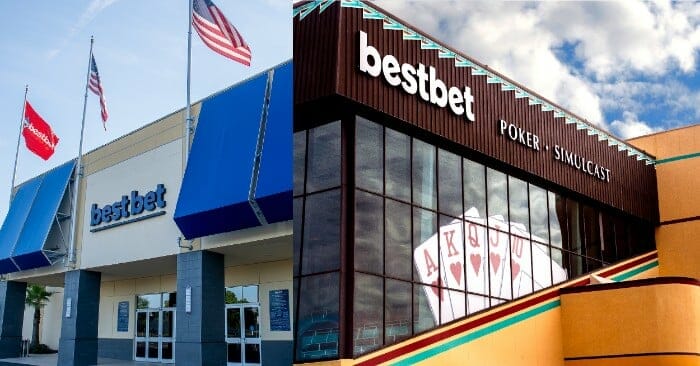 Bestbet Orange Park has been in the gaming business since they have been opened by Jacksonville Greyhound Racing. Since then, it has become one of the most popular casinos in the area and is known for having some of the best poker tournaments around.
This casino mainly focuses on poker games, such as Texas Hold 'Em and Omaha. Their promotions and tournaments are known to draw in players from all areas of the country, including a few celebrities spotted playing poker there.
In addition to casino games, they also offer simulcast betting, which allows you to bet on horse racing worldwide. They also host events and promotions throughout the year and have some of the best customer service in town.
And if you want to take a break from gambling, you can always look at the food offerings on the casino floor. From burgers and shakes to fine dining, you will surely find something to satisfy your cravings.
So if you are looking for a place to test your skills and try your luck, this casino is the place for you. With great gaming options and promotions, this casino will ensure you have an amazing time when you visit.
On several review sites, it has received mostly positive reviews, with an average rating of 4 stars. One guest said, "Bestbet Orange Park offers great games, excellent promotions and tournaments, and friendly and helpful staff. It's one of the best gaming centers I've ever visited."
Another guest wrote, "The atmosphere is relaxed and welcoming. No stress or pressure when playing there. The staff is professional and very helpful."
(Related reading: Florida casinos)
Gaming
Their poker room offers Texas Hold 'Em and Omaha cash games, tournaments, and promotions. With multiple poker tables, you will have plenty of room to play.
Table Games
If you want to play exciting table games, check out this casino in Florida. They offer popular games such as Ultimate Texas Hold'em and Pai Gow Poker.
You can also try your luck at Fortune Pai Gow or One Card Poker, sure to keep you on the edge of your seat. If you're a poker fan, you'll be glad to know that there are plenty of options, like Three Card Poker and DJ Wild Stud Poker.
Additionally, you can play classic games like Texas Hold'em, Seven Card Stud, Omaha and even 5 Card Omaha. Unfortunately, you might need to contact the casino directly to determine their table game minimums.
Slots
If you're looking for various popular slot machines to play, this casino, unfortunately, may not be the best option for you. They focus solely on offering poker games and do not have any slot machines available for their patrons.
However, if poker is your game of choice, then this casino is worth checking out. With a friendly and supportive atmosphere, this is the perfect spot for poker enthusiasts.
Hotel/Resort
While no hotel is attached to this casino in Florida, don't fret! Nearby hotel options are more than accommodating to ensure a comfortable and convenient stay.
The Holiday Inn & Suites Orange Park, Days Inn by Wyndham, and Hilton Garden Inn are all welcoming hotels that offer amenities sure to fit your needs.
Whether you're looking for a relaxing environment, a fun, family-friendly atmosphere or all the comforts of home, these nearby hotels have covered you. Their proximity to the casino makes them an easy choice for a convenient stay.
Restaurants & Buffets
Looking for a place to grab a bite in between your hands at this casino? Look no further, as their menu includes great options like sandwiches, salads, and creative daily specials, so you're sure to find something that appeals.
Plus, they've got an excellent sushi bar with different flavors to try — so good it's become a favorite among Northeast Florida foodies.
And if you'd rather not leave your table before the next hand is dealt, do not worry–their food and full-service bar can be brought to you. There is no buffet, but with so many great options to choose from, you won't even miss it.
Pools
If you're looking to take a dip while visiting this casino, unfortunately, there are no swimming pools onsite. However, don't let that discourage you, as the area surrounding this casino offers numerous aquatic options that suit any water enthusiast.
Just a short drive away, you can find beaches, lakes, and even water parks that offer endless hours of swimming, splashing, and sunbathing. Plus, with Florida's year-round sunny weather, the possibilities for water fun are truly limitless.
Bestbet Orange Park, FL FAQ
Does Bestbet Orange Park Have A Sportsbook?
This casino only offers simulcast racing and does not offer a sportsbook. However, they do offer plenty of other gambling and gaming options like cash games, tournaments, poker and even restaurants with food and drinks.
Is Poker Available At Bestbet Orange Park?
Yes, this is the main focus of this casino. They offer various popular poker games like Texas Hold'em, Omaha, and Five Card Omaha. Additionally, they have other casino-style games like Ultimate Texas Hold'em, Pai Gow, and Face Up Pai Gow Poker.
What Are The Age Requirements For Gambling At Bestbet Orange Park?
The minimum age requirement for gambling at this casino is 21 years old. Players must provide a valid government-issued ID when entering the casino to prove their age. Minors are not allowed on the premises, so it is important to know the age restrictions before visiting.
Does Bestbet Orange Park Have An Online Casino?
No, they do not have an online casino. The casino is dedicated to providing a great space for poker enthusiasts to play in person. If you are looking to play online, other casinos offer the opportunity to do so.
Is There An Bestbet Orange Park App?
No, there is no app for this casino yet. However, they have a website that provides up-to-date information on events, promotions, and tournaments happening at the casino. Additionally, players can sign up online to become casino members and be notified whenever new offers are available.
What Is The Dress Code At Bestbet Orange Park?
At this casino, there is a casual dress code. No sportswear or ripped jeans are allowed while playing in the poker room. Shirts must have collars and be tucked into pants in the poker room. Shoes should also be kept clean and presentable.
Is There An Airport Shuttle Available From Bestbet Orange Park?
No, they do not offer an airport shuttle service. However, the casino is located close to a major airport, making it easy to find transportation from the airport to the casino. There are also local hotels nearby that offer shuttles for their guests.
What Is The Smoking Policy At Bestbet Orange Park?
Smoking is not allowed in the casino, but there is a designated smoking area located outside. Guests must adhere to the policy and refrain from smoking inside or around the casino.
Guests are also encouraged to be mindful of other guests who may not be comfortable with second-hand smoke.
What Is The Pet Policy At Bestbet Orange Park?
Currently, only service animals are allowed in the casino. All other animals must be kept outside and not brought into the premises. Service animals must also obey all local laws and regulations while on the property.
Is Wifi Available At Bestbet Orange Park?
Unfortunately, there might be no wifi available in this casino. However, guests are welcome to use their own mobile data connection when playing inside the casino or in any of the areas surrounding it.
What Is The Cancellation Policy For Bestbet Orange Park?
Since no hotel is attached to this casino, there is no cancellation policy. However, if players enter any tournaments or events at the casino, they should know the terms and conditions of each event before participating.
Conclusion
This casino is a great place to enjoy some poker and simulcast action. Whether you want to play in one of the tournaments or enjoy some cash games, they have much to offer.
Be sure to check out all the gambling and gaming options available, as well as the age restrictions, dress code, pet policy, and wifi availability before visiting. With so many great features, this is certainly a casino worth checking out.