Cosmopolitan of Las Vegas
Address: 3708 Las Vegas Blvd S, Las Vegas, NV 89109
Phone Number: +1 702-698-7000
Website: www.cosmopolitanlasvegas.com
Hours: Cosmopolitan of Las Vegas is open 24 hours a day, 7 days a week.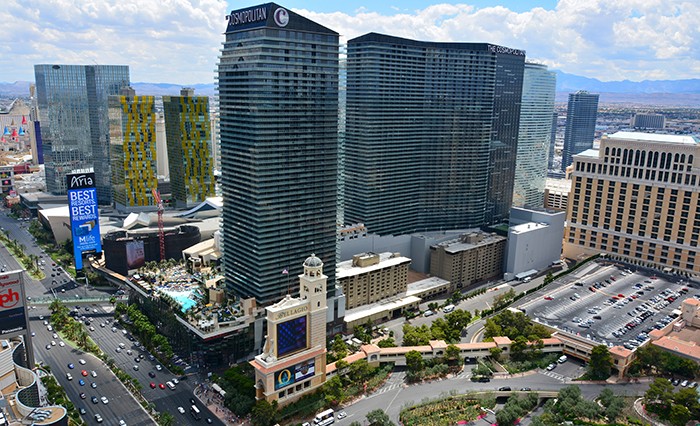 The Cosmopolitan of Las Vegas is a unique, luxury resort located in the heart of The Strip. It opened its doors to the public in December 2010, after being under construction since 2004.
The original idea for the property came from David Friedman, Ian Bruce Eichner and Soros Fund Management. The vision was to bring a unique experience to Las Vegas that celebrates cultural exploration, fashion and art.
While construction eventually started in 2006, it was delayed due to numerous financial and legal problems. Eventually, the resort opened in 2010, and today it is one of the most stunning properties in the area.
Since then, the establishment has become wildly popular with locals and tourists. The casino resort features two high-rise towers that house over 3,000 luxury hotel rooms and suites, as well as a 110,000-square-foot casino floor.
The casino offers guests a variety of gaming options, such as slot machines and table games. The hotel also features several dining options, including a variety of fine-dining experiences. In addition, the resort is home to many live entertainment shows and events throughout the year.
The resort also boasts some of the best nightlife in the city with its Marquee Nightclub & Dayclub, and it has one of the best pool parties in town. In addition, the property is home to a luxurious spa and salon along with some of the best shopping in the area.
Since its opening, the property has become one of the most well-known resorts in Sin City and an iconic symbol of Las Vegas. It continues to draw in visitors from around the world who come to experience its luxurious amenities and exciting nightlife.
Guests have rated this casino highly, with an average rating of 4.4 out of 5 stars on TripAdvisor. One guest claimed, "If you want the absolute best experience in Vegas, this is it. Everything from check-in to housekeeping was phenomenal."
Another guest said, "The hotel delivers everything a luxury resort should and more. It's definitely worth every penny! The rooms are large, the staff is friendly, and the amenities are top-notch."
(Related reading: Nevada casinos)
Gaming
This casino resort offers guests a variety of gaming options, such as slot machines and table games. The gaming floor features over 1,300 slot machines from all the top manufacturers and various table games.
Table Games
If you're looking to play some of the classic table games found in Las Vegas, look no further – this casino has it all.
Blackjack with six or eight decks, Craps, Fortune Pai Gow Poker, Ultimate Texas Hold 'Em where you can go head-to-head against the dealer in Mississippi Stud, Casino War and Three Card Poker – these are just some of the exciting opportunities to play found at this casino.
And for those wanting to experience a truly luxurious atmosphere, The High Limit Table Games Lounge is perfect for you. With 17 classic table games available, the lounge is available exclusively for those who want to feel extra pampered.
You can choose from a variety of games like single-zero roulette, blackjack and mini-baccarat, So come on down and test your luck at one of these classic table games.
The casino offers a variety of table games, with varying minimums based on the game you select. Generally, you can play most games at the casino with a minimum bet of $10, although some tables may have a higher minimum.
The High Limit Table Games Lounge offers a selection of games with higher betting minimums. Most of the games in the High Limit Lounge require a minimum bet of $100, however certain games may have higher or lower betting limits.
Slots
The casino has thousands of slot machines to choose from, so it can be hard to decide which one is right for you. Popular slots at the casino include:
Huff N' More Puff
Mega Boost Wheelcharge
Mega Boost Wheelcharred
Wheel Of Fortune High Roller
Fortune Mint
Super Reel'em In!
Conan
Dancing Drums Prosperity
Buffalo Chief
Dragon Cash
Cash Express: Luxury Line
Pinball
The slot machine payback percentage at this casino is set by the Nevada Gaming Commission and currently stands at least 75%.
Hotel/Resort
In addition to its gaming offerings, the property is also a luxurious hotel with over 3,000 guestrooms and suites. Each room features breathtaking views of the city from floor-to-ceiling windows and modern amenities such as high-speed internet access and flat-screen TVs.
At this hotel, they understand how important your stay is. That's why they've designed their rooms and suites to provide the perfect oasis for rest and relaxation after a long day out in the hustle and bustle of the city.
Choose from the City Room for a single occupant with an in-room dining area and spa-style bathroom, or opt for the Terrace Studio Two Queen Beds Fountain View to enjoy breathtaking views from two queen-size beds.
If you're hoping to really treat yourself or entertain guests, choose between the Executive Suite, Wrap Around Terrace Suite, or Two Bedroom City Suite, all of which come equipped with their own living and dining areas.
For even more luxury, try out their Reception Suite or The Chelsea Penthouse – fit for royalty. When you book one of their specially-designed rooms or suites, you're sure to have an unforgettable experience—without ever leaving the hotel.
The casino offers a variety of amenities to help you make the most out of your stay. Some of the amenities include:
Outdoor pools
Retail stores
Art program
Multiple restaurants and bars
24-hour concierge service
A variety of restaurants, bars and lounges
State-of-the-art fitness center and spa services
Outdoor rooftop pool with private cabanas
Music venues featuring world-renowned DJs
The hotel offers a variety of room and suite types at prices ranging from standard to deluxe. You can expect to pay as low as $112 a night plus taxes and fees.
For a more luxurious experience, opt for one of their signature suites. Prices for these suites range from $400 to upwards of $3,000, depending on the size, view, and amenities selected.
Check-in time at Cosmopolitan of Las Vegas is 3:00 pm
Check-out time at Cosmopolitan of Las Vegas is 11:00 am
Restaurants & Buffets
This casino is the perfect setting to enjoy a range of restaurants that cater to all kinds of palates.
From Superfico, which offers organic and seasonal Italian dishes, to Beauty & Essex with classic comfort fare, including wood roast oysters and vegan mofongo, there truly is something for everyone.
Popular hotspots like Ghost Donkey, Hattie B's Hot Chicken, Eggslut, and District: Donuts. Sliders. Brew., Overlook Chill, and The Juice Standard top the list for those looking for a more casual menu.
Temperature-controlled teppan tables at Jaleo makes for an interactive dining experience with traditional Spanish favorites like huevos rotos.
The ultimate indulgence awaits at Wicked Spoon, where their offer an unlimited buffet breakfast from Monday to Friday priced at $38 for adults and $19 for children ages 5-10. Their lunch buffet is priced at $45 for adults and $22.50 for children.
On the weekends, their prices for brunches increase to $45 for adults and $24 for children. Whether one dines alone or with friends or family, their vast array of restaurants offers a gourmet journey sure to satisfy every appetite.
Pools
Get ready to bask in the sun at this resort's pool district. Enjoy some quality time with friends and family at Boulevard's Pool for a hub of activity where you can eat, drink, mix, and mingle.
If relaxation is more your style, slip away to Chelsea Pool; it has been inspired by the stunning desert landscape and offers an intimate setting perfect for some r&r. Added luxury awaits those in search of cabanas or daybeds; their amenities make each stay unforgettable.
For an ultimate experience, feel free to check out the Marquee Dayclub, which may be the highlight of your trip. Whether looking for a spot to refresh or merely take in the lively Las Vegas atmosphere, their expansive pool district has something that everyone can enjoy.
Cosmopolitan of Las Vegas, NV FAQ
Does Cosmopolitan of Las Vegas Have A Sportsbook?
This casino is home to BETMGM Sportsbook & Lounge, the perfect destination for sports fans looking to take their betting experience to new heights.
Anchored by a bar and lounge, it features LED video walls, tons of TVs, and video poker machines for those who want to mix gambling with gaming. Throughout the space, you'll find counters and kiosks that allow you to place bets on thousands of events each year quickly.
So if you're planning a Thursday Night Football party or simply laying some money down on your favorite college team before going to The Chelsea, their sportsbook has got you covered with opportunities to bet on spreads, money lines, over/under totals and more.
Additionally, they offer a way for bettors to place their bets online or through their mobile app.
Is Poker Available At Cosmopolitan?
Yes, poker is available at this establishment. In fact, it's one of the most popular gaming options in their casino. Although they don't have a dedicated poker room, they feature tables throughout the casino floor with plenty of action.
What Are The Age Requirements For Gambling At Cosmopolitan of Las Vegas?
Visitors must be 21 years or older to gamble at this casino. They may require a valid ID to verify your age and identity before allowing you access to their gaming areas. Additionally, they have the right to refuse service and entry to anyone who appears underage.
Does Cosmopolitan Have An Online Casino?
No, they do not offer an online casino at this time. You need to be physically present at the casino in order to gamble. Additionally, they offer a variety of amenities for other activities like bars, restaurants and live entertainment.
Is There An Cosmopolitan of Las Vegas App?
Unfortunately, they do not have an app at this time. However, you can find information about their amenities and gaming opportunities online through their website or various social media channels.
Additionally, they offer a mobile app for their sportsbook that allows users to place bets on their favorite teams and events from anywhere in the world.
What Is The Dress Code At Cosmopolitan of Las Vegas?
The dress code at this casino is generally relaxed. However, visitors must adhere to the property's regulations and be mindful of their attire when visiting their casino floor or other areas within the resort.
For example, they do not allow guests to wear clothing that contains offensive language or graphics, tank tops and flip-flops. They also require that visitors wear a shirt and shoes at all times.
Additionally, visitors should be aware that there may be additional rules for special events or promotions taking place at the casino. It's best to check with a representative before attending these events to ensure you follow the appropriate dress code.
Is There An Airport Shuttle Available From the Cosmopolitan?
Sadly, no. Unfortunately, there is no airport shuttle service available from this casino at this time. However, you can easily take a taxi, rideshare service or public transportation to get there. Additionally, they offer valet and self-parking options for visitors who are driving to the property.
What Is The Smoking Policy At Cosmopolitan of Las Vegas?
The establishment is committed to creating a clean, enjoyable atmosphere for all guests.
Therefore, smoking any substance, including cigarettes, cigars, e-cigarettes, vaping and marijuana, inside any of their guest rooms is considered a breach of policy and will not be tolerated.
To accommodate those who do choose to smoke legal substances outside on their terrace rooms, there is an ashtray provided. Additionally, it's important to make sure that the guest room door is securely closed so that no smoke can enter the room while they are smoking.
What Is The Pet Policy At Cosmopolitan?
The casino resort is a pet-friendly destination that welcomes up to two dogs per room. They suggest keeping your furry companions up to date with all vaccinations, as well as making sure they are safely and securely contained in a kennel if left alone in your room.
Pets are not allowed on the casino floor nor in any food or beverage areas; they must remain out of the pool and fitness center, unless credentialed as service animals. The nightly charge for having one or two pups in your guestroom is $50 plus tax per dog.
Is Wifi Available At Cosmopolitan of Las Vegas?
Yes, the casino hotel offers complimentary WiFi to all guests. They also have 24-hour business centers with computers and printers available for use.
What Is The Cancellation Policy For Cosmopolitan?
The casino hotel places customer service and satisfaction at the forefront of its policies, including a cancellation policy that is designed to be fair and accommodating.
If you need to cancel or change your stay, the hotel requests 72 hours' notice prior to arrival. If you cannot comply with this requirement, a fee of one night's room and tax will be charged.
However, please note that if you booked through a third-party provider, their own cancellation policies may apply instead.
Conclusion
Cosmopolitan of Las Vegas is a premier casino and resort in the heart of the city. It offers an engaging gambling experience, delicious dining, luxurious accommodations and world-class entertainment.
Their dress code is generally relaxed, but guests are encouraged to adhere to their regulations. Smoking is prohibited inside the casino, but they do provide designated smoking areas. Lastly, pets are welcome but must abide by certain restrictions.
With these considerations in mind, you can rest assured that your visit to this casino will be a comfortable and enjoyable one.