Stratosphere Casino Las Vegas
Address: 2000 Las Vegas Blvd S, Las Vegas, NV 89104
Phone Number: +1 800-998-6937
Website: www.thestrat.com
Hours: Stratosphere Las Vegas is open Monday 12:00 PM – 1:00 AM, Tuesday 12:00 PM – 1:00 AM, Wednesday 12:00 PM – 1:00 AM, Thursday 12:00 PM – 2:00 AM, Friday 10:00 AM – 2:00 AM, Saturday 10:00 AM – 1:00 AM, Sunday 10:00 AM – 12:00 AM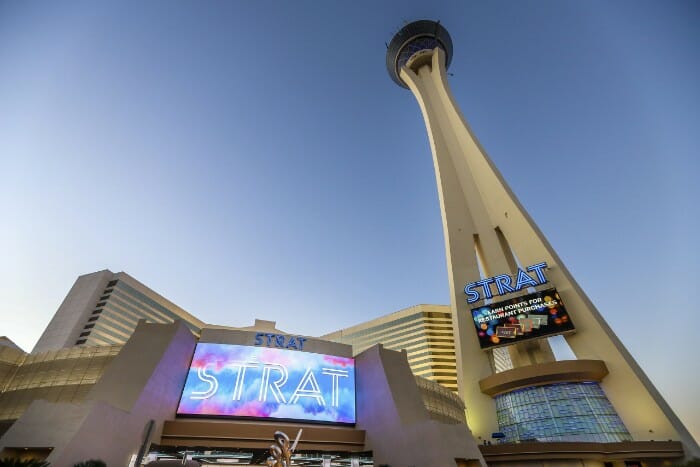 Stratosphere Las Vegas, more famously known as The Strat, was built in 1996 and stands 350 meters tall with an observation tower of 1,149 feet tall.
It is the tallest structure west of the Mississippi River, and it offers visitors a thrilling view of Sin City from its 869-foot-high observation tower. The original idea for the property was dreamt up by Bob Stupak, who hoped to create a one-of-a-kind Las Vegas experience.
Today, the casino is owned and operated by Golden Entertainment. Since its inception, the casino has been home to some of the best Las Vegas entertainment, with offerings ranging from world-class performances to classic casino games.
Their casino features more than 700 slots, dozens of table games ranging from blackjack to craps, and a selection of poker rooms. They also host various tournaments and events throughout the year.
Their hotel also offers a variety of accommodations ranging from standard rooms to luxurious suites. On the entertainment side, they host some of the biggest names in music and comedy, as well as several outdoor thrill rides.
This casino also has tons of dining options ranging from casual fast food to upscale steakhouse fare. Plus, the Stratosphere Tower offers an incredible view of Las Vegas from its observation decks, which can be reached by two glass elevators that offer a unique experience each time.
On most major rating sites, the casino has been rated with an average of 4.3/5 stars. One guest said, "This is an awesome place to visit with great gaming, entertainment, and a stunning view of Las Vegas. Definitely worth the price."
Another comment from an online review said, "A fantastic place to stay and experience Las Vegas. Great rooms and amenities combined with top-notch entertainment. The view from the observation decks is breathtaking."
(Related reading: Nevada casinos)
Gaming
Their 80,000-square-foot casino offers more than 700 slots and dozens of table games ranging from blackjack to craps. They also host various tournaments and events throughout the year.
Table Games
This casino provides visitors with a wide range of exciting table games. At the casino, you can enjoy classic favorites such as Blackjack, Craps and Roulette.
These games are fast-paced and thrilling, perfect for those who want to experience the thrill of gambling without having to leave home. In addition to these popular choices, customers can also find a host of other table games that offer unique challenges and unique gaming experiences.
Minimums are the lowest amount of money you can bet on any game at this casino. The minimums vary from game to game and may change depending on the day, but generally range from $5.00 up to $100.00 for some of their more popular table games.
Slots
At this casino, you can find all the popular slot machines to keep you playing for hours on end. Whether you're a penny slots kind of person or prefer to go big with their $25 denomination machines, they have something for everyone.
You can stick with classic three-reel traditional slot machines or try one of their state-of-the-art multi-denomination slots. If you are feeling lucky, why not test your skill and luck with some progressive slots for the chance to win thousands?
And if video poker is more your speed, there are plenty of these available too. Unfortunately, this casino does not provide the exact payback percentages for each slot machine.
However, they guarantee that all of them have a minimum payout rate of 75%, meaning your odds are very good when playing at this casino.
Hotel/Resort
Their hotel and resort offer luxurious accommodations for its guests. Stay in one of their deluxe rooms or suites to experience the ultimate luxury of Vegas vacationing. Enjoy various amenities such as multiple pools, a fitness center, a sundeck, spa services and much more.
Guests can choose from their multiple room types ranging from the basic Standard Room to the opulent Grand Suite; there is sure to be a room type that fits your needs. Take it up a notch with the Elevate Room or Elite Room and enjoy access to additional amenities like poolside cabanas.
For those looking for something bigger, explore options such as Tower Suite, Boulevard Suite, or Family Suite for extra space and added luxuries. Plus, with its central location on the Strip, good eats are only steps away when hunger strikes.
Additionally, this casino offers various amenities that make your stay more enjoyable. On-site, you can find:
A spa and salon
Two outdoor pools
Restaurants, bars, and lounges
A fitness center
Live entertainment throughout the week
An observation deck
A shopping center
A night club
The cost of staying at their hotel depends on the type of room you choose. Room rates start for as low as $25 and can go up to as high as $399 per night. Guests also have the option of adding resort fees and taxes, which will vary depending on booking dates.
Check-in time at Stratosphere is 3:00 pm
Check-out time at Stratosphere is 11:00 am
Restaurants & Buffets
Even though the casino does not currently offer its own buffets, there are various other options for dining located on-site. The iconic Top of the World offers an incredible 360-degree rotating view while you dine on contemporary American cuisine.
For a unique experience, try Chī Asian Kitchen, featuring Chinese and Japanese dishes. PT's Wings & Sports boasts an oversized dining room with 16 TVs and 35 tap beers for sports fans.
If a home-cooked meal is what you're looking for, visit McCall's Heartland Grill for beautiful views and stupendous comfort food.
In addition, Strat Café serves up delicious favorites like burgers, salads and sandwiches; 108 Eats offers casual poolside dining; Elation Pool Café & Bar features light snacks and cocktails for sunny days at the pool.
Also, they have Nunzio's Pizzeria with authentic wood-fired pizza ready to share; And Starbucks serves your favorite beverages and snacks anytime. Enjoy the ultimate Stratosphere experience with delectable dining options, all conveniently located in one location.
Pools
For anyone looking for an amazing summer experience in Las Vegas, look no further than this casino's resort. With two incredible pool options available to guests, they are sure to find something that fits their needs.
The Elation Pool offers a party atmosphere with great music and plenty of other activities to enjoy throughout the day.
For those looking for a more relaxed experience, WET24 is the perfect place for lounging in one of the comfortable cabanas or simply soaking up some sun around the crystal-clear waters. Regardless of what kind of pool vibe you're after, this casino will surely delight you.
Stratosphere Las Vegas, NV FAQ
Does Stratosphere Las Vegas Have A Sportsbook?
This casino is indeed the proud home of a spectacular sportsbook. The William Hill Sports Book at Stratosphere offers everything a bettor could ask for – from betting on your favorite teams and players to fun props and futures.
Staffed with knowledgeable industry professionals, this sportsbook is one of the best in town; its convenient location within the casino makes it ideal for visitors who want to make a wager on their next big game.
Is Poker Available At Stratosphere?
This casino is an exciting place to visit for those looking to enjoy a fun and energizing night out. While you may not find live poker games here, there is still plenty of opportunity to get involved with the game by playing video poker.
What Are The Age Requirements For Gambling At Stratosphere Las Vegas?
The legal age for gambling in Las Vegas is 21 years old. Any visitor must be at least 21 years of age to enter the casino, play games or purchase tickets for shows. Anyone under 21 will not be permitted entry into the gaming area and will not be served alcohol.
Does Stratosphere Las Vegas Have An Online Casino?
Unfortunately, they do not currently offer online casino gaming. However, visitors can still take their chances with the resort's wide selection of video poker and other gaming machines located throughout the property.
Is There An Stratosphere App?
Unfortunately, they do not currently have an official app. However, they offer a mobile website that can be accessed through any device and allows visitors to access information about the casino and its offerings.
Visitors can also follow them on social media platforms, such as Facebook and Twitter, to get the latest updates on special events and offers.
What Is The Dress Code At Stratosphere Las Vegas?
The dress code for this casino is generally casual. However, some of their higher-end restaurants may require more formal attire, and guests may be turned away if they are not properly dressed. It's always a good idea to check the dress code before visiting.
Is There An Airport Shuttle Available From Stratosphere?
Unfortunately, there is no airport shuttle available from this casino. However, visitors can take advantage of various other transportation options, such as taxis, rideshares, car rentals and public transportation.
What Is The Smoking Policy At Stratosphere Las Vegas?
Smoking is only allowed in designated areas throughout the casino and resort. All other areas are non-smoking. Vaping and e-cigarettes are not permitted in any public area.
What Is The Pet Policy At Stratosphere?
The casino does not allow any pets or emotional support animals on the premises. Service animals are permitted, provided they meet all requirements under ADA law and have been properly trained to assist their owners.
Is Wifi Available At Stratosphere Las Vegas?
Yes, wifi is available throughout the casino and resort. Visitors can connect to the wifi network using their device and will be asked to enter login credentials. Once connected, visitors can enjoy complimentary internet access anytime during their stay.
What Is The Cancellation Policy For Stratosphere?
The cancellation policy for this casino and hotel depends on the reservation type. For most reservations, a full refund will be issued if canceled at least 72 hours before the scheduled check-in date.
However, some special offers may have different policies that must be followed. It is always best to read all terms and conditions before booking a reservation. For more information about their policies, don't hesitate to contact the customer service team directly.
Conclusion
Stratosphere Las Vegas is a great place to visit for gaming and entertainment. With its exciting offerings, convenient access to transportation, free wifi, and friendly staff, it's easy to see why this casino has become such an iconic destination in Las Vegas.
Make sure you understand their age requirement, dress code policies, pet policy and cancellation policy before you book your reservation so that you can have the best experience possible. With all that this casino has to offer, you're sure to have a great time!