Resorts World New York City Queens
Address: 110-00 Rockaway Blvd, Queens, NY 11420
Phone Number: +1 888-888-8801
Website: www.rwnewyork.com
Hours: Resorts World New York City is open Monday 9 am–5 am, Tuesday 9 am–5 am, Wednesday 9 am–5 am, Thursday 9 am–5 am, Friday 9 am–5 am, Saturday 9 am–5 am, Sunday 9 am–5 am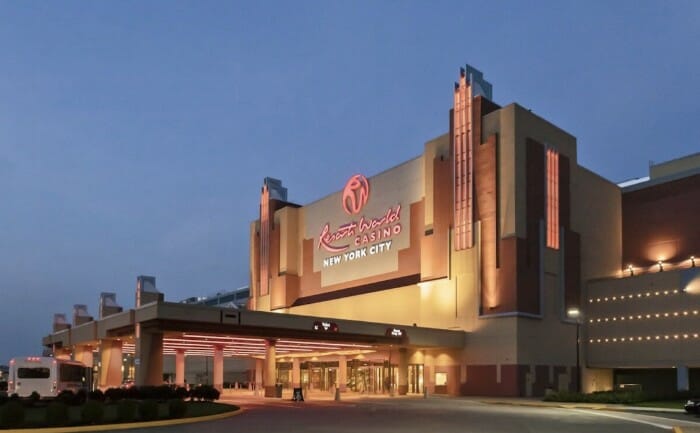 Resorts World New York City is the only casino and entertainment complex in Queens. It was founded in 2011 by the Genting Group, an international company based in Malaysia that has a long history of operating resorts around the world.
The property is a part of the Aqueduct Racetrack, a harness racing track that was first opened in 1894. The racetrack has undergone many renovations over the years, and in 2011 it became home to this casino.
Their spacious gaming floor consists of 6,500 slot machines and multiple table games. They also offer high-limit gaming, an area designated for VIP players. In addition to gaming, they offer lodging with their partner hotel, Hyatt Regency, which has over 400 rooms and suites.
The property also features a variety of dining options, including the RW Prime. They also have multiple bars and lounges as well as a nightly live entertainment schedule that is sure to satisfy any taste.
This casino might be the next perfect destination for your night out or weekend getaway. With something for everyone, it's no wonder they are one of the most popular tourist destinations in Queens.
On popular review sites, this casino has an average rating of 4.5 stars out of 5, with the majority of guests expressing satisfaction with the overall experience. One guest said, "Everything was great. The staff is friendly and helpful. I really enjoyed my time there and would definitely return."
Another guest said, "This place is amazing! Great games, good food and drinks, and a top-notch entertainment lineup make this an ideal destination for any nightlife outing."
(Related reading: New York casinos)
Gaming
Their casino features 6,500 slot machines and multiple table games. These games include blackjack, roulette, poker, baccarat, and more. Additionally, they offer high-limit gaming for VIP players.
Table Games
If you're looking for an entertaining night out in New York City, you should consider spending some time trying out the table games at this casino.
From classics like blackjack and baccarat to more exciting options, such as Ultimate Texas Hold 'Em and Three-Card Poker, you'll find something to suit everyone's ideas of fun and challenge. For those looking for a bit of nostalgia, the Big Six Wheel is always an option.
And if you're looking for a visually stimulating experience, be sure not to miss the craps or roulette tables.
The minimum bets for the table games vary, depending on the specific game and the time of day. The limits tend to be higher during peak times and lower during off-peak times. However, the average minimum bet is around $15.
Slots
This casino is home to some of the most exciting slot machines around. From classic 3-reel favorites to interactive video slots with thrilling bonus rounds, there's something for everyone at this amazing venue. Some of the most popular favorites include:
88 Fortunes Lucky Gong
Treasure Box Dynasty
Buffalo Chief
Cats
Double Money Link City of the Gods
White Orchid
Treasure Box Kingdom
Wu Da Jiang
Fu Dai Lian Lian Panda
Ghostbusters 3D
Gold Pillars – Tree of Luck
Rosas Fiesta
Texas Tea Strike It Rich
Treasure Box Dynasty
Shamrock Stars
According to New York State Gaming Commission regulations, all slot machine paybacks in New York City must be at least 90%. However, reports have shown that this casino has offered paybacks as high as 94%.
For a more accurate representation of what you can expect, it's always best to check with the casino directly to find out what specific machines are set at.
Hotel/Resort
This casino and its partner hotel, Hyatt Regency, offer a luxurious combination that is perfect for any getaway. The hotel has over 400 rooms and suites with incredible amenities such as complimentary Wi-Fi, luxurious linens, flat-screen TVs, and more.
Their room types include:
Standard Room – features one king or two queen beds and a view of the JFK airport
City View Room – features one king or two queen beds and a view of the city
Regency Suite – features one king bed, a separate living area and skyline views
Presidential Suite – features one king bed, a living area, a pantry, and a view of the city
Additionally, the casino hotel offers its guests a wide range of amenities and services, including:
Free parking
Free wifi access
24-hour front desk
Fitness center
Business center with meeting rooms
Daily housekeeping
ADA amenities
Live entertainment
The cost of staying at this hotel depends on the season and room type. Room rates typically start from $269 per night plus additional taxes and fees. For more accurate pricing, it's best to contact the hotel directly or check their website for current rates.
Check-in time at Hyatt Regency is 4:00 pm
Check-out time at Hyatt Regency is 11:00 am
Restaurants & Buffets
Currently, this casino hotel does not offer an onsite buffet or restaurant. However, there are plenty of dining options nearby that offer delicious cuisine from around the world.
With something for every craving, you can choose from places like the Sugar Factory to fill up on yummy desserts, RW Prime for a flavorful steak dinner, and Good Friends Noodle House for delicious Asian cuisine.
Or if you're sharing the excitement with a large crowd, the Food Court is an ideal option to pick up several items for everyone.
If you'd rather mingle at one of their bars and taste some drinks, you have choices such as Liberty Bar or Bar 360 – both providing top-shelf drinks like wines and cocktails. Don't forget that they even have Starbucks Coffee so whatever might be the occasion, this casino has it all.
Pools
If you're looking for some fun poolside, unfortunately, this casino hotel may not be the best spot. There aren't any pools onsite at this time; however, they have plenty of other activities and amenities that are sure to keep everyone entertained.
From the casino floor offering world-class gaming to the variety of restaurants that offer local, regional and international eats, there is something special here for every taste. Plus, the property offers live entertainment that will make for an unforgettable evening.
Resorts World New York City, Queens, NY FAQ
Does Resorts World New York City Have A Sportsbook?
Unfortunately, this casino does not feature a traditional sportsbook, but there is still the opportunity to wager on sporting events through the Resorts World Bet App.
The great thing about the mobile app is that you can make your bets without ever leaving the comfort of your home.
So don't let the lack of an in-person sportsbook at this casino keep you from enjoying some gaming action – jump onto your phone or tablet and get started with the Resorts World Bet App today.
Is Poker Available At Resorts World?
This casino has both Three-Card Poker and Ultimate Texas Hold 'Em available to its guests, so if you're looking to try your luck while you're in town, this is definitely the place to do it. Both games offer a great opportunity to test your poker skills and hone your strategy.
You can choose between different stakes and formats, so there's something for everyone regardless of experience level or budget.
What Are The Age Requirements For Gambling At Resorts World New York City?
The minimum age requirement for gambling at this casino is 21. All guests must provide valid identification when entering the casino floor, to ensure that they meet the minimum age requirement.
Does Resorts World Have An Online Casino?
Online casino is not yet available at this casino since the law has not been passed in the state of New York. However, this could change in the future, so it's always best to check back for updates.
In the meantime, there are plenty of other ways to enjoy your time at this casino – from the world-class casino floor to the delicious restaurants, there's something here for everyone to enjoy. Plus, there's always the chance to bet on sports through the Resorts World Bet App.
Is There An Resorts World New York City App?
This casino offers a convenient way for its guests to access a variety of services through their own mobile app. Users can browse event calendars, get information on current promotions and rewards programs, make reservations, check in to their destination and more through this app.
The app also provides tailored itineraries so users can experience all that the casino hotel has to offer at every stage of their journey. From booking tickets to ordering meals or accessing special offers in advance, the app makes it easy for anyone to enjoy the ultimate resort experience.
What Is The Dress Code At Resorts World?
The dress code at this casino is casual, comfortable clothing. Shirts and shoes are required in all areas of the casino; however, guests can enjoy more relaxed attire while they're playing slots or table games.
Is There An Airport Shuttle Available From Resorts World New York City?
Unfortunately, there is no airport shuttle available from this casino. However, you can take public transportation to get to the property or arrange for a taxi or rideshare service. Also, due to its close proximity, you can even choose to walk.
What Is The Smoking Policy At Resorts World?
Smoking is only allowed in designated areas. For your comfort and safety, the casino has established a comprehensive smoking policy that includes specific areas for smoking, such as designated slots on the gaming floor and outside terrace locations.
What Is The Pet Policy At Resorts World New York City?
Sadly, pets are not allowed inside this casino. Currently, the casino hotel only accepts service animals and if you require a service animal, you must call ahead of time and notify the hotel prior to your arrival.
Is Wifi Available At Resorts World?
Yes, this casino offers complimentary wifi to all guests. You can access the internet in all areas of the property, including your guest room and throughout the common areas. Also, you can access the internet in all restaurants, bars, and lounges.
What Is The Cancellation Policy For Resorts World New York City?
When you book a room at their partner hotel, Hyatt Regency, you will need to cancel your reservation at least 24 hours prior to the date of arrival. If you fail to do so or arrive late, then you will be charged a one-night room and tax fee.
If you have booked a reservation with the casino hotel's live entertainment option, you will need to get in contact with the customer service team to be able to make changes to your reservation.
Conclusion
Resorts World New York City is a great place to visit and has something for everyone. Whether you're there to try your luck at the slots, or want to check out the live entertainment and delicious cuisine, this casino can provide an unforgettable experience.
From the mobile app to the convenient location and ample amenities, this casino makes it easy to enjoy your time – whether you're a local or just visiting New York City. Remember to follow the dress code and smoking policy, and you'll be sure to have a great time.