5 Cheapest Hotels on the Las Vegas Strip
By Steve Beauregard
If you're a low-roller like me, you don't need a $500 a night room to enjoy the excitement of Las Vegas. Especially since you're probably not going to be spending a lot of time in the room.
So I usually go the cheap route on the room in order to free up more money for gambling, eating and maybe hitting up a show.
As such, I've created a list of the five cheapest hotels on the Las Vegas Strip.
This will all depend on your definition of "cheap" of course, but even in an age of super glitzy and luxurious Vegas mega-resorts, there are a few hotels on the Las Vegas Strip that could reasonably be considered affordable for most of us.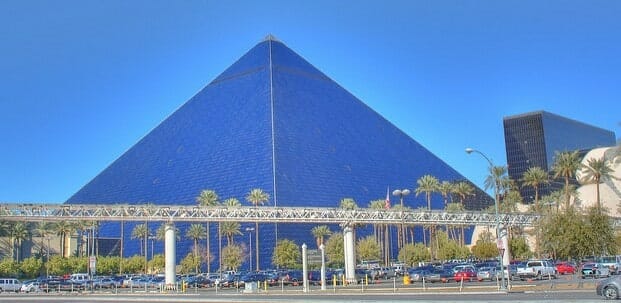 My list of cheap Las Vegas Strip hotels does not include the few dive motels scattered in and around Las Vegas Boulevard, nor does it include places I don't consider to be (for lack of a better word), "nice."
For example, there are a couple of Travelodge motel chains on the Strip. A quick search on sites like Expedia or Hotels.com will show very attractive rates for these rooms, (often in the $40's range and without resort fees included), yet these are motels in areas near very heavy pedestrian traffic. Maybe I'm old or a diva, but the days of cheap motel stays with loud drunks in the parking lot just inches from my bed are behind me.
So in other words, while you can find some dumps at very cheap rates, my list of cheap Las Vegas Strip hotels only counts places where I'd feel comfortable (and safe) taking my family.
(Disclaimer: While these are the cheapest prices, please know that I am an affiliate for some of the sites advertised on this article. Should you book a room with them they pay me a referral fee).
So here's a brief rundown of the cheapest, most affordable hotel rooms on the Las Vegas Strip.
Cheapest Las Vegas Hotel Rooms
We've researched all Las Vegas Strip hotels for a 2022 two-night stay on (1) The 2nd Tuesday and Wednesday of the month, and (2) The last Friday & Saturday of the month. Prices fluctuate based on conventions, holidays, etc, but these are a good baseline sample.
These are the bare-bones, cheapest rooms offered by each individual hotel. All prices below are for two adults, no children. Some will be one bedroom, and some will have two queen-sized beds. In cases where the hotel gives you the option, we have chosen to show you the pay-now, lower priced non-refundable hotel room rate. You can always pay a little more to have the right to cancel your hotel room (usually up to 72 hours in advance).
Also, our prices below INCLUDE taxes and all resort fees. They do not include parking at those hotels that charge guests for parking.
Prices are the TOTAL you will pay for your 2 night stay. In other words, the prices below are NOT nightly prices.
Prices can (and do change), but as of the time of this writing, these are the 5 cheapest hotel rooms for each period currently found from reputable online booking sites:
Midweek in the spring of 2022 (Tuesday – Thursday)
| | |
| --- | --- |
| Circus Circus | $135.97 |
| Excalibur | $141.04 |
| Harrah's Las Vegas | $169.96 |
Weekend in the Spring of 2022 (Friday – Sunday)
| | |
| --- | --- |
| Circus Circus | $123.50 |
| Excalibur | $141.04 |
| The Strat | $173.70 |
Weekday Summer 2022 (Tuesday – Thursday)
| | |
| --- | --- |
| Excalibur | $598.50 |
| Sahara | $598.76 |
| Luxor | $643.74 |
Weekend Summer 2022 (Friday – Sunday)
| | |
| --- | --- |
| Circus | $419.39 |
| Casino Royale Best Western | $366.20 |
| Excalibur | $454.19 |
In this random sample, the weekend prices were actually lower than weekdays. Again, these prices are the total you will pay, after taxes and resort fees for both nights.
Below is some information on the hotels that typically show up on this top 5 cheapest Strip hotels list.
Excalibur Hotel and Casino
The Excalibur Hotel and Casino is my default hotel when I need a cheap place to crash.
The Excalibur can get away with affordable rates due to the fact there's nothing really fancy about the rooms, nor the resort in general. More significantly, the hotel's room count of nearly 4,000 rooms ensures there'll nearly always be a good inventory of rooms they need to fill.
On a non-busy weekend night, you may be able to get a room here for $40 (before taxes and fees).
The Linq Hotel and Casino
This place used to Imperial Palace – widely known as having the cheapest hotel rooms on the Strip. Yet they were also known for having dated, unclean rooms.
All that changed with the re-branding of the Imperial Palace into first the Quad, then now the Linq. Caesars Entertainment has put $223 million in remodeling these rooms and the entire property. Yet while the rooms have been changed, the rates haven't jumped up as much as most of us expected (at least not yet).
Linq rooms on non-busy weeknights can be had in the mid-$60's to mid $70's range. Making the Linq even more of a bargain is its awesome center-Strip location in the heart of the action.
Luxor
This is a hit and miss hotel for finding cheap rates, (at least in my experience). As the second largest hotel in Las Vegas, it has rooms to fill, yet it seems to want to charge MGM Grand prices on occasion, despite not having MGM Grand quality.
A search for rooms for a typical, slow weeknight at the Luxor Hotel and Casino resulted in a $45 nightly rate (before taxes and fees).
Harrah's Hotel and Casino
With fancy themed resorts and remodeled, architecturally stunning hotels found up and down the Strip, Harrah's plain vanilla hotel means it often gets lost in the Sin City shuffle.
To be fair, the rooms at Harrah's are simple, small and plain, however like its Linq cousin next door, Harrah's location cannot be beat.
While weeknight rooms at Harrah's can be found in the $50's range (again, all depending on the time of year, conventions, etc.), this is one hotel where the rates really shoot up astronomically on weekends.
An off-Strip Cheap option
OYO Hotel and Casino.
Formerly the Hooters Hotel & Casino, this hotel often shows up on my list of the top 5 least expensive hotel rooms on the Strip. While not, technically on the Strip, being a block away and right across the street from the MGM Grand means it's close enough to be an option for those of you who don't mind a little walk.
Other
A key factor in Strip hotel room pricing is the Las Vegas convention calendar.
I say this because during a major convention, there's no such thing as a cheap room in Sin City. For example, recently a regular room at Planet Hollywood was advertised for $89 on a normal Tuesday night in October. That same room booked in the first week of November would cost you $219. That's because of SEMA (a huge international automotive trade show), which takes place in early November, bringing with it 60,000 visitors from around the world.
You also are not likely to find that cheap of a Las Vegas Strip hotel room on weekends, or on major holidays.
Lastly, the list above of the five cheapest hotel rooms on the Las Vegas Strip does not include a couple of nearby casino resorts that – while very close – would require transportation to get to Las Vegas Boulevard. These affordable options are the Westgate Resort and Casino, and the Rio All Suites Casino Resort.
If you don't mind a monorail trip (in the case of the Westgate), or an Uber/Lyft ride (for the Rio), these are two decent and cheap hotel room stay options.
(Photo courtesy of AI R via Flickr).