It has a cult-like following, a larger chunk of the fast food chicken market than KFC, and millions of loyal fans who devour the restaurant's tender breaded chicken sandwiches and famous waffle fries.
And it's now in Las Vegas.
The popular national chain with over 2,000 locations in 43 states has six Chick-fil-A restaurants in the Las Vegas area, with four more on the way. The six existing restaurants include brand new ones on the Las Vegas Strip and on Fremont Street in downtown Las Vegas.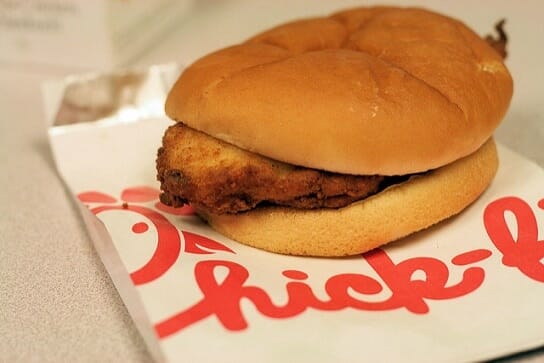 Chick-fil-A Las Vegas Strip
(Blue dot on map)
The newest Chick-fil-A in Las Vegas is the one at Planet Hollywood Hotel & Casino on the Las Vegas Strip.
New Chick-fil-A at Planet Hollywood seems tame for now. Nowhere to sit. Here's a live stream: https://t.co/PtLHzvmDeQ #FridayVibes #vegas #LasVegas #chickfila @VitalVegas @LasVegasLocally pic.twitter.com/aK7EHblwLR

— Life in Las Vegas (@VegasLifeBaby) January 31, 2020
Opened on January 30th, 2020, the restaurant fronts the Strip directly, on the patio near the entrance to the Miracle Mile shopping area. It's a takeaway only, (no seating), and is open from 10 AM to 2 AM on Mondays through Fridays, and on Saturdays from 10 AM to 11 PM.
It's closed on Sundays. They can be reached here: (702) 331-3038.
Chick Fil A on Fremont Street in Downtown Las Vegas
(Brown dot)
In December 2019, the Golden Nugget Hotel & Casino in downtown Las Vegas welcomed the first Chick-Fil-A to be located inside a casino.
The 1,100 square foot restaurant is located in the resort's Carson Tower, and has seating for 62 guests. Hours are Monday – Friday: 6 AM to 2 AM, and Saturday: 6 AM to 11:30 PM. It's closed on Sundays. This location's phone number is: (702) 386-8243.
(The colored dots show you the six different Chick-Fil-A Las Vegas Locations.)
Other Las Vegas Chick-fil-A Locations
Sahara and I-15 (Red dot on map)
This restaurant is on the northeast corner of the intersection of W. Sahara Avenue and S. Rancho Drive, (catty-corner from the Palace Station Hotel and Casino).
Opened on March 30, 2017, it's called the Chick-Fil-A at Sahara and I-15, and you can see easily see the sign while driving on I-15.
It's exact address is as follows:
2477 S. Rancho Drive
Las Vegas, NV. 89102
Phone: (702) 252-4232
It's just a little less than one mile east of the Strip and within a short drive or taxi/Uber fare to the Sahara Las Vegas Hotel & Casino, The Stratosphere and Circus Circus. (It's 1.3 miles away from Circus Circus).
This Chick-Fil-A is open from 6 AM to 11:45 PM, Monday through Saturday. Like every other Chick-Fil-A in the country, the restaurant is closed on Sundays.
And just like other Chick-Fil-A's you'll find your delicious made-from-scratch menu items, fresh-squeezed lemonade, original dipping sauce (my favorite), and mouthwatering shakes.
Diamond Summit Plaza (Yellow dot)
This location, in the Diamond Summit Plaza shopping area, near the St. Rosa Parkway, is officially called the Chick-fil-A at Diamond Summit Plaza and is the southernmost Las Vegas Chick-fil-A.
It's located just over a mile to the south and west of the Green Valley Ranch Resort Spa & Casino.
Address:
9925 S. Eastern Avenue
Las Vegas, NV. 89183
Phone: (702) 684-6888
Hours: 6 AM to 11 PM, Monday – Saturday.
Stephanie Street & Warm Springs Road (Purple dot)
Officially called the "Chick-fil-A at Stephanie and Warm Springs Road" by the company, it's located on N. Stephanie Street, just a few hundred feet from the Sunset Station Hotel & Casino.
Address:
460 N. Stephanie Street
Henderson, NV. 89014
Phone: (702) 684-6888
Hours: 6 AM to 10 PM, Monday – Saturday.
Both the Diamond Summit Plaza and Stephanie Street restaurants have seating for 122 customers inside, with additional outdoor patio seating. There are childrens' play areas inside both restaurants. In addition, both have drive-through windows.
Rainbow Blvd Chick-Fil-A (Black dot)
Opened in November of 2018, this is the northernmost and westernmost franchise in the Las Vegas area.
It's located at the intersection of N. Rainbow Boulevard and W. Lake Mead, (about 3 miles west of Texas Station Hotel & Casino), in the spot of a since-torn down Joe's Crab Shack.
Address:
1991 N. Rainbow Blvd
Las Vegas, NV. 89108
(702) 648-6486
Future Chick-fil-A Las Vegas Locations
The company has publicly stated they plan to have a total of between 8 to 10 locations in Las Vegas within the next five years. The company has announced three more in the works, with another yet to be formally announced:
1) Craig Road & Scott Robinson
1720 W Craig Road
North Las Vegas, NV 89031
This is expected to be open this year. Once opened, it will be the northernmost Chick-Fil-A in Las Vegas.
2) 1100 S. Fort Apache Road
Located on the western side of Las Vegas, this is on the corner of S. Forth Apache Road and W. Charleston. It's located just a 1 1/2 miles east of the Red Rock Casino Resort and Spa, and less than a mile south of the Suncoast Hotel & Casino.
Once opened, it will be the westernmost location.
3) 3841 W. Flamingo Road
This Chick-Fil-A location will be located in a new hotel and retail complex just west of the Strip, next to the Palms Hotel & Casino on Flamingo Boulevard. It will be directly across the street from the Gold Coast Hotel & Casino and by the Rio.
4) A 4th Chick-Fil-A in the Vegas valley has yet to be announced publicly, however there have been plans submitted. The location (marked by a Chick-Fil-A sign), is on the southern end of Las Vegas Boulevard, at the intersection of George Crockett Road.
Other
* Two of the six Las Vegas Chick-Fil-A restaurants opened on January 25, 2017, with very long lines, and lots of happy customers. A third location right off I-15 opened on March 30, 2017.
* The Las Vegas locations are the first Chick-fil-A restaurants in the state of Nevada. There are two in the Reno and Sparks area.
* According to AdWeek, Chick-fil-A is the nation's most successful fast food restaurant, in terms of sales per store. On average, each restaurant has sales of $3.1 million per year.
Similar to In-N-Out, Chick-fil-A is privately owned. Unlike In-N-Out however, Chick-fil-A franchises out its restaurants. Currently there are over 2,000 Chick-fil-A franchises, and in those stores generated a combined $6 billion plus in sales. Pretty impressive for a company founded back in 1946 with one little restaurant.
It's combination of over-the-top, friendly service (especially for a fast food joint), tasty, unique fried chicken flavor with pickle and soft bun, and decadent shakes has made Chick-fil-A even more successful than KFC, despite the fact KFC has many more locations and gets an extra day of sales. (All Chick-fil-A restaurants are closed on Sundays).
(Photos courtesy of Jay Reed via Flickr.)