Closest beach to Las Vegas – Distance to the Nearest California Beaches
Although it is land-locked in the Mojave Desert, there are beaches relatively close to Las Vegas that can be reached in a five hour drive.
And by "beach" I mean, an ocean beach. We're not talking about the beach pool at Mandalay Bay, for example, nor do we mean a sandy beach at Lake Las Vegas or nearby Lake Mead, which is just 35 miles away from Las Vegas.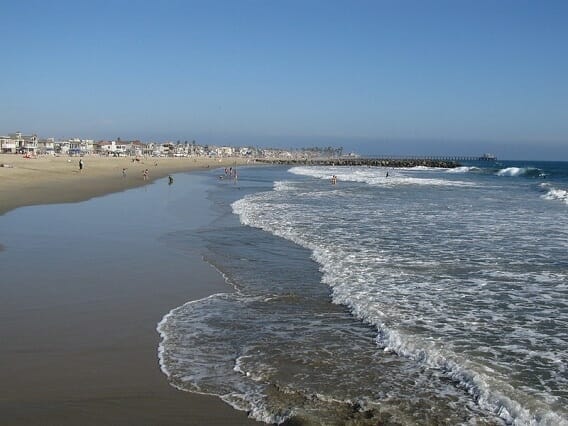 We're talking a real ocean beach. More specifically the Pacific Ocean, which is approximately 150 miles away, (as the crow flies).
Unfortunately the driving distance is quite a bit longer, at roughly 275 miles.
Nearest Beach to Las Vegas
There are two beautiful California beaches that are in a tie for being the closest beach to Las Vegas. Both are free, popular, and offer you the typical California beach experience you may be looking for in terms of wide expanses of sand, rolling surf, and pretty sunsets. They are:
Newport Beach
Laguna Beach (Main Beach Park)
Both are exactly 273 miles (or 439 kilometers) from the center of the Las Vegas Strip.
(The "B" on the map below represents Newport Beach)
Google Maps says that without traffic (ha!) it would take you just under 4 hours to get there. In reality, and having driven to both, it is a 5 hour drive in normal conditions. Leaving for Las Vegas to the beach on a Sunday, however, can easily make this a six hour jaunt, (or longer).
(Related: Distance from Los Angeles to Las Vegas)
Both Newport Beach, and Laguna Beach have playgrounds for the kids. One advantage of Newport Beach is that there is public parking lots available, whereas Laguna Beach parking can be hard to find.
Additionally, Newport Beach has a nice pier, with a 50's style hamburger diner, "Ruby's" at the end. Dining on the pier with a beautiful view of the coast makes for a nice lunch.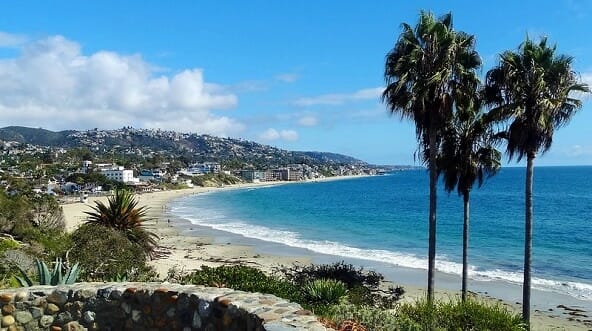 A short walk away, (we're talking ¼ mile) from Newport Beach, is Balboa Peninsula. This charming touristy area has cafes, ice cream stands, some carnival-type rides, and a ferry to nearby Balboa Island.
My family (including very young children) enjoyed our time here, and took to the ferry to Balboa Island for their famous frozen bananas.
Las Vegas to Huntington Beach
One other beautiful beach, Huntington Beach, is just 276 miles from the center of the Las Vegas Strip. It's just up the beach from Newport Beach, and is a favorite of my family. In fact, we would go to Huntington Beach over Newport or Laguna, because we feel very safe there and enjoy the vibe.
Like Newport Beach, Huntington has a long pier, with a Ruby's Diner at the end. There are bike rental shops, and plenty of bars, shops and restaurants just off the beach.
Other California Beaches Close to Las Vegas
Here are the other beaches closest to Las Vegas. In general, it will take you around five hours to get to these.
All are pretty, open to the public (for free), have nearby lifeguard stations, and (with the exception of parts of Sunset Beach), are next to restaurants, bars, etc. You will have to pay for parking.
Seal Beach – 276 miles
Sunset Beach – 277 miles
Long Beach – 278 miles
Doheny State Beach at Dana Point – 282 miles
Venice Beach – 283 miles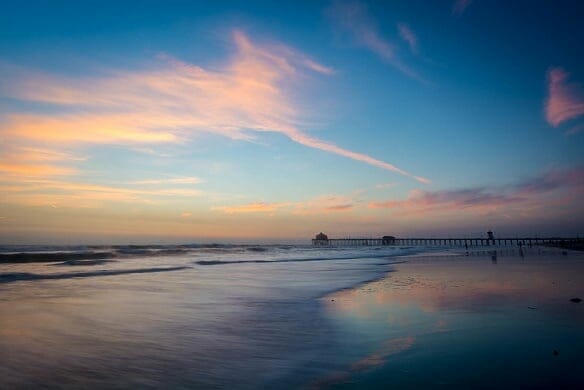 Santa Monica Beach – 283 miles
Manhattan Beach – 285 miles
Hermosa Beach – 285 miles
Redondo Beach – 285 miles
San Clemente State Beach – 286 miles
And although they are beautiful and get great reviews, the beaches of San Diego are quite a bit further. Mission Beach, for example, is 329 miles from the Las Vegas Strip. While that doesn't sound like a lot, being roughly 50 more miles from the Los Angeles area beaches, those extra fifty miles can add to a lot of time spent in the car when driving on the always-busy Interstate 5.
A trip to the beach is not a day trip from Las Vegas, but if you have a day or two extra on your Vegas vacation, a visit to one of these beautiful California beaches makes for a peaceful and relaxing nice change of pace.
(By Steve Beauregard. Photos courtesy of Ken Lund, Don Graham and Ron Kroetz via Flickr).