Distance from Las Vegas to Disneyland – How Long is the Drive Time & Directions
By Steve Beauregard
It's the happiest, most magical place on Earth. I am of course, talking about Las Vegas.
But I could also be talking about Disneyland.
And in fact, a good number of the 42 million people who visit Las Vegas annually make time for a side trip to Anaheim, California to partake in the fun and magic of Disneyland and Disney's California Adventure.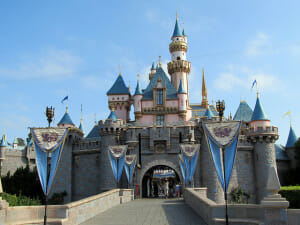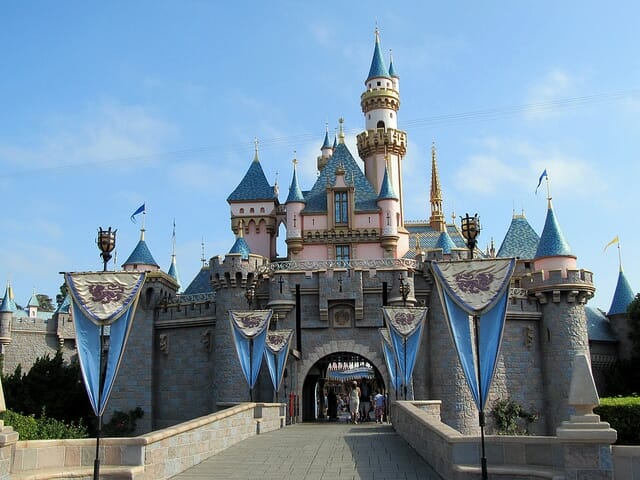 Distance from Las Vegas to Disneyland
It's 264 miles, (or 424 kilometers), from Las Vegas to Disneyland, when starting off in the center of the Las Vegas Strip at Caesars Palace.
From the hotels in downtown Las Vegas on Fremont Street, the drive is just slightly longer: 5 miles more, or 269 miles, to be exact.
Driving Time
As for driving time, during normal traffic conditions, it will take you between four and half and five hours to get to Disneyland from Las Vegas.
The time and day you drive, however, can be a huge variable. People leaving Las Vegas on a Sunday afternoon can expect to run into a lot more traffic, making the drive closer to six hours.
And a post-holiday drive from Las Vegas to Los Angeles is a nightmare. Those poor souls who don't know any better and who leave on a Sunday afternoon after a busy holiday weekend can even experience traffic jams lasting for miles, making the drive around 12 hours. And no, that "12 hours" figure wasn't a misprint.
I personally, was one of the stupid idiots who left Las Vegas for Disneyland around 2 p.m. on the Sunday of Thanksgiving weekend. After three hours of bumper-to-bumper traffic, we said, "to hell with it," and pulled over for the night in Primm, Nevada. In case you're wondering, Primm is just 39 miles from Las Vegas.
(Here's a map showing you to way to Disneyland from Las Vegas)
My point is that the Vegas to Disneyland drive is manageable and fairly quick in most situations. Be sure, however, to avoid making the drive at the end of a holiday or three day weekend. Also, if you have headed to Disneyland on Sunday, be sure to get an early start. I'd suggest leaving Las Vegas before 10 a.m.
Those of you who are adventurous and don't mind driving late at night can save time by leaving Sin City after sundown. When leaving after 8 p.m. Las Vegas time, Google maps often estimates the drive to Anaheim taking a little less than four hours, due to significantly decreased traffic.
Directions from Las Vegas to Disneyland
Getting from Las Vegas to Disney is so easy, even a geographically-challenged man like me can do it!
Whether you're staying downtown or on the Strip, you'll just want to get on Interstate 15 going south. (I-15 is the interstate that runs parallel and just to the west of the Strip).
You'll simply stay on I-15 for 225 miles, passing through miles and miles of desert, along with towns like Primm, Nevada, Baker, California, and Barstow.
After driving 225 miles, you'll be in Ontario, California, an LA suburb.
It's at the 225 mark where you'll take CA-60 West. It's exit 106.
17 miles later, you'll want to be in one of the right lanes as you merge right onto CA-57 South. The sign will say "Santa Ana."
In another 16 miles, just after you pass the California Angel's home stadium you'll want to be in the far right lane as you take the "Chapman Avenue" exit towards "Orange." This road will lead you to Interstate 5.
I-5 can be crazy, but fortunately you'll be on it for just 2 and ½ miles, as you'll exit on the right hand side at exit 110. The signage is great here, and you won't miss it at all.
From the exit ramp, the ramp will take you to Harbor Avenue, where you'll take a left.
Harbor Avenue is the main tourist drag that runs alongside the east side of Disneyland. Clear signage on this street will point you to Disneyland. Once on Harbor, Disneyland will be on your right, (not the parking garage – that's still a short drive away), while hotel chains and restaurants will be on your left.
Just after passing Disneyland, the first street you'll be able to take a right on is Katella, which is also a popular street for hotels and restaurants. Take a right here, then the next right, ("Disneyland Drive") to be led to the Disneyland parking garage.
Day Trip from Las Vegas to Disneyland
A Las Vegas to Disneyland day trip would be quite a long day and not for the faint of heart. We're talking nearly ten hours in the car. Sure, most of us have done that, but most of us haven't had the joy of a five hour boring drive back home through the desert at night after a long hot day walking miles around a theme park.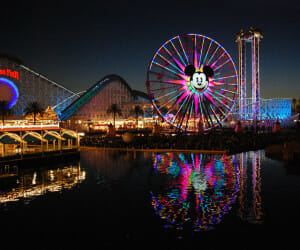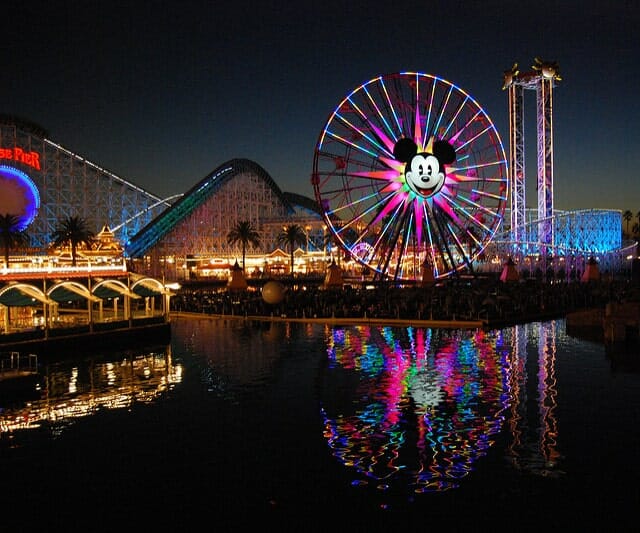 Train from Las Vegas to Disneyland
Despite several pricey proposed projects, (including a recent one involving a partnership with a Chinese bullet-train builder that would make a Los Angeles to Las Vegas trip in just 80 minutes), there is no train service between Las Vegas and Disneyland, or to Los Angeles in general. In fact, Amtrack doesn't even offer passenger stops in Las Vegas.
Las Vegas to Disneyland shuttle.
Besides Greyhound bus service, the LuxBusAmerica company offers daily shuttle service to Disneyland from Las Vegas.
This shuttle involves at least a few nights stay in Anaheim however, as it leaves Las Vegas in the afternoon, and leaves Anaheim for Las Vegas in the morning.
As of this writing, this daily bus leaves from Harrah's Hotel and Casino at 3:15 PM and from the California Hotel & Casino downtown at 2:45 PM, every day, arriving in Anaheim at around 8 PM. Tickets as of this writing are in the $108 range per person, roundtrip and can be found here at their website:
Sure, there's lots to do in Las Vegas for people of all ages, but those of you who find yourselves for a time in Las Vegas with young children, you may want to add to your adventure with this relatively pain-free and short side trip for a few days to Disneyland.
(Photos courtesy of Daryl_Mitchell and Aaron Fulkerson via Flickr).