Has a woman ever won a World Series of Poker (WSOP) Bracelet?
By Steve Beauregard
Of course a woman has won a WSOP bracelet. After all, there is one tournament every year open only to women. However, you're probably asking if a female has ever won an open event, or even the big one: the WSOP $10,000 Main Event.
While a female has never won the World Series of Poker Main Event, several women have claimed WSOP Championship bracelets in open events. And here I'm talking about the real WSOP, the Las Vegas tournament, and not pretend WSOP tournaments in France, or England or Asia.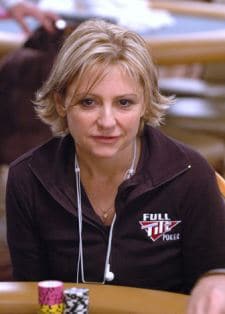 In a typical WSOP open event, only 4% of entrants will be female. Including the 2019 WSOP, twenty-three open tournaments have been won by women.
Who was the first woman to win a WSOP Open Event Bracelet?
Starla Brodie is the first woman to have won an open tournament at the World Series of Poker.
She teamed up with poker legend Doyle Brunson to take town an odd event called the "Mixed Doubles 7 Card Stud." The buy-in was $600 and Brodie and Brunson (sounds like a law firm), each took home $4,500. There were just 25 entries, which I assume means 25 teams of 2 players each, or 50 players total.
Starla Brodie would go on to win the Ladies Event in 1995, making her one of only six women to have won multiple WSOP gold bracelets.
Vera Richmond is the first woman to have won a regular, individual World Series of Poker open event, when she took down the $1,000 Limit Ace to 5 Draw event back in 1982.
According to a story in Poker Player Newspaper, Richmond was the daughter of Alfred Neiman – he of Neiman Marcus fame – and as a result had the money, and moxie, to mix it up in the mostly all-male poker rooms of the 1970's and 80's. Although it wasn't a big deal back then, this first female bracelet has since enshrined Vera Richmond's name as a pioneer for female poker players. She won $38,500 for the win.
Barbara Enright is the third woman to have won a WSOP bracelet in an open event, when she finished first in the $2,500 Pot Limit Hold'em Event back in 1996.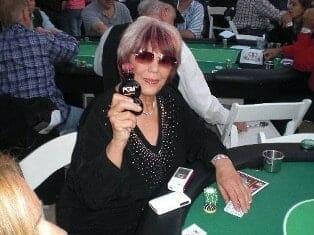 As a side note, Barbara Enright is also the first (and thus far only) woman to have made the final table of the World Series of Poker Main Event. In 1995, the year "Action" Dan Harrington won the big one, Enright finished in 5th place at that final table. (Find out more here about the the success of women in the World Series of Poker WSOP Main Event
With her previous wins in the WSOP Ladies Event in 1986 and in 1994, Enright has gone down in poker history as being both the first woman to have won 2 bracelets, and the first to have won 3 bracelets. If that weren't enough, she was the first woman inducted into the Poker Hall of Fame.
(Go here to read about some of the best poker rooms in Las Vegas)
Nani Dollison is another female multiple bracelet winner. She, who has won the WSOP Ladies Championship in both 2000 and 2001, won an open event in 2001. She took home the $2,000 Limit Hold'em tournament for a $441,000 payday. Dollison, who has a total of three WSOP bracelets to her name, has just over $600,000 in career WSOP winnings.
Here's a breakdown of all of the women who have won WSOP bracelets in events other than the Ladies only tournament.
1979: Starla Brodie – $600 Mixed Doubles 7 Card Stud
1982: Vera Richmond – $1,000 Ace to 5 Draw
1996: Barbara Enright – $2,500 Pot-Limit Hold'em
1997: Linda Johnson – $1,500 Razz
1997: Maria Stern – $1,500 Seven-Card Stud
2000: Jerri Thomas – $1,500 Seven-Card Stud
2000: Jennifer Harman – $5000, NL 2-7
2001: Nani Dollison – $2,000 Limit HE
2002: Jennifer Harman – $5,000 Limit HE
2004: Cyndy Violette – $2,000 Seven-Card Stud/8
2004: Kathy Liebert $1,500 Limit Hold'em Shootout
2004: Annie Duke – $1,500 Omaha High-Low 8/OB
2007: Katja Thater – $1,500 Razz
2008: Vanessa Selbst – $1,500 PLO
2012: Vanessa Selbst – $2,500 10 Game Mix
2013: Dana Castaneda – $1,000 NL Hold'em.
2013: Loni Harwood – $1,500 NL Hold'em.
2014: Vanessa Selbst – $2,500 Omaha Seven Card Stud Hi-Lo Split 8 or Better
2015: Carol Fuchs – $1,500 Dealers Choice
2016: Kristen Bicknell – $1,500 NL Hold'em Bounty
2016: Safiya Umerova – $1,500 No-Limit Hold'em Shootout
2017: Liv Boeree – $10,000 Tag Team No-Limit Hold'em Championship
2018: Nikita Luther – $1,000 Tag Team No-Limit Hold'em
2019: None
A couple of asterisks may be in order here, as three women have won senior's events. Farhintaj Bonyadi won the 2018 Super Senior's No-Limit Hold'em event, while a woman named Claire Miller won the 2006 Senior's Event. Notable player Allyn Jaffrey Shulman won the 2012 Senior's tournament. (All featured $1,000 entry fees).
Do you consider those to be open events? While you do have to be 50 years of age or older to play the seniors tournament, (and 60 or older to play the Super Seniors), the tournaments are "open" in the sense they are open to both male and female contestants. Furthermore, they attract large fields, as 4,128 players entered the 2012 Seniors event.
Another asterisk goes to Sandy Stupak, who, in 1984 won a WSOP employee event, but not the employee event we all know of that starts off the series. This one was called the "Employee Event – No Limit Hold'em Casino Operators."
There's not much out there about this event, but it sounds like it was for casino owners only. That wouldn't make it truly open, but the field apparently was open to both men and women. Just 14 players put up the $1,000 to enter that tournament (maybe that's because there aren't a lot of casino owners?)
Anyway, Sandy Stupak picked up the bracelet and $14,000 for the win. She is the wife of Las Vegas casino legend Bob Stupak, (since deceased), who built both Vegas World, then later The Stratosphere. Bob loved poker and won a WSOP bracelet in 1989, making the Stupaks the first married couple, in which the husband and wife both own WSOP Bracelets.
Surprisingly, there are three other couples who share this accomplishment. The aforementioned Barry and Allyn Shulman have both won bracelets, as have Max and Maria Stern. Incredibly enough, both won a bracelet in 1997!
Harry and Jerri Thomas make up the other couple, albeit 15 years apart, (Harry won his in 1985, while in typical male fashion, he had to wait for his wife. Jerri won hers in the $1,500 stud tournament in 2000).
Finally, it should be noted that 2017 and 2018 bracelet winners Liv Boeree and Nikita Luther each won their respective hardware as part of a team. Both were in tag team events in which you rotate play with a team consisting of 2-4 players. In Liz's case, she and her boyfriend teamed up to win the tournament.
Luther, from India, won her bracelet by partnering with a Twitter friend, Giuseppe Pantaleo, from Germany.
How many women have won more than one WSOP bracelet?
Only seven women have won multiple bracelets at the World Series of Poker. Three different women have won three bracelets.
One of my favorite players, high stakes cash game professional Jennifer Harman has won two bracelets. She is charming and pleasant, likable and seems like a genuinely good person. On the other hand, Vanessa Selbst has won three bracelets.
Here's a list of all of the ladies who have won more than one World Series of Poker bracelet, followed by their number of wins.
Barbara Enright (3)
Nani Dollison (3)
Vanessa Selbst (3)
Starla Brodie (2)
Jennifer Harman (2)
Susie Isaacs (2)
Kristen Bicknell (2)
There's one asterisk to this list, and that is one Loni Harwood.
She has a legitimate WSOP bracelet from an open event in 2013, but she also has a bracelet from winning a newer event called the "2015 WSOP National Championship." This tournament is held after the WSOP in Las Vegas in North Carolina, and is only open to players who have either won a WSOP Circuit event in the current year, or who are in the top 100 in points earned during the prior 2 WSOPs. Because of the quirky qualifying and the fact it is not a WSOP Las Vegas event, I don't consider it to be a "true" WSOP bracelet.
However with more women entering the WSOP every year, we can expect to see this list of 7 female multiple bracelet winners growing very soon.