How Far is the Distance From Salt Lake City to Las Vegas, and What is the Driving Time and Directions?
By Steve Beauregard
It is 420 miles from Salt Lake City to Las Vegas. Assuming you have good weather, (and that's not always a good assumption), it would take you six hours to get there, without stops.
Although it has its sections of beautiful scenery, the drive is long, with wide open spaces and not much to see. For some reason it is much more boring and more of a long drive when going back to Salt Lake than it is when going to Las Vegas. Funny how that works.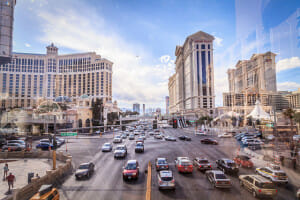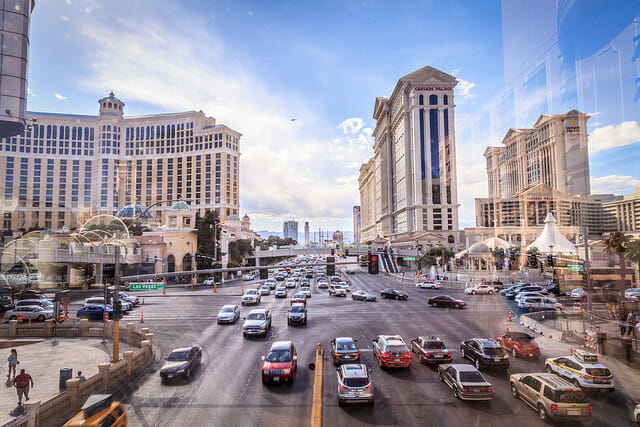 One saving grace that makes this trip more bearable than it otherwise could be is the fact that for a good chunk of the journey, (and coincidently the most boring part), the speed limit is 80 miles per hour.
This can come as a shock to some people, (especially many from back East), who are used to 55 mph, 65, or 75 m.p.h. back home. As with lessor speed limits, people sticking strictly with driving 80 miles per hour may find themselves the slow ones on the road.
There are no major towns on the road from Salt Lake City to Las Vegas (I mean, after you pass the Provo area). The bigger towns along the way are Cedar City, Utah, St. George, Utah, and Mesquite, Nevada.
(A map of the road from SLC to Sin City)
Driving Time and Directions from Salt Lake City to Las Vegas
There are two different routes to take, but by far the quickest and simplest route is taking Interstate 15 south all the way to Sin City.
Google mapping says that leaving from downtown Salt Lake City (their origination point is four blocks south of Temple Square), results in an exactly 421 mile trip, if your destination is Fremont Street in downtown Las Vegas. Getting to the hotels and casinos around the center of the Las Vegas Strip would take you an additional 6 miles, or about ten more minutes.
Overall, the driving time from downtown Salt Lake City to downtown Las Vegas is 5 hours and 53 minutes, according to Google Maps.
Sights to See On the Way from Salt Lake City to Las Vegas
Zion National Park is the big attraction on the way from SLC to Las Vegas. The park is around ten miles east of I-15, in that stretch between Cedar City and St. George.
Other than that, well, if you get bored on the way – and you will – you can always stop by the Cache Valley Cheese Factory in Beaver, Utah. It's home to the "squeaky cheese," and yes, it really does squeak. Not that it's a "must do" or should be on your bucket list or anything. I would never had stopped by had my wife not made me.
You'll hit Beaver (the boyhood home of Butch Cassidy, from the famous movie of the same name), about three hours after leaving Salt Lake. The cheese factory is just a couple of miles off the road.
If you have kids, the weather is decent and they need to burn off some energy, I strongly recommend letting them run loose at the "Park Discovery" in Cedar City.
Cedar City is 252 miles from Salt Lake. Maps confirm it is a roughly 3 and 1/2 hour drive from Salt Lake City. The Park Discovery is less than two miles off the interstate, and is a wonderful park in my view, (and in my kids' view). They could have stayed there for hours. Best of all it's a free public park.
To get to Park Discovery, take the Cross Hollow Road exit, south of Cedar City, where the giant lighthouse stands. You'll take a quick right and go up a little hill.
The one "must stop" for my family driving this route is the In-N-Out Burger in St. George, Utah – one of the easternmost outposts of this California-based burger chain.
If you haven't already tried the In-n-Out, you may want to give it a shot. St. George will be a little over four hours on your way, (assuming no stops), and is 300 miles from Salt Lake.
Another good place to eat in St. George is the Cracker Barrel.
If you're not hungry in St. George, and can hold out for the 45 minute or so drive to Mesquite, the main restaurant at the Virgin River Hotel and Casino always has a cheap prime rib special. I've found it to be really good and filling, although I'm sure you foodies out there would disagree strongly.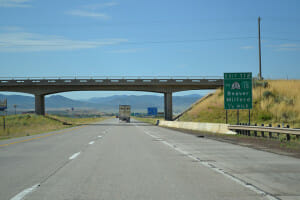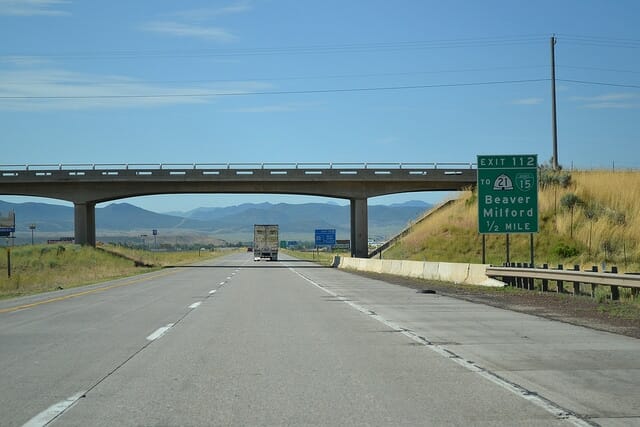 (Related: Distance and driving time from Phoenix to Las Vegas)
So that's the main, almost-always-used driving route from Salt Lake City to Las Vegas.
Different Route
The other potential route mapping systems idiotically suggest has you taking Interstate 80 west to Wendover, Nevada, then going south forever (or what it must seem like on this two lane road), on a desolate stretch of the Lincoln Highway, or State Highway 93, which then turns into highway 6, down to Las Vegas.
Arguably more scenic than Interstate 15, this route however is longer, at 484 miles, and would take much more time, roughly an hour and twenty minutes longer. The total drive time would be seven hours and 18 minutes roughly.
Overall, the distance from Salt Lake City to Las Vegas, at about 420 miles, with a driving time of six hours, puts it in that in-between zone, where it's a long drive, but maybe not long enough to pony up the extra money to fly. Especially when you factor in the cost of the ticket, baggage fees, taxis, etc.
(Photo courtesy of Andres Nieto Porras and Garrett via Flickr).