By Steve Beauregard
They are the two largest connecting cities in the United States without an Interstate: Phoenix, Arizona and Las Vegas, Nevada.
As a result, the distance between the two, 297 miles (or 478 kilometers), takes over four hours to drive. This is factoring in the new section of interstate that opened in August of 2018, and which has reduced this drive by twenty to thirty minutes. (More on that below).
As it stands now, the majority of the route is spent on U.S. Route 93, a two lane road that can seem excruciating long on a good day – even longer if you get stuck behind someone going very slow.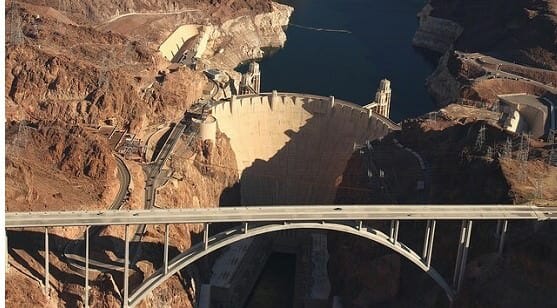 The road winds north and west through the desert, through vast expanses of nothingness, including even an abandoned town named "Nothing."
It passes through other small towns, like Kingman, and almost touches the Hoover Dam before leading to Las Vegas.
(Related: casinos in the Phoenix area).
Driving Time and Directions from Phoenix to Las Vegas
You start out leaving Phoenix on US Route 60, going northwest out of town. It's officially called the Phoenix-Wickenburg Highway.
(The map below shows you the driving route from Phoenix "A" to Las Vegas "B". Please note that Google Maps does not yet recognize the new section of I-11 that has opened south of Boulder City.)
Just about an hour away, or 65 miles, you'll reach the tiny town of Wickenburg. You'll want to stay in your right lane. Shortly after the McDonalds, you'll stay in the right lane as it meanders to the right, under signage that points you to "North 93."
The next forty miles consists of a desolate two lane road. (It does have three lanes in some sections). Some people have described it as what it must have been like driving in the 1940's.
Road to Nothing?
At about eight miles before you get to a dusty rest stop called "Nothing," the road because a separated, four lane highway, with lanes going in each direction, speeding up things a bit and making drivers (at least me anyway), feel a little safer.
But even in those stretches of just two lanes, the road, fortunately, is often desolate at times, giving you ample opportunities to pass. In addition, the speed limit for almost all of the way (except for when entering small towns), is 65 miles per hour.
(Related: Distance and driving time from Salt Lake City to Las Vegas)
Roughly 40 miles north of "Nothing," Route 93 merges into Interstate 40, going west, towards Kingman, Arizona. As a side note, Interstate 40 is what replaced Route 66 in many places.
Once in Kingman, you'll follow the signs that lead you right, to Route 93 again north bound towards Las Vegas. At this point, you're just about an hour and 1/2 away from Las Vegas, or 104 miles.
Fortunately, this section of US Route 93 is all a divided four lane highway.
Right when you cross over to the Nevada state lane, there will be a small water diversion project on your right called the Hoover Dam.
Once there, it's just 39 miles, or about 45 minutes from the Hoover Dam to the Las Vegas Strip.
The new Boulder City Bypass, which opened in August of 2018, is part of Interstate 11. You'll take this south of Boulder City. Previously, you would have to drive through town, making the drive take about 1/2 hour longer.
Depending on your exact destination in Las Vegas, the driving time from downtown Phoenix to Las Vegas is between 4 to five hours typically, (not including stops).
Interstate between Phoenix and Las Vegas
The drive from Phoenix to Las Vegas would be reduced greatly with an interstate between the two cities. And in fact, this is in the works.
As mentioned above, the first 15 mile stretch of this new corridor, dubbed "Interstate 11" has opened.
This is good news for anyone who doesn't own a store or retail location in Boulder City, as currently you have to drive through the town (and hit stoplights) to get to Las Vegas.
An official with ADOT has said that state transportation officials are "putting the pieces together" for what will one day be a full Interstate 11 between Phoenix and Las Vegas.
(Photo courtesy of Prayitno via Flickr).