How Is DraftKings Legal? And What States Don't Allow It?
By Steve Beauregard
First off, yes, playing daily fantasy sports online on sites like DraftKings is legal in all but ten of the 50 states (more on that below).
There is no federal law that prohibits American citizens from playing on DraftKings, or FanDuel, or one of the many other daily fantasy sports sites. Key word: "federal law."
But how is DraftKings legal?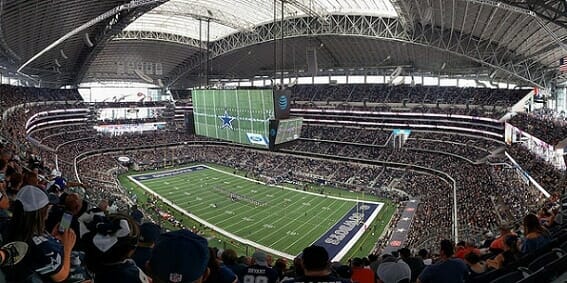 Simple. It's called the UIEGA, or the Unlawful Internet Gambling Enforcement Act of 2006.
The UIEGA is the provision (snuck into a terrorism-related port bill at the last minute in the fall of 2006), that led to the destruction of the online poker boom in the United States.
Without getting too bogged down in the details, the UIEGA prohibited banks from facilitating financial transactions to what they called illegal gambling operations.
It also, however, contained a special "carve-out" provision that specifically allowed American citizens to bet on online horse racing and on fantasy sports.
Why those two sports, and not, say, online slot machines for example?
Wording in the bill classified horse racing and fantasy sports as games of skill, and therefore legal. Poker, of course, is a game of skill, but was not included in the carve-out exemption, but that's a topic for another article.
What turned out to be a death knell for online poker however, became the legal foundation for the incredibly popular online fantasy sports market we see today.
States where it is Illegal to Play on DraftKings
Although there is no federal law making online fantasy football, baseball, basketball, etc. illegal, each individual state can pass their own laws of course. In addition, an individual state's attorney can rule the game illegal in that particular state. As such, ten states have made playing on sites like DraftKings against the law for citizens of their states.

Those states are as follows:
Alabama, Arizona, Hawaii, Idaho, Iowa, Louisiana, Montana, Nevada, and Washington
The major DFS (daily fantasy sports) sites like DraftKings and FanDuel won't allow residents of these states to register on their respective sites.
Is DraftKings Legal in Texas?
If you're counting the list of banned states above, you'll find that's only nine states, and I mentioned ten states total. The difference is Texas.
(Related: Is FanDuel legal?)
The State of Texas considers daily fantasy sports to be illegal. Draftkings, however, is fighting this in court, and is allowing players from the Lone Star state to play dfs games on their site while the legal process unfolds. (FanDuel does not allow Texans to play based on an agreement with the state)
Also, while you must be 18 years or older to legally play on DraftKings, there are some exceptions. In Nebraska, you must be at least 19 years of age to play. In Massachusetts, you must be 21 years old to play.
States That Have Passed Legislation Allowing Fantasy Sports Bettting
As of this writing, eighteen states have cleared the air for their citizens and avoided any confusion by passing legislation that specifially allows its state's residents to play daily fantasy sports for money. Those eighteen states are as follows:
Arkasas, Colorado, Connecticut, Delaware, Indiana, Kansas, Maine, Massachusetts, Missiouri, Mississippi, New Hampshire, New Jersey, New York, Ohio, Pennsylvania, Tennessee, Vermont, and Virginia.
Please note that while Connecticut has passed (and the governor signed), fantasy sports legislation, the bill has to be approved by an Indian tribe that has a state gambling compact. Also, many other states have pro-fantasy sports bills under consideration and we'll update this page if and when those bills are enacted into law.
Legal Aspects of DraftKings.Com and their Partners
In case you don't want to take legal advice from a writer like me with no law degree and who went to a state college, further support of the legality of DraftKings can be found by listening to attorneys and executives from large, respected institutions, such as the NBA, NBC, ESPN, and Major League Baseball.
According to SportsBusinessDaily.com, MLB's general counsel, Mike Mellis, led an extensive review process in 2014, to make sure everything was on the up-and-up (not a legal term), before MLB took a major equity position in DraftKings in April of 2015.
MLB commissioner Rob Manfred told SportsBusinessDaily: "I think there is a clear legal line, and quite frankly, we've spent some considerable effort and money to make sure we knew where DraftKings was in relation to that line."
Manfred also told the Washington Post in April of 2015: "We're comfortable that the games on DraftKings are on the right side of the legality line."
On the corporate front, major corporations like NBC Universal, Comcast and Time Warner, have taken ownership positions in FanDuel, as has the N.B.A. DraftKings has similar corporate equity partners. Fox Sports, for example owns 11% of DraftKings.
The fact these major sites are partially owned by either sports leagues and/or large, respectable publically-owned American corporations doesn't make playing fantasy sports on sites like DraftKings legal, of course. However, you can bet that stable, risk-adverse behemoths like NBC Universal, did their due diligence with regards to the legality of daily fantasy sports before investing their millions into the sites.
So is DraftKings legal?
I'm not a lawyer, and this is not to be construed as legal advice, but let's just say that high-priced lawyers from Major League Baseball, the N.B.A., ESPN, and other large corporations seem to think so.
(Photo courtesy of Drew Tarvin via Flickr.)