Island View Buffet Prices & Hours 2023
Given that it's the largest casino in Mississippi, the Island View Buffet is a very popular (and affordable) Gulfport dining option. The daily breakfast buffet is just $11.99.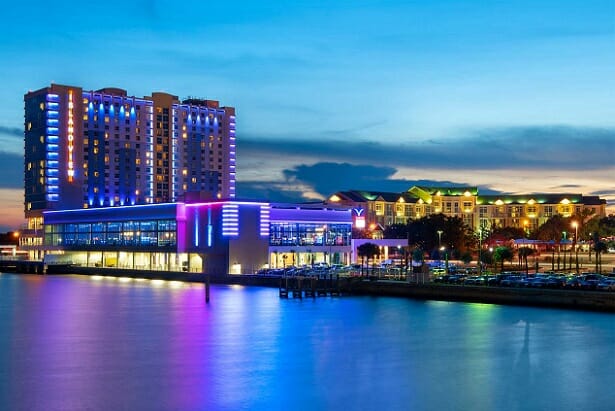 Simply called "The Buffet," Island View Casino's buffet is open seven days a week, and has a large variety of options, including a Rotisserie station, Italian, Asian, Deep South Southern Station, along with salads and desserts.
Unlike some casinos that have either cut back hours or eliminated buffets entirely, Island View's buffet has a breakfast, lunch and dinner buffet every single day.
For those not familiar, the Island View is actually part of two casinos, the main, north building, and the Beach View Casino across the road, right on the gulf, and connected to the Island View Casino via an overhead pedestrian walkway. The Buffet is located in the main, north casino building.
Island View Buffet
Open every day from 7 AM to 10 PM (and until 11 PM on weekends), the Buffet is located on the northeast wing of the resort and has seating for 500 guests.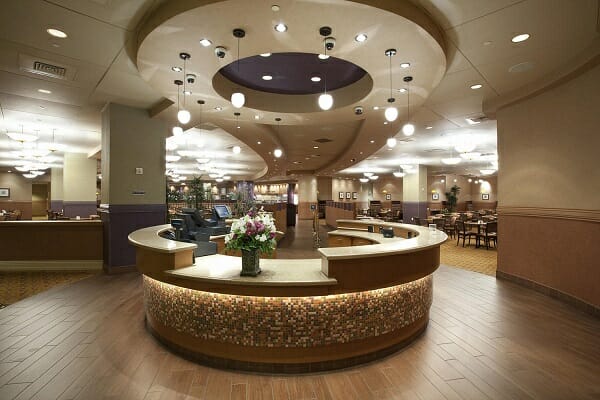 The atmosphere and decor is pretty standard for casino buffets, with a circular front cashier stand, wood flooring, and brown carpet, with colorful ile decorating fronting each of the food stations.
Island View Casino Buffet Prices & Hours
Current prices and open hours for the Island View Casino Buffet are as follows:
| | | |
| --- | --- | --- |
| Breakfast (7 days a week) | 7 AM – 10:30 AM | $11.99 |
| | | |
| Lunch (Monday – Saturday) | 11 AM – 3:30 PM | $13.99 |
| | | |
| Dinner | | |
| (Sunday – Thursday) | 4 PM – 10 PM | $27.99 |
| (Friday & Saturday) | 4 PM – 11 PM | $27.99 |
| | | |
| Brunch (Sunday) | 11 AM – 3:30 PM | 17.99 |
These prices do not include tax or tip. Also, prices may increase on holidays.
The New Year's Eve 2023 dinner buffet, for example, cost $34.99, but included some added menu items, such as sliced pork with a mushroom brown sauce, a country fried steak jardiniere, baked catfish and vegetable lasagna.
The Buffet at Island View Casino Menu
The six food stations include: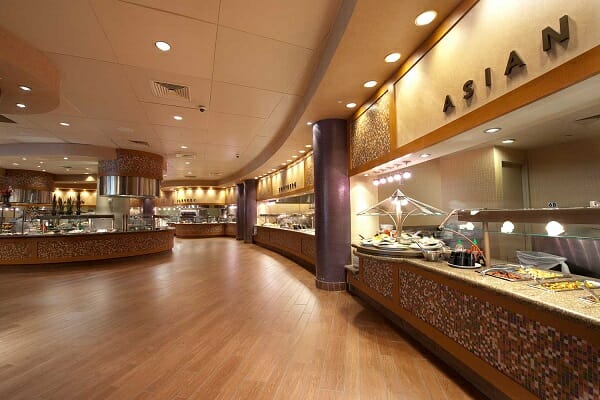 Salad/Cold dishes
Asian
Italian
Rotisserie station
Deep South Southern Station
Desserts
Below are typical offerings for dinner buffets.
Salad Bar
Besides the make your own salad, you'll find pre-made salads like the following:
Potato salad * Gulf Coast shrimp salad * Broccoli and Kale Salad * Crab Salad * Cucumber Tomato Salad * Beet Salad * Waldorf salad * Pasta Salad * Caesar Salad and coleslaw.
Asian
Egg Drop Soup * Shrimp Fried Rice * General Tso Chicken * Egg Rolls * Dumplings * Cashew Chicken * Beef Stir Fry * Edamame Bean Salad * Spicy Cucumbers
Seaweed Salad * Daikon Salad and Spring rolls.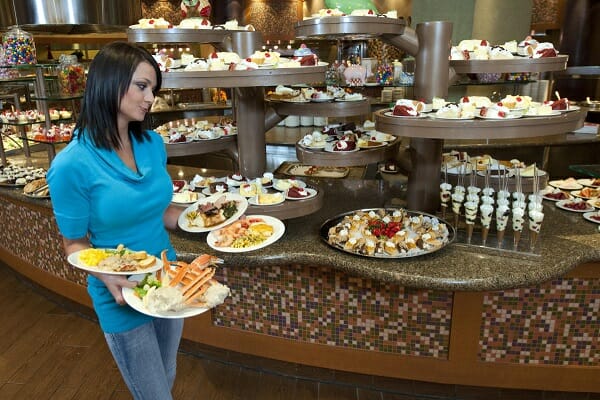 There's a soup of the day with rotating options that include a white seafood soup, duck noodle, hot & sour soup, won ton, congee, and vegetable. In addition, there's also a different noodle dish each day.
Rotisserie Station/Carvery
Glazed Ham * Sausage * Carrot Soufflé Casserole * Loaded Potato Casserole * Turnip Greens * Corn on the Cob * Baked Beans * Slow-Cooked Round of Beef Au Jus * Baked Chicken * Pork Ribs * Italian Green Beans and Candied Yams.
There's also a daily chef's special.
Italian Station
Chicken Parmesan * Mac & Cheese * Tuscan Blend Vegetables * Different Varieties of thin and traditional pizzas, including a keto-friendly cauliflower crust pizza * Garlic Bread * Rolls * Italian Sausage with Onions & Peppers * Eggplant Spinach Casserole with Seafood
You'll also find a ravioli of the day with sauce at this station.
Deep South Southern Station
Of course, being right on the Gulf, you'd expect the buffet to excel in seafood offerings. Crab legs, however, are not offered. Dishes in this section include:
Gulf Boiled Shrimp
Crispy Fried Shrimp
Fried Catfish
Stuffed Flounder
Stuffed Crab
Cornbread
Steamed Vegetables
Fried Chicken
Seasoned Turnip Greens
Mashed Potatoes and Gravy
Stuffed Bell Peppers
Desserts
Sweets here include parfaits and mousse cups * cookies * bread pudding * fruit cobblers * bananas foster, and several different cakes: red velvet, carrot, chocolate, and cheesecake.
Pies include Boston cream pie, pecan, lemon meringue, and coconut meringue. In addition, you'll find a Crème Brûlée, funnel cake, cream puffs, and coconut and chocolate chip Macaroons.
There's also sugar free Jello, and other no sugar-added desserts.
Perhaps the highlight here is the Creamery's build your own ice cream sundae station, which includes your regular ice cream, along with frozen custard, gelato and sorbet choices.
Drinks
Drinks options include your usual sodas, iced tea, hot tea, coffee, milk and juices.
Brunch
We don't have all the menu items here, but you'll find traditional breakfast staples, (i.e. bacon and eggs, French Toast, etc.) among many other dishes. Some highlights include:
The omelet stations * seafood file gumbo * biscuits and gravy * fried green tomatoes with seafood sauce * sweet potato casserole * carved flank steak * pork ribs * quiches * roasted salmon loin * fried catfish * jumbo Gulf shrimp, and red beans and rice.
Island View Buffet Address, Phone Number & Website
3300 W Beach Blvd
Gulfport, MS 39501
(228) 314-2100
Website: Islandviewcasino.com
More about the Buffet and the Island View Casino Resort
Children are not allowed into the buffet, nor any other part of the Island View Casino Resort.
With a total of 117,500 square feet of gaming floor space, (including the Beach View Casino), the Island View Casino qualifies as the biggest casino in Mississippi (per the Mississippi Gaming Commission).
In addition to plenty of open air surface parking, the resort's four-story parking garage has 700 parking spaces.
Besides the buffet, other food options at the Island ViewCasino Resort include the C & G Grille, the Diner, Sunset Bar, the Coffee Shop, the Sweet Stop, Carter Green Steakhouse, and the Beignet Cafe. Steps away, across 33rd Street is Beach Blvd Steamer, which gets great reviews for its seafood. There are also three other restaurants over at the Beach View Casino.
(By Steve Beauregard. Photos courtesy of Island View Casino Resort and Coastal Mississippi via gulfcoast.org)