Silver Slipper Buffet Prices & Hours 2023
The Silver Slipper Casino Buffet, called the Jubilee Buffet, is open and busy as ever, especially during the all-you-can eat crab feast on weekends (more on that below). They even have funnel cake!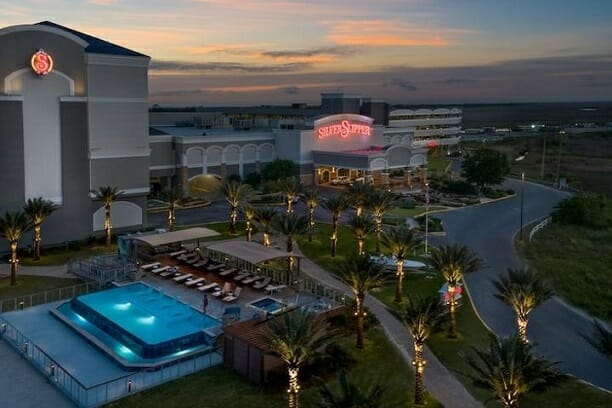 The Silver Slipper Casino Buffet has lunch and dinner buffets seven days a week. There isn't a weekday breakfast buffet, however on Saturday and Sundays, you'll find a brunch buffet starting at 11 AM. There isn't a reservation system, and lines can get long on weekend nights. Waits of one and a half hours aren't uncommon.
Silver Slipper Casino Buffet
The Jubilee Buffet was voted the second best Mississippi coastal casino buffet, by readers of the Biloxi Sun-Herald, finishing only behind the Palace Casino Buffet.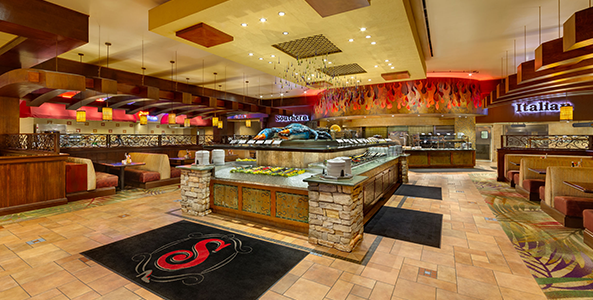 It has a nice decor, with tile floors and stonework throughout.
Its most popular feature is the all-you-an eat crab feast, which starts at 4 PM on Fridays, and continues at 11 AM on both Saturday and Sunday all day. The $50 price isn't anything to sneeze at, but given that many casinos have stopped serving crab (such as at the Island View Casino Buffet in Gulfport), due to costs/supply chain issues, and given the increasingly high prices in Las Vegas buffets ($80 at Caesars Palace for example), a $47.95 entry fee (after showing your player's card, doesn't seem out of line.
Silver Slipper Jubilee Buffet Prices & Hours
These are the official prices, however they are a little misleading, as they are discounts for anyone with a Slipper Rewards player's club card at any level.
In fact, if you show your card, you receive half off of diner, Monday through Thursday.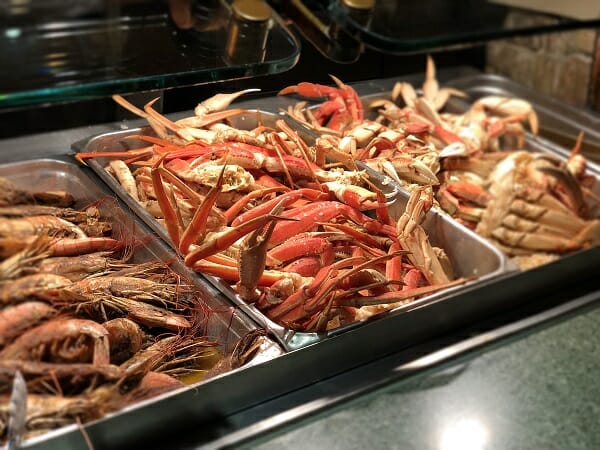 There are other discounts and promotions too, including $2 off all buffets for showing your card, Senior Tuesday & Friday lunch discounts (half off), and others. These may be on again/off-again, so be sure to ask. Below are the retail prices for the buffet before any discounts.
| | | |
| --- | --- | --- |
| Lunch | | |
| Monday – Friday | 11 AM – 3 PM | $14.95 |
| | | |
| Brunch | | |
| Saturday & Sunday | 11 AM – 3 PM | $49.95 |
| | | |
| Dinner | | |
| Monday – Thursday | 4 PM – 9 PM | $39.95 |
| Friday | 4 PM – 10 PM | $49.95 |
| Saturday | 11 AM – 10 PM | $49.95 |
| Sunday | 11 AM – 9 PM | $49.95 |
As you can see, the weekend dinner overlaps with brunch, but I believe this means the breakfast items are removed at 3 PM. Either way, you pay the $49.95 regardless of when you arrive.
Also, these prices do not include the tip or sales tax, which is 7%, meaning a weekend dinner or brunch for 2 people would cost a total of $102.61 after tax and after showing your Slipper Rewards card, but before tip. Got it?
Are kids allowed at the Silver Slipper Buffet?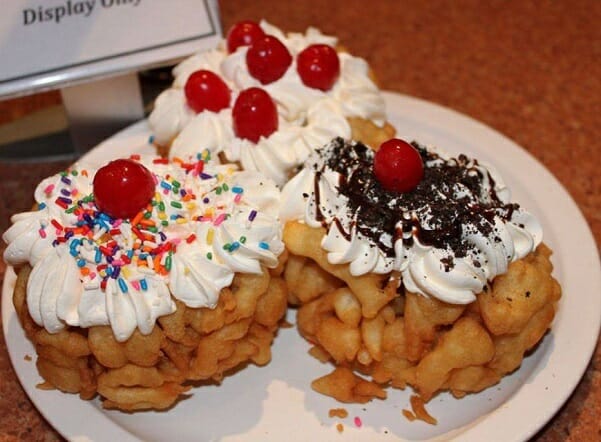 No, as of July 2022, you must be 21 or older to enter the casino, and that applies for all casino restaurants as well.
Silver Slipper Buffet Menu
Stations include your usual salad bar and dessert section, along with Southern, Italian, "Today's Special" and Asian. Items can change, and dishes listed below are guaranteed to be there during your visit, but below is a sampling of offerings.
Weeknight dinners have jumbo shrimp, along with other shrimp and fish dishes. There is also the following nightly special:
Monday: Ribeye
Tuesday: New York Strip
Wednesday: Pork Ribeye
Thursday: Prime Rib
Friday, Saturday and Sunday Crab Feats
Of course the highlights are the Dungeness and Snow crab, but there is Jonas crab as well.
The front, cold area/salad island has boiled shrimp with lemon and cocktail sauce, artichoke salad, three-bean salad, marinated mushrooms, shrimp pasta salad, potato salad, broccolini salad, spiced apples, cole slaw, a tropical breeze salad, melon/cantaloupe salad, and your typical salad bar items. There was also a crawfish bisque, and gumbo.
Besides the crab, other seafood items included fried oysters, and fried fish, served with hushpuppies.
The small Asian area had sweet n' sour chicken, pot stickers, fried rice, egg rolls, and few other dishes.
To the right of the Asian section, the Southern area has mashed potatoes and gravy, sweet potato casserole, collard greens, mac 'n cheese, fried chicken, baked beans, and creamed spinach, among other items.
There is a modest Mexican area with a make-your-own taco bar and tamales.
The highlight of the dessert section may be the fresh fried funnel cake with powdered sugar, served hot out of the fryer. You can add chocolate sauce, whipped cream and cherries on top as well. Either way, you don't see this served at many buffets.
You'll also find, sweet cobbler, pumpkin pie, an ice cream sundae station, and some no-sugar added desserts.
On the drink side, they serve Coke products here, including lemonade and even Mr. Pibb. The Sunday Brunch comes with champagne.
More about the Silver Slipper Casino Hotel
Besides the Jubilee Buffet, Silver Slipper Casino's other dining options include The Blue Bayou Bar & Grill (steakhouse), the Palm Court Cafe, and the Beach Bar & Cafe (open seasonally).
Including the surface lot, and the attached five-story parking garage, there are a total of 1,057 parking spaces here, (per the Mississippi Gaming Commission).
The resort boasts 129 hotel rooms, outdoor infinity pool, and RV Park.
The casino itself, with just under 39,000 square feet of floor space, is the 9th largest out of the twelve Mississippi coastal casinos. All total, there are 763 slots and video poker games here, along with 20 table games, Keno kiosks, and a sports book.
The Silver Slipper Casino Hotel is popular with residents of southeast Louisiana, being just 56 miles from New Orleans, and 114 miles from Baton Rouge.
Silver Slipper Casino Hotel Address, Phone & Website
5000 S Beach Blvd
Bay St. Louis, MS 39520
(228) 469-2777
Website: Silverslipper-Ms.com
(By Steve Beauregard. Photos Courtesy of the Silver Slipper Casino and their Twitter page.)