Palace Casino Buffet Hours & Price 2023
The Palace Casino Resort in Biloxi, Mississippi is the beautiful Back Bay casino located 92 miles northeast of downtown New Orleans and 60 miles southwest of Mobile, Alabama.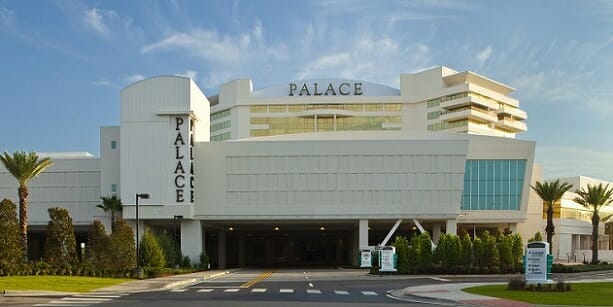 The Palace Casino Buffet is pretty as well, with contemporary wood paneling, decorative lighting, high ceilings, and both booth and table seating.
It has a decent variety of options, with four different cuisine stations to choose from, not counting the salad and dessert bars.
Palace Casino Buffet
The buffet is located on the second level, right off of the casino floor. You can't miss the large yellow "PALACE BUFFET" lettering out front.
The Palace Casino Buffet was voted the "Best Casino Buffet on the Mississippi Coast" after 120,000 votes by readers of the Biloxi Sun Herald.
While the buffet is open seven days a week, they only serve breakfast on weekends.
Palace Casino Buffet Hours & Price
For simplicity's sake, prices below are for those who show your Palace Players Club card at the front counter. The prices below are the same for whatever level you are at.
Should you not have a card, prices are $1 more than what is shown below for lunch and breakfast, and $2 higher for dinner and Sunday brunch.
| | | |
| --- | --- | --- |
| Breakfast | | |
| Saturday & Sunday | 7 AM – 10:30 AM | $14 |
| | | |
| Brunch | | |
| Sunday | 11 AM – 3:30 PM | $26 |
| | | |
| Lunch | | |
| Monday – Saturday | 11 AM – 3:30 PM | $16 |
| | | |
| Dinner | | |
| Sunday – Thursday | 4 PM – 9 PM | $25 |
| Friday & Saturday | 4 PM – 11 PM | $26 |
During some holidays, these prices may increase, but not by much. We're talking just a $2 increase in weekend dinner/brunch prices.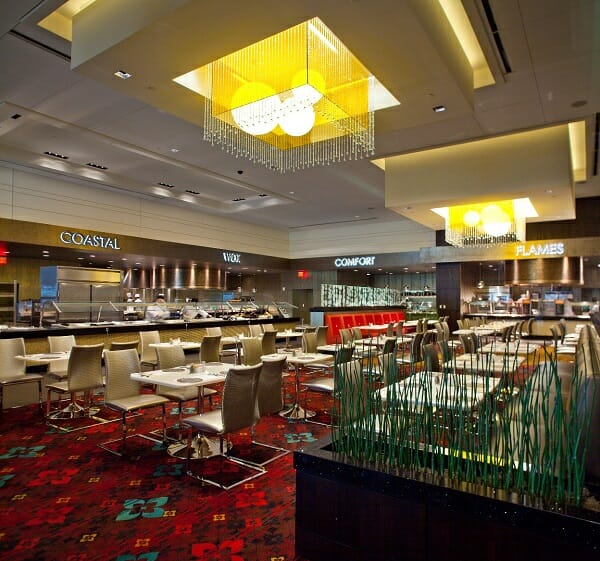 During New Year's Eve and New Year's Day 2023 for example, buffet prices (for their prime rib and "traditional holiday menu") cost only $28 (with a Players Club card). Compared to Las Vegas buffets, this seems very reasonable.
Children's Prices at the Palace Buffet
Kids are allowed here, and must be with an adult. Toddlers 2 and under are free. Kids 3 to 12 pay $10 for breakfast and lunch, and $15 for weekday dinners. They pay $20 for Friday and Saturday night dinners. Sunday brunch is $16 for kids. Teenagers on up pay full adult prices.
Promotions and Coupons
Every couple of months, the casino runs a promotion in which you can earn points on your Palace Players Club card for discounts on Monday – Thursday buffets.
Earning just 10 points earns you a half price lunch buffet, while 20 points gets you a half price dinner buffet. You redeem your buffet voucher at the kiosks.
Palace Casino Buffet Menu
Dishes can rotate in and out, depending on both availability and the chef's whims, however below is a sampling of items they've served in the recent past, and that you're likely to find on your dinner buffet visit.
In addition to desserts and salad bar, the four stations are as follows: Flames, Comfort, Costal, and Wok.
Flames
This is the grilling station, with ribs, "flame fired pizza," (I counted three different types), steaks, and prime rib. The grilled-to-order options included hand cut ribeye steak, chicken breast, pork chop and chopped steak.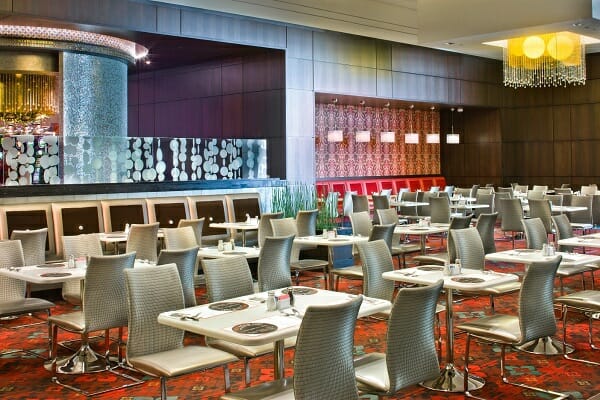 I believe it was in this area where they served pasta dishes, including lasagna.
Comfort
Think good ol' fashion Southern favorites, including fried chicken, baked chicken, dumplings, fried okra, fried chicken livers, fried chicken gizzards, meatloaf, mac n' cheese, corn on the cob, green beans, carrots, yams, mashed potatoes and gravy, scalloped potatoes, and other hot vegetables, such as collard greens and fried green tomatoes. There were also buttered rolls.
Coastal
On the far left side, the seafood station here serves up fried shrimp, fried catfish, large, fresh boiled shrimp, stuffed crabs, hush puppies, and a shrimp boil.
While the buffet used to have crab legs on Friday and Saturday nights, (for an extra $11 upgrade fee), a December 2022 call to the buffet confirmed they weren't serving them at the time.
You'll find the "Pasta Your Way" station here (along with the "Eggs Your Way" area during breakfast and brunch buffets).
You'll choose your pasta first (fettuccine, spaghetti, rotini), then sauces (alfredo, clam sauce, scampi, marinara and diavolo). Your meat/seafood options are: chicken, beef, or shrimp (for all buffets). At dinner, further choices included crawfish tails, clams and scallops.
Vegetable choices are: spinach, mushrooms, green peppers, red onions, roma tomatoes, green onions and broccoli, while your spice choices include: Creole seasoning, garlic, red pepper, oregano, salt and black pepper.
Wok
The highlight of this Asian-theme area is the Mongolian barbecue grill, where you start at a salad-bar type of station, choosing your vegetables (from among 20 options I counted).
You'll then hand your bowl over to the chef, informing them of your protein and sauce choice. Then you get to watch as it's prepared right there on the large hot circular grill as you wait.
You'll also find typical Asian buffet fare, like fried rice, egg drop soup, spring rolls, teriyaki chicken, and crab rangoons.
Salad Bar.
A nice touch here are the chilled plates, which somehow makes a salad always taste better than when eaten on room-temperature plates.
There are some pre-made salads, various fruits, and a pretty good salad bar, complete with eight different dressings.
There were three different soups. Rotating options may include a seafood gumbo, white rice and a crab & corn bisque.
Desserts
Among the variety here are red velvet cake, lemon cake, Oreo cake, Chocolate cake with heath bar toffee frosting. Cookies, cakes and pies and a Chocolate/vanilla trifle with Twix. There is also a self-serve soft ice cream stand.
Compared to many other buffets, this one has a decent selection of sugar-free desserts.
There is waiter/waitress service here, to take your drink order and remove plates.
More about the Palace Casino Buffet
In the final round of voting the Sun Herald's aforementioned "Best Buffet on the Mississippi Coast" contest, the Palace Casino Buffet was the clear winner, with 74% of the votes, according to Sun Herald article here: Sun Herald/Best Buffet, beating out second place finisher, the Silver Slipper Casino Buffet.
In addition to the Palace Casino Buffet, your other dining options include Mignon's Steaks & Seafood, Stacked Grill, the Palace Cafe & Bakery, and the Contact Sports & Race Book. When the resort's pool is open, you can also eat at the Wahoo's Poolside Bar & Grill.
The buffet is smoke free.
There is plenty of free self-parking, both in some outdoor and underground spots to the left of the main entrance, as well as in the resort's five-story parking garage, which is connected to the casino via a pedestrian sky bridge.
In terms of slot machine count, the Palace Casino Resort's 587 slots makes it the second smallest of Mississippi's 12 coastal casinos. (The Island View Casino in Gulfport is the biggest, with 2,445 slots. It's also home to the Island View Casino Buffet). Palace Casino has 24 table games and the sports book.
The Palace Casino Buffet Address, Phone & Website
158 Howard Avenue
Biloxi, MS 39530
1-800-PALACE-9
Website: Palacecasinoresort.com
(By Steve Beauregard. Photos courtesy of the Palace Casino's Twitter page.)