Las Vegas Priceline Express Deals: 3 Easy Steps to Discovering the Exact Hotel You're Buying at a Discount
By Steve Beauregard
When looking for a good Las Vegas Strip hotel, it's tempting to try all the usual suspects, (Hotels.com, Expedia.com, etc.), but for getting a good affordable hotel room, it's hard to beat the options at Priceline.com. To be clear, I'm not a Priceline affiliate nor affiliated with them in any way. I just highly recommend them for Las Vegas hotel stays.
Priceline has three ways to buy, and in-between the retail prices of the regular Priceline.com hotel listings and the sometimes bargain basement prices found when bidding on the "Name your Price" listings are Priceline's "Express Deals."
These are a great option for those of you wanting a deal, but who (like me), never seem to win a bid at the price we want.
In my case, I always get greedy when using the "Name Your Price" feature. I put in a low bid, it gets rejected and I'm stuck either upping my bid or taking a chance in a different, maybe less desirable area of town.
Other times, you may have a very specific range of one or two hotels you wish to win for your stay. This is especially true in Las Vegas.

Why You May Want a Specific Hotel in Las Vegas
In many cities, you may choose to be flexible, and not really care what hotel you get with an Express Deal.
If booking a stay in south suburban Denver, for example, you may not care if you get that Residence Inn by Marriott, or the Double Tree by Hilton ½ mile down the road.
In Las Vegas however, getting a specific hotel may be vital to the success of your stay.
For example:
Let's say you are in Las Vegas attending a convention at the Las Vegas Convention Center. If so, a hotel with a Las Vegas Monorail station makes your stay so much easier.
You'll be able to hop on and off the Monorail to and from the convention, without having to worry about walking long distances, or Uber rides, or busses or traffic in general.
Priceline says MGM Grand (with a monorail stop) and Mandalay Bay (over a mile from the nearest monorail stop) are both 4 Star hotels. That 4 Star Express Deal you buy may put you a long way from easy access to the convention center.
Other times you may be attending a concert or show, in which case you may want to stay at the venue's hotel.
If you have say, tickets to see Elton John or Books & Dunn with Reba McIntire at the Colosseum at Caesars Palace, it's so much easier and relaxing to stay at Caesars Palace.
You can get dressed in your hotel room, then stroll on down to a restaurant then to the show. It sure beats staying at a another resort then having to Uber it, or walk a half mile or more in your nice clothes in 109 degree weather, hoping to get to the show on time.
Getting that Specific Priceline Express Hotel in Las Vegas
You can save a ton by buying a Priceline Express deal. The problem is, you can't be sure what hotel it is.
Or can you?
A recent search for "3 Star" hotels on up (meaning 4 and 5 star hotels as well), for a stay anywhere on the Las Vegas Strip for the last weekend in March of 2018 gives us 67 choices. You can see this for yourself by going on Priceline and checking all of the Las Vegas Strip boxes in the Neighborhood section on the left hand side of the page (see below):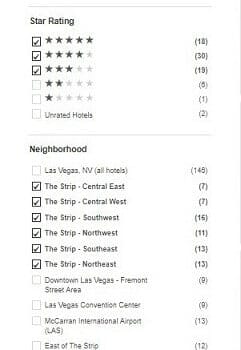 The standard listings range from everything from the Linq Hotel & Casino at $125 per night to the Skylofts at MGM Grand for (gulp) $1,499 per night.
We notice the Express Deals starting at $90. There are several of them.
We'd like to buy one, but don't want to have to guess and get stuck in a hotel in undesirable area.
In fact, let's say we want to stay at the MGM Grand because we either really like it, we're going to see a show there, or maybe because we want to be able to take the Las Vegas Monorail to the Convention Center.
Let's see if one of these Express Deals is the MGM Grand.
We can do this by a process of elimination using three easy steps.
We scroll down to find the MGM Grand listing, which quotes us a rate of $140 per night.
Underneath the "MGM Grand Hotel Casino," it reads, "The Strip – Southeast."
This is our first elimination step.
Step 1 Neighborhood
On the left hand side, you'll see "Neighborhood."
Since the MGM Grand is labeled as "The Strip – Southeast," make sure all boxes are unchecked except for "The Strip – Southeast"
This cuts our list of 67 down to just 14 hotels, including an Express Deal for $102. This is much better than the MGM Grand's $140. But is this deal for the MGM Grand?
We have more eliminating to do.
Step 2 Amenities
With your new list of 14 hotels, scroll back down to the MGM Grand and click on the link next to it that reads, "Hotel Amenities"
Note the amenities. They will usually be along the lines of: Business Center, Swimming Pool, Restaurant, Casino, etc.
Whichever amenities are listed for the MGM Grand are the same ones you will want to check in the "Amenities" on the left-hand side (see below):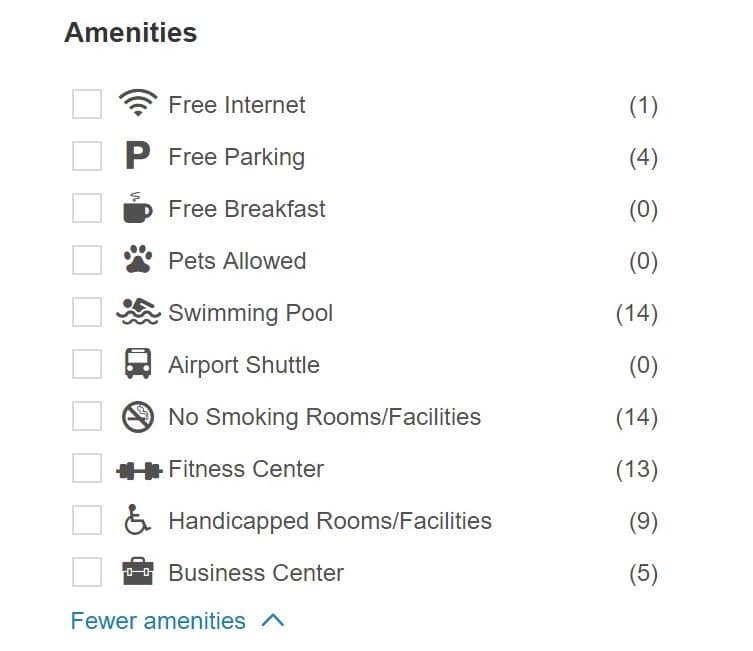 Not all of the possible amenities will be listed, however clicking on all the available ones the MGM Grand listing already shows (i.e. business center, swimming pool, fitness center, etc.) cuts our list down to just 4 choices: two anonymous Express Deals and two hotel listings. One is our MGM Grand, and the other is Polo Towers Suites.
By now we're pretty confident that $102 Express Deal is the MGM Grand, but to be sure, we use one more eliminator
Step 3 Star Rating
Two of the 4 remaining listings are 4 Star hotels, and two are 3 star hotels. There are zero 5 star hotels.
By simply unchecking the 3 Star ratings we get down to just two choices: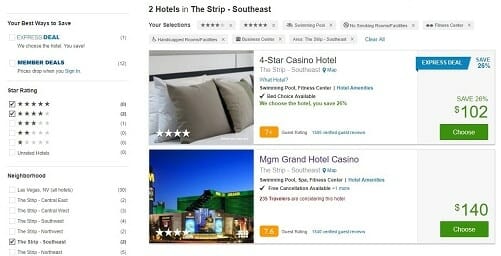 A 4 Star Express Deal at $102 or the MGM Grand at $140
Gee, I wonder what that 4-Star Express Deal could be?
In some cases, (and maybe in other cities), you'll finish this third step but still have more than one hotel.
Typically there will be just a couple of more hotels shown.
In this case, you can cross-check the Express Deal's guess rating shown in the orange box. Priceline will always round down.
If you see the Express Deal hotel has a "7+" rating, you can eliminate any hotel that has a rating less than 7.
Are there still multiple hotels?
In that case, you can cross-check the Express Deal hotels "Verified guest reviews" number (located to the right of the orange "Guest Rating") with the number of "verified guest reviews" for the hotel you want.
Priceline doesn't give the Express Deal's exact number of guest reviews (that would be too easy), so they round down.
If the Express Deal shows "1,500 verified guest reviews" you can eliminate any remaining hotel that has less than 1,500 reviews, or at least 1,600.
Summary
That's it.
You just spend five minutes of time and saved $38 per night, which equates to $456 hourly. Good work if you can get it.
By the way, going back to when we had only four choices: if you wanted to instead, stay at the Polo Towers Suites, you would check the "3 Star" box and un-check the "4 Star Box."
In that case you'd get the following two results:
An Express 3.5 Star deal for $209 or the Polo Towers Suites for $299
In this case, the Express Deal for the Polo Towers saves you $90 per night.
You'd save $270 on a three-night stay by spending just 300 seconds checking a few boxes.
In summary, I love the Priceline Express Deals. And they are a great way to save on the hotel you want – especially now that we know how to find it.