Las Vegas to Bryce Canyon – Distance, Driving Time and Maps
It's beautiful and defies description, with rocky cliffs, rising spires and a pink and amber sandstone landscape that makes you think this is a National Park that could fit right in on another planet.
It's Bryce Canyon National Park in south central Utah, and it's one of our nation's underappreciated natural gems.
While it's not a day-trip jaunt from Las Vegas, those of you visiting or living in Sin City can explore Bryce's scenic vistas without too much driving involved.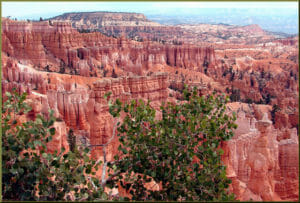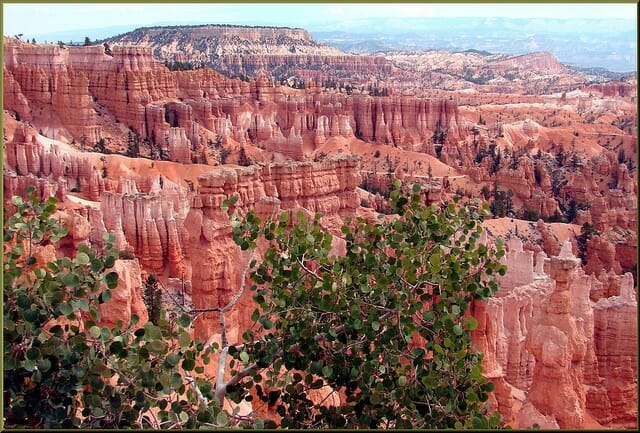 The distance from Las Vegas to Bryce Canyon National Park is 264 miles (or 424 kilometers), as measured from the center of the Las Vegas Strip to the park's visitor's center at the entrance gates.
It would take you approximately four hours to drive from Las Vegas to Bryce Canyon. Google Maps says it's 4 hours and 3 minutes to be exact (from Caesars Palace on the Strip to the Bryce Canyon National Park Visitor's Center).
The mapped route below is the default route. It's the fastest way there and the easiest to follow. It's mostly interstate driving, and in Utah, this stretch includes speed limits of 80 miles per hour.
(The map below shows you the fastest way to drive from Las Vegas to Bryce Canyon. "B" is the visitor's center.)
Las Vegas to Bryce Canyon Drive
Once you leave the hustle and bustle of Las Vegas, the drive to Bryce Canyon has you following Interstate 15 east through the desert, through the towns of Mesquite, Nevada, then up through a corner of Arizona, then onto St. George, Utah, and past Cedar City.
You'll drive a total of 210 miles on I-15. Around twenty miles past Cedar City, and after the tiny town of Parowan, you'll see the familiar National Park brown sign, instructing you to get off at exit 95.
You'll be on State Route 20. From there, just follow the sagebrush (and brown signs), which will tell you to go right on Highway 89, then left on State Route 12, which leads you to the entrance to Bryce Canyon.
Again, this should take you close to four hours of driving. Google Maps states its 3 hours and 49 minutes without traffic.
Scenic Routes to Bryce Canyon National Park from Las Vegas
While most of your dive to Bryce Canyon will be on Interstate 15, there are two options once you leave the interstate. Both are shorter drives, however taking either one results in a longer drive. (Albeit a more scenic one).
For lack of better terms, we'll just call these alternative routes the Zion National Park Shortcut and the Duck Creek Shortcut. Keep in mind, these shortcuts are in distance, and not in time.
Zion National Park Shortcut
Going this way results in a 249 mile drive, which saves you 15 miles from the route above. However, this route will cost you a $25 entrance fee (into Zion National Park), and will take you longer to drive. At least a half hour longer, and possibly more, depending on traffic. The views, however, may be worth it.
Unlike the mostly interstate driving on the route above, this "shortcut" route (shown on the map above), involves 2 lane highways and lower speed limits (45 miles per hour in spots). Therefore, the driving time using this route is actually ½ longer than the default route show on the map above.
It is, however, much more scenic and a prettier drive, with farms and ranches doting the highway on both sides. That's not even including the gorgeous red rock scenic vistas from the twisting and curving Zion National Park section.
You could call this the "twofer" route, as you'll drive past Zion National Park's entrance and part of the park on your way to Bryce Canyon's entrance. This is way you'll have to pay a $25 park fee to drive this route. And yes, you have to pay it, even if you're just driving through.
To use this route, go past the towns of St. George/Washington, getting off at Exit 16 a few miles outside of Washington.
Staying on State Highway 9 will take you past the Zion Canyon Visitor's Center, up through the gorgeous Zion Mt. Carmel Highway, then onto the intersection of Highway 89, where the brown sign will point you north on 89 towards Bryce Canyon.
(Related: Distance from Las Vegas to Zion National Park)
Forty-three miles from this intersection, signs will point you to go right (east) on State Route 12, and from there, it's just 16 miles to the Bryce Canyon National Park Visitor's Center.
Duck Creek Shortcut
It's 254 miles from Las Vegas to the Bryce Canyon Visitor's Center using this route.
Google Maps says it will take you 4 hours and ten mintues going this way. So it's a ten minute longer drive, but that's a minimum in my view. Google's estimate assuems you don't get stuck behind a slow moving truck or R.V. This route involves a lot of just two lane road driving, and getting stuck behind a very slow vehicle is not out of the question.
With this route, you'll drive on Interstate 15 to Cedar City, Utah, where you'll get off at Exit 57.
(Here's the map for this route, with "B" as the little town of Duck Creek, and "C" as the Bryce Canyon Visitor's Center)
You'll stay on this same lane (which turns into "Cross Hollow Road"), and stay right the entire way. This will lead you into the middle of town. The familiar brown signs signifying a National Park will have an arrow pointing you to the right turn you'll need to take at State Route 14.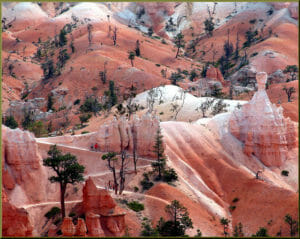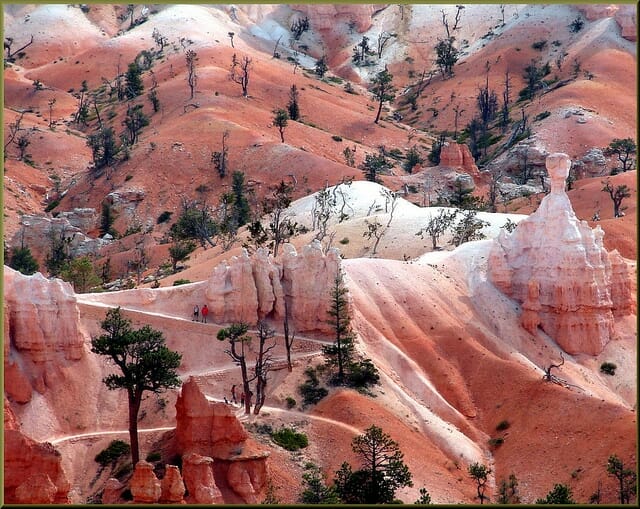 State Route 14 takes you up a red canyon up into higher country, where you go from desert to forest and aspen trees and such (and cooler temperatures).
A few miles after passing the tiny town of Duck Creek, you'll reach the intersection of State Route 14 and Highway 89, where once again, the brown signs will point you toward Bryce Canyon.
Twenty miles later, you'll go east on State Route 12, which leads you to the entrance to Bryce Canyon National Park.
With roughly a 4 hour drive in each direction, the distance from Las Vegas to Bryce Canyon National Park is a little too long for a day trip. However if you have a day or two extra to spend on your vacation, and are looking for an experience completely different than found in Las Vegas, a visit to Bryce Canyon National Park will probably worth the drive.
(By Steve Beauregard. Photos courtesy of Don Grahamvia Flickr.)